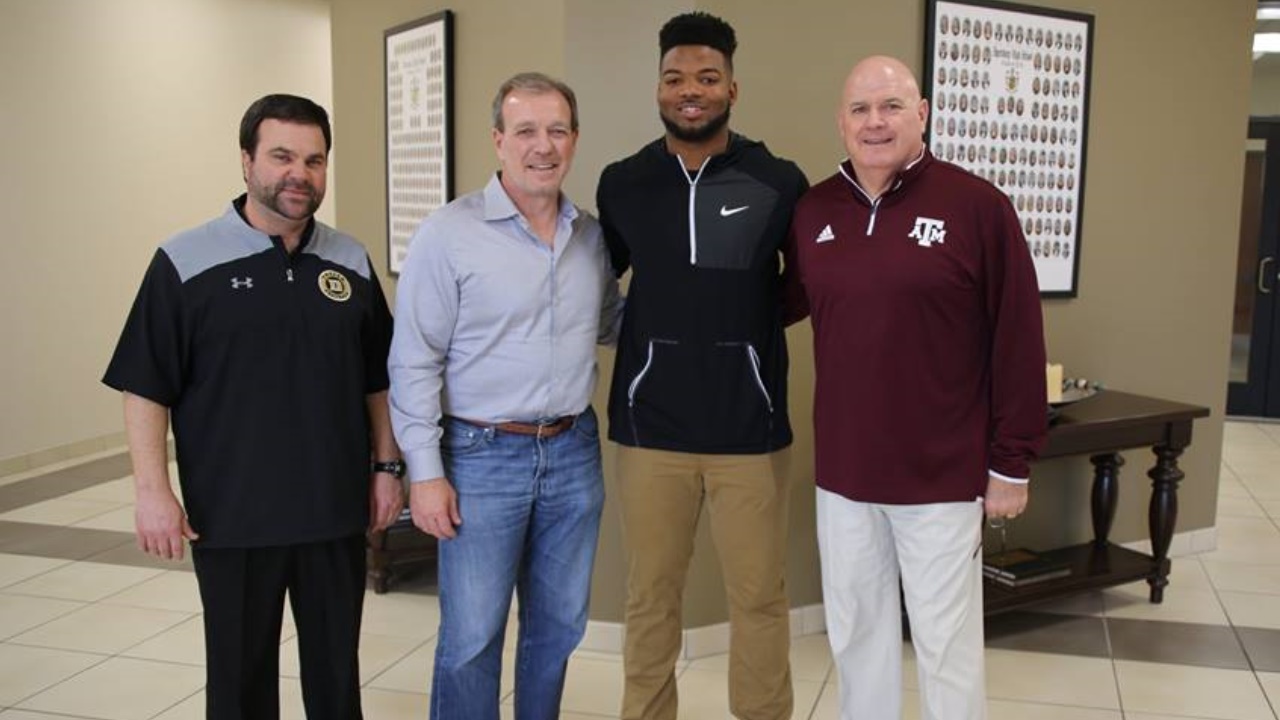 Photo by Dyersburg High School
Texas A&M Football Recruiting
Chris Russell eager to make immediate impact at linebacker for Aggies
---
There can be a nebulous quality to college football recruiting.
The services, the camps, the scouts, the rankings are like telescopes that reveal the next constellation of college football stars. But they can also be the nebula obscuring other stars that aren't yet shining as brightly.
Prospects whose names do not immediately appear high rankings charts are often viewed as lacking sufficient talent to compete at the highest level of college football. Sometimes that view is even shared by the prospects themselves.
That was the case of Dyersburg, Tenneessee linebacker Chris Russell, a late-blooming, three-star rated, diamond in the rough who was the last addition to Texas A&M's third-ranked 2019 recruiting class.
In a telephone interview on Tuesday night, Russell admitted he once doubted whether he could play at the highest level of college football.
"Sure, I would love to play college ball," Russell said "I didn't know if I could play. It was just a shocker."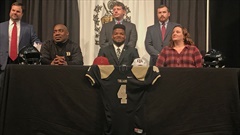 Madeline Stowe/Dyersburg High
Originally, Russell was rated a mere two-star recruit by services and drew only a couple of scholarship offers from second-tier programs.
Dyersburg coach Bart Stowe, an affable fellow oozing Southern hospitality, believed Russell could play at a higher level.
He knows what a college football prospect looks like. He's coached 10 seasons in Dyersburg — a town of 17,000 about 80 miles Northeast of Memphis.
Two seasons ago he sent running back Deshaun Fields to play for Tennessee-Martin. Last year safety Kevin Spencer signed with Navy.
He saw even more in Russell. He saw Russell mature and develop from a 200-pound sophomore outside linebacker to a muscular 220-pound inside linebacker He saw Russell dedicate himself in the weight room and increase his power clean to 340 pounds. He saw Russell join the track team to improve his sprinting speed. He saw Russell mature into the undisputed leader and be voted captain by his teammates.
"He's always been all in football," Stowe said. "He really had a great offseason his junior year and he had a great summer. He went to some camps and got offered in camps."
Russell didn't get many offers, though. Last June he committed to Memphis over Troy of the Sun Belt Conference. Those were his only two offers. That is until the Dyersburg Trojans played Brighton on August 24. Russell was dominant in that 42-7 victory.
"We played Brighton in the second game of the year and Chris had a great game," Stowe recalled. "He had a great interception, a couple of touchdown runs and was making tackles going sideline to sideline."
The interception raised eyebrows. At the Dyersburg 15-yard line, Brighton called a bubble screen to the right. Russell reads the play but seems to overrun it.
However, he leaps and reaches far back with his right arm to make a one-handed interception. He then outruns a receiver in pursuit for an 85-yard touchdown.
"I believe everything did change that night," Russell said. "I didn't even know I caught it until everybody was looking at me. It was 'Oh yeah, I caught the ball. I better take off.' It's funny how you think of things in a small amount of time."
That was an omen of what was to come. Russell posted 112 tackles last season and was charged with only three missed tackles over the entire 13-game season. He had 15.5 tackles for loss. He had seven sacks. He had two interceptions. He forced four fumbles, recovered two and returned one for a touchdown. He was credited with 13 quarterback pressures and 11 quarterback knockdowns.
That's not bad for a 17-year-old kid. Russell won't turn 18 until July 26.
Stowe sent a video of Russell's performance against Brighton to college coaches. He'd send out more video as Russell continued to dominate opponents during a 12-1 season in which Russell was the Region 7 4A Player of the Year, earned All-State honors and was invited to the East-West All-Star game. He was named Defensive MVP of the All-Star game.
"We're really excited about his athletic ability, his size, his instincts to play, his physicality and everything that goes with it."
Eventually, powerful Southeastern Conference programs took notice. Arkansas offered a scholarship. Auburn did too. So did Tennessee. Then, over Christmas Break, while visiting his mother in Lexington, Tenneessee, Stowe got a telephone call from A&M linebackers coach Bradley Dale Peveto.
"He called me out of the blue," Stowe said. "He wanted me to get him in touch with Chris. He said coach, I will be there on Monday."
"He was there the first day they could see players. Then coach (Mike) Elko came. Then coach (Jimbo) Fisher came in on the last weekend."
On National Signing Day, Fisher said that had he known about Russell earlier he would've aggressively recruited him from the outset.
"We got on him a little later in the thing just because we saw the film late," Fisher said. "But we're really excited about his athletic ability, his size, his instincts to play, his physicality and everything that goes with it."
Russell was torn between A&M and Arkansas, which was the first SEC team to offer a scholarship. He decided to join the Aggies the night before National Signing Day.
"I was thinking (A&M) was the best fit for me," Russell said. "I felt at home pretty much even though it's in Texas. And I looked at the linebacker depth. I felt it I really wanted to play at that level I could come in there and make an impression."
He'll arrive on May 31 eager to start making that impression. He thinks he can contribute immediately next season.
"I'm very confident," Russell said. "I think I can go to A&M and make an impact on the program. Hopefully, I reach the goals that I've set."
Russell's intentions are clear. He wants to at least play on special teams next season. He aims to one day break into the starting lineup.
Perhaps, he'll even overcome that nebulous start and eventually become a bona fide star.
Never miss the latest news from TexAgs!
Join our free email list