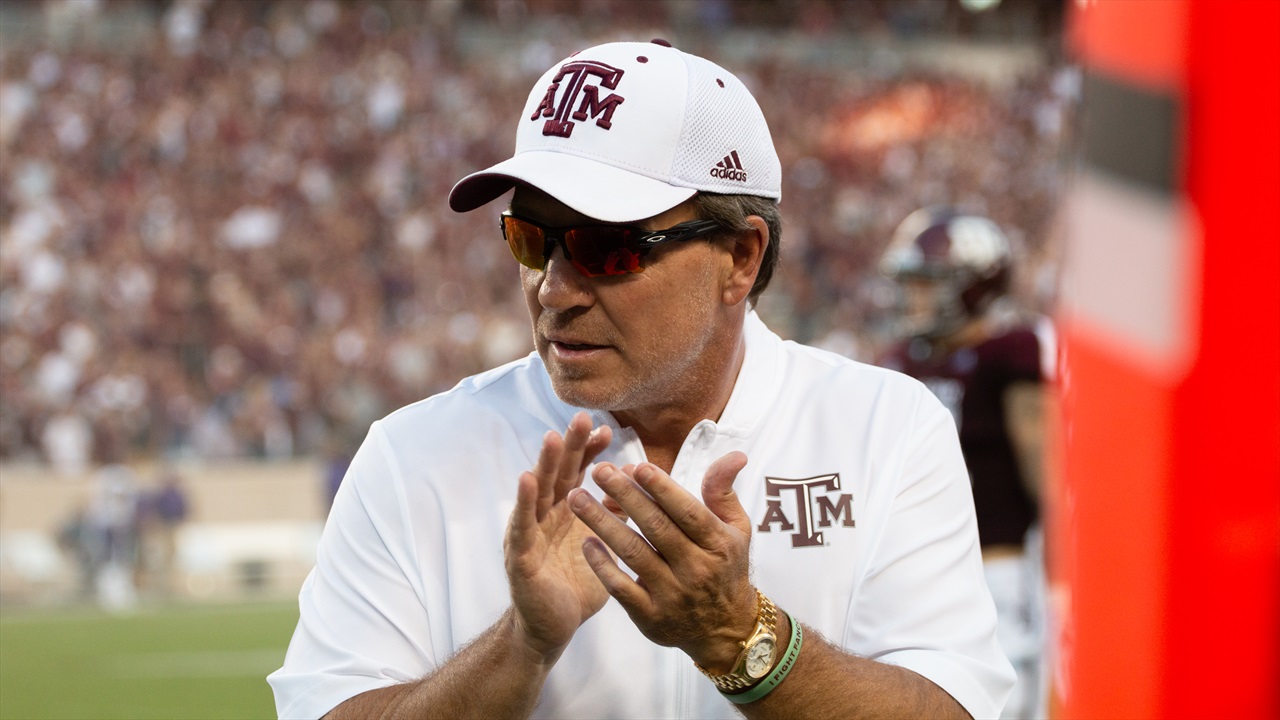 Photo by Rey Romo, TexAgs
Texas A&M Football
Quality over Quantity: Fisher happy to land priority targets on Signing Day
---
There was much less tension and intrigue on the least active national signing day in Texas A&M football history as the Aggies only added two players.

Coach Jimbo Fisher, though, stressed that Wednesday's additions — linebacker Chris Russell of Dyersburg, Tenn. and athlete Ainias Smith of Sugarland — were a matter of quality over quantity.

A&M had already added 23 prospects during the December early signing period. Wednesday's additions were just to enhance a recruiting class that is ranked third in the nation by ESPN. Many of those new players will be given a chance to play next season. They can start earning the playing time when the Aggies open spring football on March 20.

Fisher said all of them have the ability to help A&M win a Southeastern Conference championship and maybe more.

"If I don't think they're guys we can win championships with I won't take them," Fisher said in an afternoon press conference. "I don't take guys just to take guys. I don't think that's the right thing to do. It's five guys we think can win championships and play at a high, high level."

The 'five guys' Fisher referred to was a quintet of linebackers from five different states that projects to solve A&M's depth issues at that position.

The Aggies landed Andre White of Pennsylvania, Ke'Shun Brown of Alabama, Tarian Lee of Florida and R.J. Orebo of Dayton, Texas in December. Fisher indicated they would have wanted to sign the 6-foot-2, 220-pound Russell then too — had they known about him.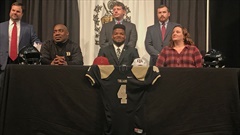 Madeline Stowe/Dyersburg High
Russell, the Tennessee Region 7-4A Player of the Year, chose A&M over Arkansas and Tennessee. He announced his decision at a school assembly by putting on a white Texas A&M cap instead of a red Arkansas cap.

"We got on him a little later in the thing (recruiting process) just because we saw the film late," Fisher said. "But we're really excited about his athletic ability, his size, his instincts to play, his physicality and everything that goes with it."
A&M needed to sign a big linebacker class after losing both starters from last season. Otaro Alaka graduated and Tyrel Dodson opted for early entry into the NFL draft.

Further, Anthony Hines and Ikenne Okeke are coming off knee injuries that forced them to miss most or all of last season. Junior Buddy Johnson posted 27 tackles in a backup role last season. All the other linebackers on the roster combined for just seven tackles.

"It was an area of need," Fisher said. "We also got the guys we wanted, so that's a great combination."

Fisher said once he saw Russell on video he was sold.

"We were able to research him and really evaluate him and said, 'Wait a minute. This guy here is a big, big-time player,'" Fisher said. "We'd have been all over him if we'd known him. The first day we ever saw him we were able to get on him and luckily built a good relationship.

"(Linebackers coach) Bradley Dale (Peveto) did a great job building that relationship and then Mike (Elko) went in and did a great job. We were able to finish it and close it out."

Fisher appeared equally bullish on Smith, a 5-foot-10, 193-pound jack-of-all-trades. Last season he accumulated 481 rushing yards, 718 receiving yards, three interceptions and returned a kick for a touchdown.
"(He's a) guy you can get the ball to in his hands very quickly and in a lot of different ways. We're very excited about him."
"He is, I'd say, an ankle breaker," Fisher said. "He can play in the slot, play outside. He's a great return guy. Guy you can get the ball to in his hands very quickly and a lot of different ways. We're very excited about him."

"He's shorter, but he's very thick and strong. He does a great job sticking his foot in the ground, changing direction, accelerating, has tremendous ball skills. Excellent competitor. He plays much bigger and taller than he is. He has a great vertical jump."

Fisher indicated the Aggies still have room to sign another player if they choose. Defensive end Braeden Mowry of Katy could be a possibility. If the Aggies do add another player rest assured Fisher believes that player will help A&M win a championship.

"First you have to identify need and we have to have," Fisher said. "Then we went out and identified guys. Can we win the SEC with them? Can we win the national championship with them? Do they have a chance to be a top-round draft pick? An all-conference player? All those guys in our opinion met that criteria and have an opportunity to do that."

Note: Fisher acknowledged that offensive line coach Jim Turner is leaving A&M for the NFL Cincinnati Bengals. Fisher also indicated a new offensive line coach would be hired in the very near future.
Never miss the latest news from TexAgs!
Join our free email list