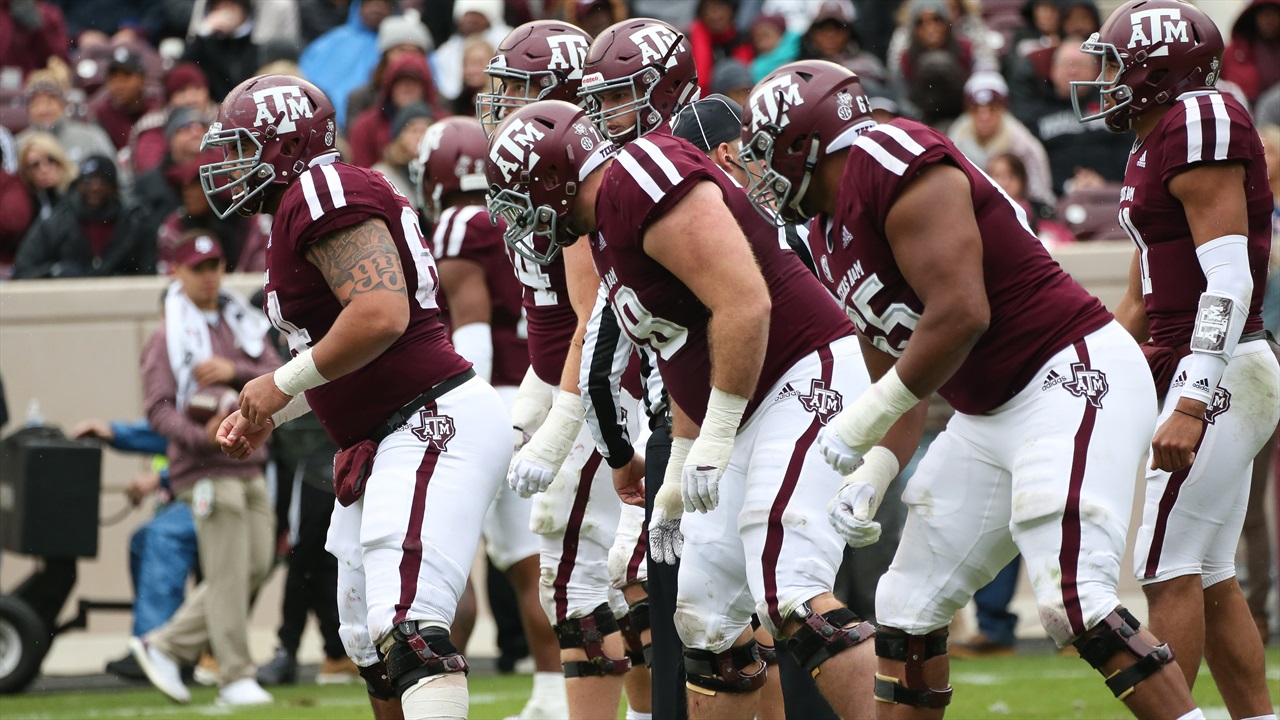 Photo by Matt Sachs, TexAgs
Texas A&M Football
Despite NFL departures, Aggies have cause for optimism in 2019
---
The forecast for Texas A&M football in 2019 seemed bright. An objective observer could foresee improvement in a second season under coach Jimbo Fisher.
But then four juniors — Trayveon Williams, Erik McCoy, Jace Sternberger and Tyrel Dodson — opted to forgo their senior seasons and enter the NFL draft.
Suddenly, the outlook became more foreboding. That forenamed foursome certainly will be missed. But those expecting A&M to regress are lacking foresight.
Fisher's first Texas A&M team posted nine victories against a treacherous schedule despite a porous secondary and a maligned offensive line.
Look for that secondary to get much better with an influx of talent from a highly-regarded recruiting class and with the performance shown by safety Leon O'Neal in the Gator Bowl.
Also, three starters will be back from that offensive line which wasn't as bad as critics charged. In fact, it wasn't bad at all. That line paved the way for Williams to rush for a school record 1,760 yards.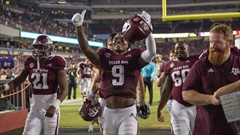 Rey Romo, TexAgs
Of course, that line was anchored by the now departed McCoy. And Williams won't be running behind it next season.
Which takes the discussion back to the four playing in the NFL next season. How can A&M hope to win at a high level without them?
Glad you asked.
No doubt, Williams' absence leaves a void in the rushing attack. Jashaun Corbin has the speed, explosiveness and attitude to fill at least a good portion of that hole.
He averaged 5.7 yards on 61 carries as a true freshman. He had a 35-yard run against North Carolina State, a 28-yard run against Mississippi State and a 21-yard run against UAB. Those are all Top 30 rushing defenses. He also had a 100-yard kickoff return for touchdown against Arkansas.
He'll have to prove he can consistently produce, but based on early indications there is no reason to suggest he cannot.
Corbin won't have McCoy blocking for him, which is most unfortunate. McCoy is arguably the biggest loss from the 2018 roster.
But the bet here is the Aggies offensive line will remain strong despite a new center. Incumbent starters Carson Green, Dan Moore and Jared Hocker got better as the 2018 season progressed. They will keep getting better, too.
Corbin won't have McCoy blocking for him, which is most unfortunate. McCoy is arguably the biggest loss from the 2018 roster.
The search for McCoy's replacement at center will be intriguing. Ryan McCollum made seven starts at guard. He could shift over to center. Redshirt freshman Luke Matthews is also a possibility. No one would ever object to a Matthews in the lineup.
Further, incoming freshman Kenyon Green is rated among the elite prospects in the nation. He won't play center, but some scouts project him as a starter at guard or tackle. He could give the line an immediate boost.
The Aggies also have incoming elite tight end prospects, which will ease the loss of Sternberger. Replacing an All-American is always difficult, but Fisher definitely has material with which to work.
Baylor Cupp was rated the nation's No. 1 tight end prospect. He is as big as Sternberger and may be faster. He'll have to prove he's ready for big-time college football. But so did Sternberger, who had made just 22 catches in his first two seasons of college football.
A&M also can use the committee approach to replacing Sternberger. Fisher is also high on incoming freshman Jalen Wydermyer, who also has the size and speed to play right away. There's also 6-foot-5, 265-pound sophomore Glenn Beal, who proved himself as a strong blocker in 2018.
Dodson's exit was the most surprising departure. That left the Aggies with little experience and depth at linebacker.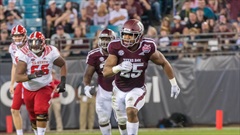 TexAgs
However, the Aggies do have talent. Junior-to-be Buddy Johnson posted 27 tackles in a backup role, but 14 came in starts against Mississippi State and North Carolina State. He's ready to take on a starting role.
The same goes for Anthony Hines, who showed flashes of brilliance as a freshman in 2017. Though he missed most of last season with an injury, he'll be back and figures to move into the starting lineup.
The linebackers will benefit from playing behind a defensive line that with tackle Justin Madubuike returning could be just as good as last year's stellar front four.
It's not a foregone conclusion that A&M will struggle next season.
In fact, if the secondary improves and some newcomers like Cupp, Wydermyer and Green make impacts right away, the Aggies can continue to move forward.
They may be able to challenge the foremost Southeastern Conference powers. With some luck maybe they can even raise a fore finger in 2019.
Admittedly, that would be unforeseen. But those predicting doom and despair should not jump to foregone conclusions. Or even four-gone conclusions.
Never miss the latest news from TexAgs!
Join our free email list