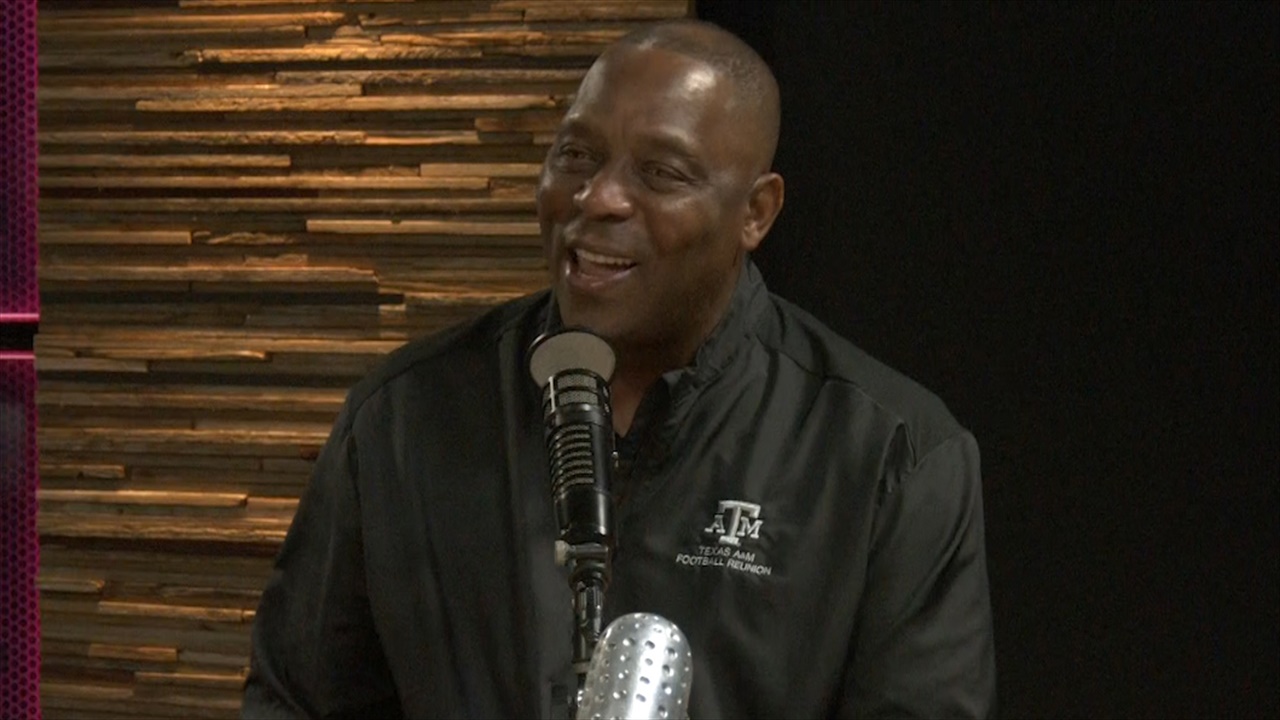 Texas A&M Football
Newly enshrined CFB Hall of Famer Jacob Green discusses honor
---
Key notes from Jacob Green interview
I was actually in Houston visiting with some 12th Man donors. I do know when I got to the office, I had something for me. RC had told me you know you made it because they send you a football. I went into my office and I looked on my desk and saw a football and a bottle of wine and that's when I knew.

The 12th Man Foundation has a dinner at the college football Hall of Fame every year. I'm around all of these guys. Guys that I played against in college. All of a sudden you become part of that special group. Patience worked out. It's an honor for me individually. But, I always felt with my teammates, coaches, and for this great university that we all get recognized.

I was recruited probably by every college. Penn State, USC, Texas UCLA. I got to know A&M. A&M recruited my parents and that was big. I would wake up for school and I hear A&M calling my mom. A&M defense was always great with guys like Tank Marshall and Lester Hayes. I would come down and watch them play. They'd win games 10-6. That inspired me to want to be a part of that.

You first come to college and that freshman year is really tough. When I came in, my class was number one in the country. The number one player in the country was Curtis Dickey. I wasn't invited to the all-star game in Houston even though I was the number one player in Houston. You just gotta grind through that freshman year. It just took off.

Tank Marshall took me in. I would ask him questions and he would explain it to me. He's one of my really good friends now. He's one of the guys you think about when you think about A&M football. I wanted to be like those guys. You didn't want to go against Tank. He was one of those guys where he was one of the nicest guys, but when he put that uniform on, he wasn't nice.

One of the NFL memories I have is with Seattle and we needed to win a game to make the playoffs. I had told the ref I was being held. The other team threw a TD late in game but it got called back because I was held. We made it to the NFC championship game that year. Of course, we went 12-4 and were a wildcard some years.

If my other two daughters marry a guy like Red Bryant, then I'd be happy. I first met him with he was a sophomore in college. He was big. I had to put a little fear in him. Red is quite a young man. He's really turned into a fine young man. When he left A&M, you never know how the draft will go. He went the second day in the draft. I had to leave to go play in a golf tournament and I ended up playing with four women. I told them who my son-in-law was and they knew who I was. I got the call on the fourth hole from the Seahawks that they were drafting Red and they said they'd love for him to wear my number 79. The four ladies and me bonded and were pretty excited.

It has really been rewarding working for the 12th Man Foundation meeting so many people. I've gotten to learn where scholarships like the one I had came from as well as do so many other amazing things.

Jimbo has a system. He's building a program. Our kids bought into it. Those kids will run through a brick wall for him. I'm excited for the direction of this program.

Wen we played #6 Texas in 1979, first thing I remember was Bonfire. I was fired up. First play of the game we caught Texas in the backfield and then I think I had a sack. In the fourth quarter we called an option pass. Curtis hit the hole so fast and scored and we won. That was such an emotional game. It was 13-7. I remember that game like it was yesterday.

The two games I loved as a fan are the 2010 Nebraska game with the towels coming down and this year's game against LSU. Kellen Mond and the receivers were great. This game will carry us over. These games help build a program.
Never miss the latest news from TexAgs!
Join our free email list