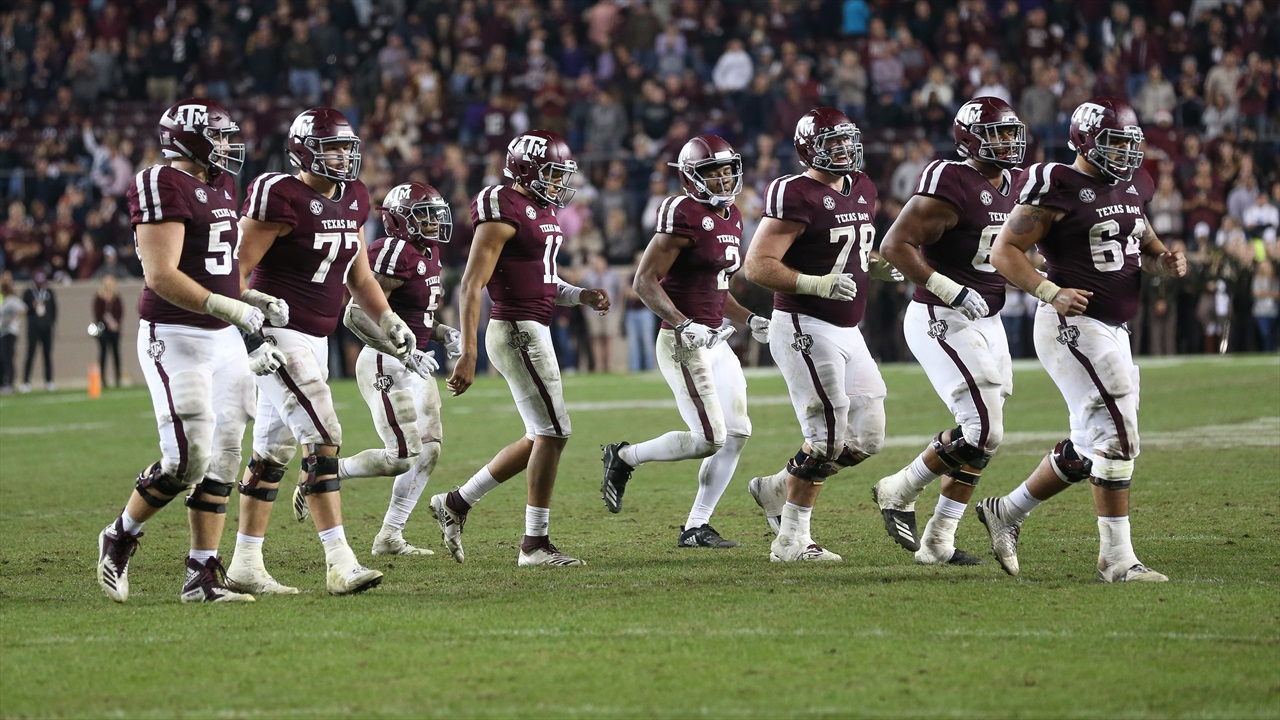 Photo by Matt Sachs, TexAgs
Texas A&M Football
Despite intrigue over NFL futures, Aggie players focused on Gator Bowl
---
The Gator Bowl matchup between Texas A&M and North Carolina State offers quite a bit of intrigue.
Can NC State quarterback Ryan Finley successfully exploit A&M's vulnerable secondary?
Will Aggies running back Trayveon Williams rush for 170 yards and set an A&M single-season rushing record?
Which team will be more successful compensating for two starters that are not playing in the Dec. 31 clash?
What inquiring Aggies want to know has less to do with the actual game. The bigger question from A&M's perspective seems to be which third-year Aggies will be playing in their last game for A&M and which ones will return to College Station for another season?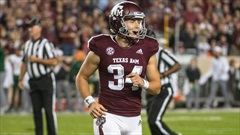 Rey Romo, TexAgs
Record-setting All-American punter Braden Mann has already announced that he will return to A&M for his senior season.
However, Trayveon Williams, center Erik McCoy, tight end Jace Sternberger and linebacker Tyrel Dodson — all juniors — haven't indicated whether they will opt for early entry into the NFL draft. The NFL draft is April 25-27 in Nashville.
Most said they haven't made a decision, though that may be taken with a grain of salt. The deadline to declare for the draft is Jan. 14.
McCoy said he isn't concerned by that looming deadline.
"There's not really a time table for that right now," he said. "I'm really just focused on what I can do right now to help this team win a bowl game. That's all in the rearview mirror right now."
It's admirable that the players are concentrating solely on the clash with North Carolina State and the quest to end A&M's three-game losing streak in bowl games.
Still, cynics might doubt such an important life-altering decision hasn't been made less than three weeks before a deadline, but Williams, McCoy and Sternberger insisted that was the case.
Dodson didn't say anything when asked about his plans. He just continually repeated: "I'm just trying to win my first bowl game."
Williams, McCoy and Sternberger also say they're focused on the Gator Bowl matchup, but they admitted the decision has been weighing heavily on their minds.
"I've been talking it over with my family," Williams said. "I haven't made any decisions. I do not know. I'm focusing on the bowl game right now. I'm not being selfish. I just want to be the best teammate, beat captain, best leader I can be so we can go and win this bowl game."
"I'm not going to sit here and say I haven't been thinking about it and talking it over with my family. But I'm focused on the bowl game and being the best I can be for this team."
Conventional wisdom would suggest that Williams is the most likely to declare for the draft.
He's had an All-American season with 1,524 rushing yards. He's also demonstrated that he can be an effective receiver out of the backfield and he can block — all qualities that are valuable for an NFL running back.
"I'm not going to sit here and say I haven't been thinking about it and talking it over with my family. But I'm focused on the bowl game and being the best I can be for this team."
His draft status isn't likely to get higher. Also, there is the theory that running backs can only absorb so many hits, so it's best to turn professional as soon as possible.
Under NFL guidelines, colleges can request evaluations for five underclassmen from The College Advisory Committee.
That committee evaluates players and projects them as potential first round picks, potential second round picks or neither, which is a recommendation to stay in school.
Williams said he's heard back from the committee, but declined to reveal its evaluation of him.
McCoy said the recommendation he gets from the committee will be only one factor in his decision.
"There's a multitude of things," he said. "How I compare with other centers in the SEC and overall. Where I might be projected at. Things of that nature."
But Sternberger, who gained consensus All-American status after catching 47 passes for 804 yards and 10 touchdowns, suggested the evaluation won't influence his decision.
"I really don't have a guideline," he said after practice on Thursday. "I've never been really a numbers guy because the numbers have always been against me. It's always how I feel personally. How I am mentally, physically and everything. I'm in a good place right now, so I'm not in a rush or anything."
Sternberger is obviously ready for the NFL as a receiver. However, there is a school of thought that if he returns to for his senior season he could add mass and strength to his 6-foot-4, 250-pound frame, improve as a blocker and perhaps make himself into a probable first round selection in the 2020 draft.
He said he isn't looking that far into the future.
"You always want to look towards the future. But at the same time you've got to worry about what's at task," Sternberger said. "To me, right now, it's to be the best I can to be a Texas A&M Aggie. Whenever the future comes that comes. I'm not going to act like I haven't been thinking about it, but my main focus is playing football here at Texas A&M."
It is for now anyway. For next year?
Aggies apparently will have to wait until after the bowl game to learn that answer.
Never miss the latest news from TexAgs!
Join our free email list
PRESENTED BY