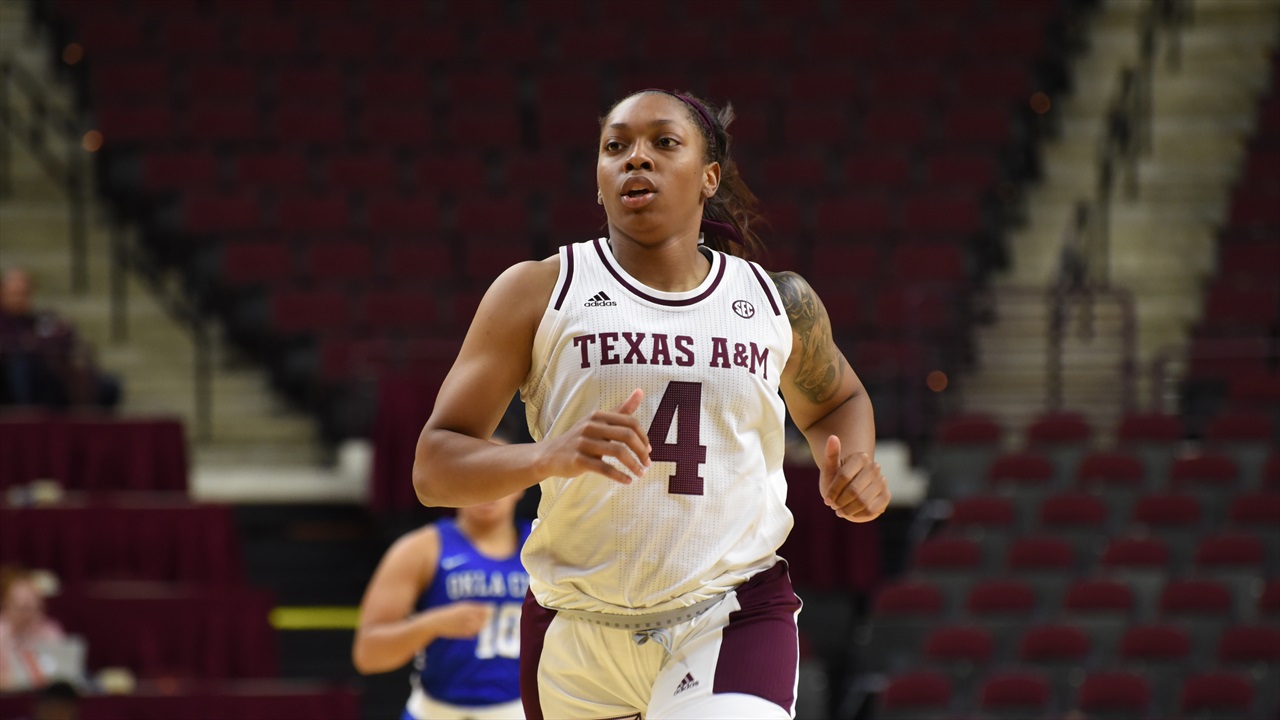 Photo by Elisa Schmitt, TexAgs
Texas A&M Women's Basketball
Aggie women's basketball makes comeback to overcome Prairie View A&M
---
The No. 23 Texas A&M Women's Basketball team put their five-game win streak on the line Friday night in a remarkable comeback victory against Prairie View A&M at Reed Arena. Coming off of two wins over ranked opponents, the Aggies defeated the Lady Panthers 70-57 after trailing the entirety of the first three periods, twice by as many as 11 points.
Despite the late victory, nothing came easy to A&M in this game. Prairie View's strong athleticism imposed great challenges on Texas A&M, specifically in the first half. In the moments of opportunity for A&M to take the lead, the Aggies just couldn't make the plays.
With Chennedy Carter on the bench to rest an injured ankle, head coach Gary Blair had to rely on Shambria Washington, Ciera Johnson, Kayla Wells, and N'dea Jones to play smart and put points on the board.
"What we got to do is learn how to play without her. She's got to learn how to play smarter and realize how valuable she is," said Coach Blair.
Texas A&M forward N'dea Jones also took note of how Shambria Washington and Kayla Wells have stepped up in Carter's absence.
""We are so used to Chennedy having the ball in her hand, so sometimes it's hard not seeing that familiar face."
"We are so used to Chennedy having the ball in her hand, so sometimes it's hard not seeing that familiar face and just running the plays we know and trying to get open," Jones said.
At halftime, Coach Blair was quick to realign the struggling team for the remainder of the game.
"It's not who is not playing. It's who is playing, and we're not getting the job done," he said.
The Aggies struggled in post play, hitting open shots and forcing turnovers until they were able to turn things around in the fourth period.
With just 7 minutes left in the game, the narrative changed entirely. Texas A&M had 13 turnovers at halftime but finished the game with just five more. In the fourth quarter, the Aggies outscored the Lady Panthers 22-4 to close out the game and solidify their sixth-straight win.
Texas A&M had 4 players reach double-digit figures, including N'dea Jones, who marked her 6th double-double of the season. She became the only player in A&M's history to tally over 17 rebounds in 3 consecutive games.
Jones also led the Aggies in scoring with a career-high 15 points, and Ciera Johnson and Kayla Wells each added 14. Shambria Washington tallied 13 points, and Aahliyah Jackson had a career-high 7 in her first career start.
Friday's win brings the Aggies' record to 10-2 and marks Texas A&M's 20th straight win over their fellow A&M System school. Looking ahead, the Aggies return to action on Saturday, December 29th to face UT Rio Grande Valley in a 12:00 p.m. tipoff at Reed Arena before opening up SEC play on January 3rd.
---
Special thanks to Mac Resource Computers for their sponsorship of all women's basketball content produced throughout the season at TexAgs.com! For the seventh consecutive year, all WBB content will be available to you for free!
Never miss the latest news from TexAgs!
Join our free email list