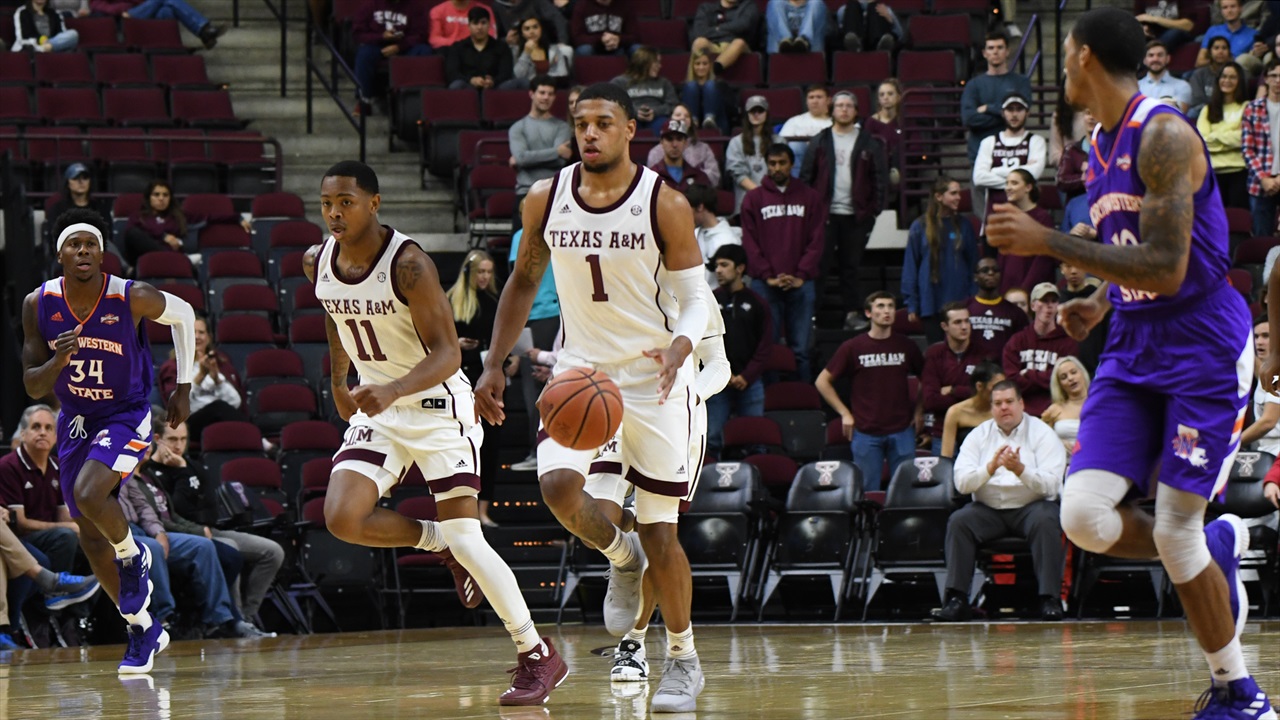 Photo by Jackie Ysaquirre, TexAgs
Texas A&M Basketball
Aggies defeat Northwestern State 80-59, Isiah Jasey to leave program
---
A one-sided victory typically is reason for celebration and optimism. But in this somewhat atypical Texas A&M basketball season, the Aggies' 80-59 win over Northwestern State on Monday night at Reed Arena had an uncertain feel to it.
The Aggies (3-4) could glean encouragement from a season-high 18-point effort from guard Wendell Mitchell and a stout defensive effort.
Although they were in control from the outset they never discarded the visiting Demons (2-7) until mounting an 11-2 run over the final five minutes.
A 21-point victory normally could be viewed as a sign of significant progress. However, Northwestern State lost to UTEP by 30 on Saturday night. Prior to that, the Demons fell by 28 to Louisiana-Monroe, by 27 to Houston, by 28 to Rice and by 25 to BYU.
A&M coach Billy Kennedy acknowledged the Aggies must improve quickly with (6-1) Boston College coming to College Station on Saturday.
"It was good to be able to play everybody and to see the progress that Wendell has made this last week and being able to practice," Kennedy said. "We're going to have to play much better to beat a really good Boston College team on Saturday."
Or perhaps any other opponent remaining on the schedule.
It's been a difficult start of the season for A&M, which suffered three of its four losses by a total of 10 points. They've been without star Admon Gilder, who has been sidelined with illness, and on Monday night it was announced that 6-foot-10 sophomore forward Isiah Jasey left the team.
The Aggies certainly needed relief. They got it from the performance of Mitchell, a junior college transfer who provided a jolt of offense.
However, Mitchell has been slowed by tendonitis. He'd only scored 11 points thus far this season until breaking out with a trio of 3-point goals and netting 13 points in the second half.
"I haven't played in a while," Mitchell said. "It's just good getting my confidence back. I was able to play more fluid without worrying about my previous injury and just trying to get back to what I basically do … scoring and creating for others."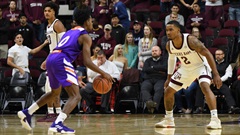 Jackie Ysaquirre, TexAgs
Mitchell received help from forward Christian Mekowulu, who scored 14 points, and guard T.J. Starks, who had 12. Leading scorer Savion Flagg had an off scoring night with nine points – 6.5 under his average – but compensated with six rebounds, six assists and three blocked shots.
Forward Ishmael Lane, a muscular 6-foot-8 senior, led Northwestern State with 16 points. Guard C.J. Jones added 13 and forward Darian Dixon had 10.
A&M took control when Mitchell and Starks drilled consecutive 3-pointers to launch a 10-0 run that provided a 32-16 lead with 7:05 remaining in the first half. However, they couldn't extend the margin. They hit just 1 of 6 field goals – a Brandon Mahan 3-pointer – and committed seven turnovers the rest of the half.
But Northwestern State fared little better. The Demons managed only three field goals and committed nine turnovers over the final eight minutes of the half as A&M took a 38-24 lead at the break.
A&M limited Northwestern State to just 29.4 percent shooting (10 of 34) in the first half. The Aggies ultimately held the Demons to 34.4 percent shooting, took a 38-33 rebounding advantage and blocked a dozen shots. Northwestern State never got closer than 10 points in the second half.
That defensive showing was another encouraging sign moving forward.
"I thought defensively we held them to 24 points in the first half. Defense is definitely way ahead of the offense," Kennedy said. "That's an area that we're going to have to be really good in because of the makeup of this year's team. Offensively, teams are going to continue to under the ball screens until we start making perimeter shots and making better decisions."
Three-point shooting has been a problem for the Aggies. They entered the game converting just 24.2 percent behind the arc. They didn't do much better, hitting 7 of 24 (29.2 percent). Turnovers also continued to be an issue as the Aggies committed 15 miscues. But the defense only allowed Northwestern State to convert them into just 10 points.
Never miss the latest news from TexAgs!
Join our free email list