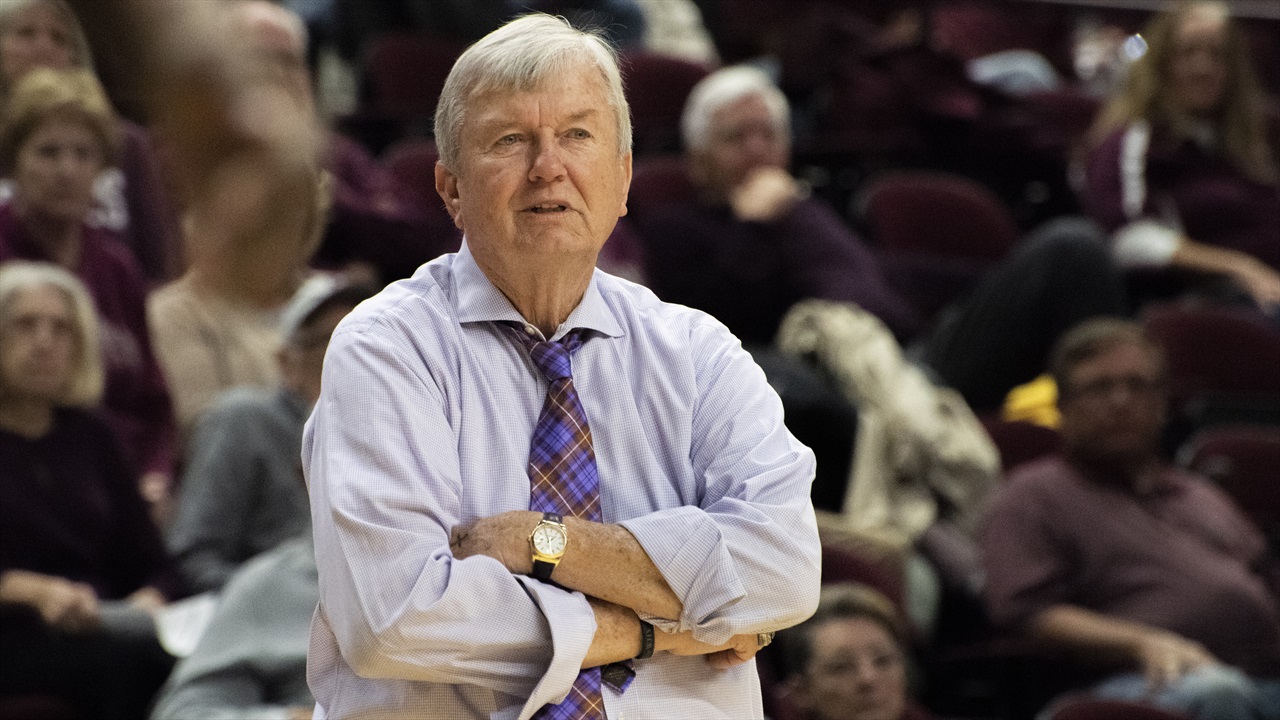 Photo by Elisa Schmitt, TexAgs
Texas A&M Women's Basketball
With Carter suspended, Aggies fall to Lamar 74-68 on Elementary School Day
---
It was the sixth annual Elementary School Day at Reed Arena today, but despite the exciting atmosphere, the No. 17 Texas A&M Aggies lost a frustrating contest to in-state opponent Lamar, 74-68.
The loss makes it the second out of the last three in the annual game and "that's disappointing," said A&M head coach Gary Blair.
As thousands of elementary school students from 32 different local schools flooded into Reed Arena prior to the game, it was announced that sophomore guard and A&M leading scorer Chennedy Carter would not be playing. She sat out due to a one-game suspension for a violation of team attendance rules. Following the game Blair reassured fans that it was a one-time offense and that she will be back in short order: "she'll be fine. She realizes her mistake, but we have team rules."
Losing Carter and her 19 points per game is a big loss but Coach Blair said it boils down to a "next man up mentality." Carter's absence ended up being too much to overcome for the young A&M team, as the starting three Aggie guards made a combined 12-of-41 from the field and committed 13 turnovers.
They were strongly outplayed by the starting Lamar guards who combined for 41 points and just three turnovers. Despite the back-court struggles, Coach Blair said that the poor outing wasn't merely because Carter wasn't on the floor.
"This game does not have anything to do with who did not play in the game. It has only to do with who did play in the game and who coached the game."
"This game does not have anything to do with who did not play in the game," Blair said. "It has only to do with who did play in the game and who coached the game."
"We didn't have our A-game or our B-game to let the crowd take over," Blair said. This was apparent right from the beginning of the game when Lamar jumped to a quick 13-8 lead. A&M was on their heels immediately and wasn't able to execute their game plan, which was to use their clear size advantage. "We knew we could hurt them inside either with our guards or our posts. We just didn't do it," Blair asserted.
That was the summary of the night. The Aggies just weren't themselves, a team that is known for their presence inside, but today, they didn't execute.
Offensively, A&M finished with 38 points in the paint, but the argument could be made that the total should have been 20 points higher with a large number of point-blank missed shots. An off game for the Aggies can explain this, but Lamar deserves credit for forcing 20 turnovers in their press defense.
"We're a full court pressing team. We want to make you play faster than you want to play," said Lamar head coach Robin Harmony.
Blair echoed the sentiment that the Aggies struggled to penetrate the press.
"The thing that killed us most was Lamar's simple 2-2-1 press."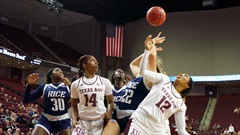 Elisa Schmitt, TexAgs
On the defensive side of the ball, A&M's size advantage did not hold up as the Aggies gave up 17 offensive rebounds and 30 points in the paint. Lamar played fast and scrappy as they drove gaps and kicked it out to open shooters, something they do consistently, as they are the eighth-ranked team in the country in three-point attempts. This spread out the A&M interior, allowing for Lamar wings to crash the glass free of contact.
In moments when A&M had opportunities to go on a run and take the lead, they just couldn't do it. The Aggies crawled their way back into the game late in the fourth quarter when they cut the Lamar lead to two points with 3:14 remaining, but Lamar responded by forcing turnovers and getting to the foul line. The frustrating loss is a new feeling for this young Aggie team.
"We've got a long way to go with this basketball team," Blair said. "I've been very pleased with this basketball team, but now, how do we handle adversity? Are we going to point fingers or accept blame?"
Next up for the Aggies is a showdown against Houston (3-5). Blair said his team will "be ready to play Houston next Thursday" and that they're "just gonna go back, take the butt kicking, and go get better."
---
Special thanks to Mac Resource Computers for their sponsorship of all women's basketball content produced throughout the season at TexAgs.com! For the seventh consecutive year, all WBB content will be available to you for free!
Never miss the latest news from TexAgs!
Join our free email list