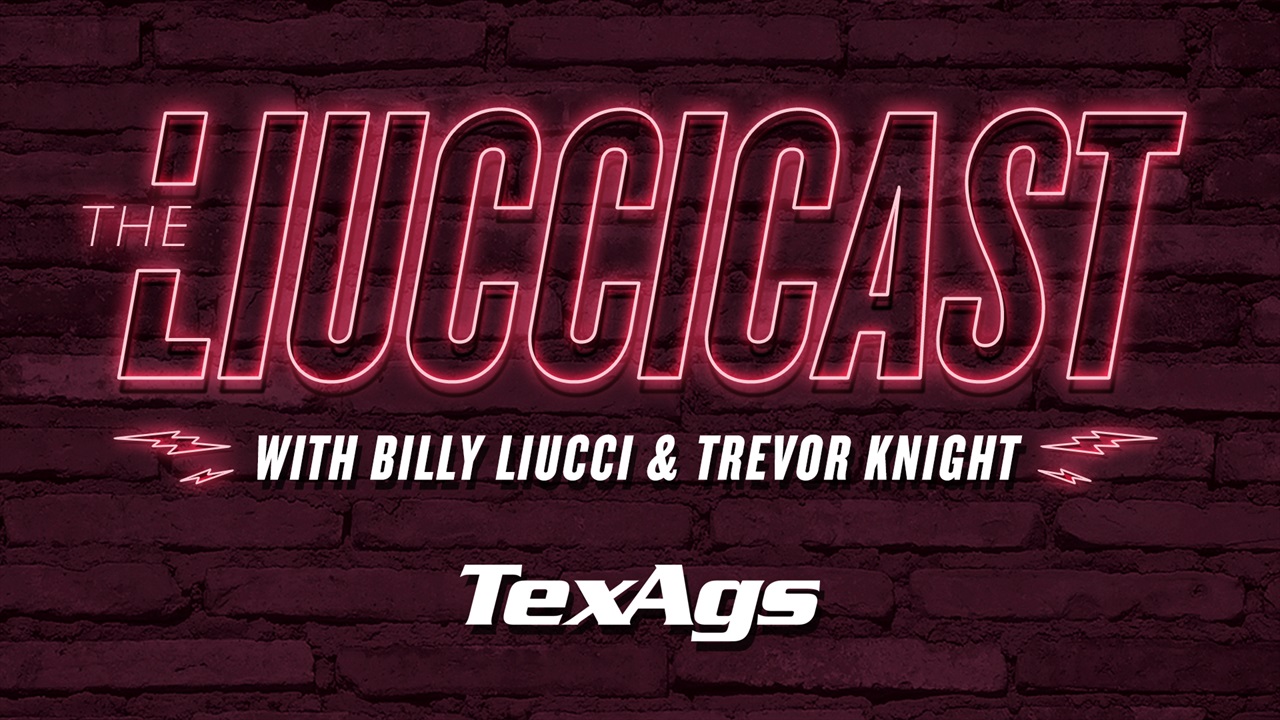 Texas A&M Football
The LiucciCast: Scattershooting the Aggies' 2018 Regular Season
---
Liucci: What's up, Ags? This is Billy Liucci and I am joined today by Bridgett Falcone.
Falcone: Howdy, howdy!
Liucci: So, to be honest, I just didn't want to wear my contacts this week. My eyes were hurting and it was very difficult – the writing was becoming difficult for me this week of looking on the computer, and the 13 week season got to me.
Falcone: Oh, I'm sure.
Liucci: I don't know if I scratched my eye with the hard contacts I wear, but I needed a few days off from the computer.
Falcone: Okay, understandable.
Liucci: But we could not let this week go by, even though I've done all this radio, so what we're gonna do today is, I was gonna do one of the long scattershootings.
Falcone: Wonderful.
Liucci: So, I feel bad for whoever is transcribing this, but you guys who wanna watch it or listen to it, I think we'll put it on… maybe we'll put it on the LiucciCast, just for those who like to consume it via podcast so they'll be able to. But this is just going to be basically the scattershooting, an oral version of the scattershoot, and then we'll also transcribe it for those of you who don't like to listen and would rather read my writing - they'll transcribe everything we're saying here. But this basically is gonna be… we're gonna talk all things A&M football, from the actual game, to recent developments here in the last 24 hours, to recruiting, and almost, like, big-picture season stuff - just as I would if I wrote it, Bridgette. And Bridgett is kind enough to sit here today and just kinda guide us through it. She's got my notes...
Falcone: Yes, yes. It's time and a half, right?
Liucci: Yeah! It is, it is. You get a lunch and a half out of this.
Falcone: Yes!
Liucci: So let's do it, Bridgett. Take us through all these.
Falcone: Alright, so as you and everybody else know, the Ags were literally down to one second left. Talk a little bit about how important that one second actually was.
Liucci: Yeah, like what it would mean with or without what the difference was. I mean, for starters, just the basic stuff in terms of another 7 and 5 season, you'd tumble down the bowl ladder - we'll talk about that in a little bit - you'd be 0 and 7 against LSU in the SEC - you'd be 8 and 0 against them - and you'd have to go to Baton Rouge next year with a chance to run that streak even further. More than that, though *pops knuckles* it was one second what that game meant big-picture. Right? I mean, to the fans - you saw it at the end of that football game - the outpouring of emotion…
Falcone: Oh, yeah!
Liucci: ...to the players and coaches. Players out there on the field crying and celebrating…
Falcone: I was crying the entire time.
Liucci: ...Bridgett crying.
Falcone: Last game as a student, I mean, that was… there was no better way to send off, like, student seniors, athlete seniors… that was incredible!
Liucci: Yeah, unforgettable. And for someone who's been covering it for 25 years, still unforgettable. Number one on the list. Number one on the list. Um, *coughs* and just to win that football game, and Jimbo Fisher - here's why that second was so important to me: Jimbo Fisher after that Alabama loss this year, when they were down 22 points with a couple seconds left and he called a timeout to try and score more, the media, I actually think Olin asked him, "Why the timeout?" And he went on a pretty significant … rant on the answer. He said, "Texas A&M plays until there's no time left on the clock." And he said, "You preach it, you practice it, you live it. And if you those things and you don't live it," he's basically saying, "What are you doing?" And everyone thought nothing of that, and then you have one second left against LSU, to score from 18 yards out, a touchdown against one of the best secondaries in college football, and those guys fought to the last second. You had Kendrick Rogers fighting to get out of bounds there. Kellen Mond and the whole team racing to the line of scrimmage, spiking that thing with one second left. That goes into the attention to detail that Fisher has preached all season. You know, practice, what do you say? Do it right until you can't do it – do right so many times.
Falcone: Do it right until you can't do it wrong. A little bit faster than that.
Liucci: Yeah, a lot faster than that. So there's one second left. You know, there's one second left. We have to race to the line of scrimmage. To bite that, you know. And to do that, execution, to play until the final second, this team bought into everything he was preaching all year. Physicality, running game, everything he talked about. Perseverance, it all came to fruition in those final moments, in those final seconds of that game and overtime. Forget what's behind you, good or bad. Worrying about the next play, you know Trayveon Williams with the disastrous fumble.
Falcone: Yeah, that was rough.
Liucci: I mean he would've never... I would've thought Trayveon would've let that dog him for a long time. It's hard not to. But you know what he did? He lost that fumble, and then he came back and he was an absolute beast the rest of the game. In overtime, finished with a couple hundred yards, capped off an amazing junior season at A&M with one of the best performances I've ever seen by an Aggie running back. So all those things that Jimbo preaches, and that's why they won that game. Because they believed, and when they lost two games in a row, when a lot of the fans kinda said, "here we go again," and bailed out, they didn't. And so for Jimbo to get that kind of buy-in, Bridgett, from a team in year one, it's hard to do. It's hard to do. And look around the country, right now. And this is a whole separate point for who's transcribing it. You look around the country right now at first year coaches, and there are two that stand out above the rest-- Power Five. There are two that stand out above the rest. It's Jimbo Fisher and it's Dan Mullen. And it wasn't easy for either guy this year. You know, Dan Mullen, they took a beating at the hands of Missouri a couple weeks ago, at home. A&M didn't have anything like that this year. They took a beating a couple weeks ago at home, but they recovered. They're 9-3, A&M's 8-4. I would say Jimbo's done a better job even then Mullen.
Falcone: I think schedule, scheduling alone.
Liucci: Yeah, yep. They both beat LSU at home. You know, if A&M, if A&M doesn't play Clemson...
Falcone: Then they were gonna….
Liucci: They're 9-3 also.
Falcone: Even, yeah. Oh yeah, yeah.
Liucci: And they really, they played Clemson a lot tougher than Florida played. Florida didn't play Bama, Florida played Georgia. Both teams got blown out by Bama and Georgia. If A&M doesn't play Clemson and plays anybody else and plays as well as they did, they're 9-3.
Falcone: Especially that early in the season, oh yeah.
Liucci: I'd go Jimbo, I'd go Mullen, and then the field. And it shows you how hard it is. You look at Cristobal at Oregon, you look at Sumlin at Arizona, you look at Frost at Nebraska, you look at Chip Kelly at UCLA, it's hard. And for this first year, for Jimbo to go 8-4 in the SEC West with a non-conference game against Clemson, you played number one and number two. For him to do that and go 8-4. Nick Saban didn't that at LSU or Bama. Kirby Smart didn't do that at Georgia. Pete Carroll didn't do that at USC. Bob Stoops didn't do that at OU. I'm talking about some of the- with Kirby Smarts being young- some of the great coaches, and they didn't do those. Recently, Chris Peterson didn't do that at Washington, where he's built them into a West Coast power. And even the great Tom Herman went 6-6 in the regular season in the worst conference in college football. It's not the worst, I like to say that but it's one of the worst. He didn't do that. Dabo didn't do it at Clemson. So it is really difficult what Fisher did and I think people need to recognize that and realize, especially if A&M could cap it off with a bowl win.
Falcone: Yeah, I think that's foreshadowing to what this program is going to turn into, definitely. Umm, so it's going to be a long journey for Jimbo and the Ags to get to the promised land. That being said, what are some checkpoints they've hit, like thus far, that are really notable?
Liucci: I think that first and foremost in that game-- let's just take that game in particular, what they did, and what it meant to that game and the season. First of all, they were noticeably improved in November. I said after they lost to Auburn, I think they cost themselves the chance at an undefeated November. You had other people thinking A&M was gonna lose out and do 6-6. They saw UAB's record, they didn't think A&M could defend Ole Miss against the pass and it was gonna be a long day there and they were gonna get outscored. And certainly, a lot of people thought they'd lose to LSU. I thought they could win it, because I saw a team that really dominated Alabama, I mean Auburn, and was getting better and then they let it slip. But I liked the way they had responded after losing to Mississippi State. And then I really like the way they responded after losing back to back. I thought this team was rolling, but they were better in November. They were 3-1. They beat two ranked teams, they won two out of three in the SEC, and they capped it off you know with arguably-- not arguably-- it was the most exciting thrilling win in school history, one of the biggest in school history when you factor everything in. They defended Kyle Field. We said before the season, a lot of people asked me, what would be a successful season in my mind? I sai 8-4 with a win over LSU. And to establish a starting quarterback that was going to be your future. Whether that was Kellen Mond or Nick Starkel. Establish a starting quarterback that you felt like was the future, because each of them was gonna have two years left. They did all those things and they beat LSU, and the way they beat LSU and the way they got to 8-4. I said take Kyle Field back, right? They took Kyle Field back and the way they did it was even better. To go 3-1 against ranked teams. Who knew Kentucky and UAB were going to be ranked when they came in? Who knew the Kyle Field crowd was going to come in amped for the Wildcats and the Blazers? Particularly, that Kentucky game was huge. Kentucky's 9-3 this year.
Flacone: Yeah that was insane.
Liucci: That was breakthrough. To go 3-1, but to lose to Clemson the way you did, on the final play. And to beat LSU on the final play, 14 different times it felt like. The way those two bookend high profile home games went and to beat a couple ranked teams in between… Kyle Field is back. No one wants to try to come play in front of the 12th man anymore.
Falcone: Undefeated in conference. Undefeated at home in conference.
Liucci: Which is the first time that's happened. So this was the biggest home win for A&M since Nebraska 2010. And it was bigger,
Falcone: I was actually at that game. My dad took me. That was one of our first game, before we had our season tickets.
Liucci: 2010 though. This one's bigger because it was everything it meant with LSU. Seven overtimes. Look, that game was a 9-6 game. If you love defense it was great, but it was really bad offense in that game. Really bad offense on both sides. This game was thrilling, it captured the attention of an entire country, not just the Aggies. It's the biggest home win, now I'm going back and saying when they knocked off No. 1 OU. That's in the discussion because they were number 1, but that was an A&M that at the time was just playing for bowl position. They finished 6-6 that year. But that's in the discussion, and '98 Nebraska. And I might go back to '98 Nebraska and say this is the biggest one since then. It's certainly the biggest since they went to the SEC. Quite frankly, there haven't been many. They knocked off a top ten Tennessee team a couple years ago; that was a great victory too.
Falcone: That was an overtime game too.
Liucci: Triple overtime if I'm not mistaken. At least double. This was though an LSU teams that's still gonna go to the New Year's Six bowl. It's an LSU team that beat No. 2 Georgia at the time. It's an LSU team that had they won would be ranked fifth in the playoff today and probably going to the playoff when Georgia lost. This game may very well have kept LSU out of the college football playoff. So this was a real football team you beat. Not one early in the year that had a high ranking that ended up being okay or bad in some instances, this was a real powerhouse football team. And more importantly, they beat LSU, okay? 0-7, 0-6 in the SEC, a big part of the reason Kevin Sumlin got fired was because they couldn't beat, not a rival yet but I think they are now, a natural rival. You couldn't beat them. It's an 0-fer on your overall record, which had they just split with LSU during his time the whole narrative looks different. You have to be able to be able to show you're progressing towards winning this division in this league and LSU and Auburn were always Bama's competition. And A&M had showed no signs of passing LSU, and they did Saturday night. They did. And they beat 'em. And really before it got to that point, like Jimbo told the team, A&M was the better team throughout most of the game…
Falcone: Yeah, we were ahead the majority of the game. It wasn't until halftime and then things started…
Liucci: Well, the fumble. They could have put them away.
Falcone: That's what it was. Yeah, but it was evident throughout the game, that we were the better team.
Liucci: Yeah. And credit LSU. Because once that thing started going, both teams wanted it. I've never seen such theater.
Falcone: Yeah that was such a fight.
Liucci: It was. And you beat them at your best. And that's what I liked. You beat them at their best. There was no quarterback injury, they didn't play without Devin White and Greedy Williams. You beat them at their best. The Gatorade dousing of Ed O, the fight after the game, seven overtimes, both teams coming down to their last play how many times, the one second, the controversy with the calls that were pretty much all the right calls, the storming of the field, all of that. That makes a rivalry. Their rivals now. You got it. And if you don't think so, wait till next year when Texas A&M goes into Death Valley and Jimbo Fisher and Kellen Mond and Dameyune Craig, Kendrick Rogers, Quartney Davis, all the key players, hopefully Trayveon, you see the reception they get and you tell me A&M doesn't have an SEC rival. All those things could've been the same, if A&M would've lost, wasn't a rival. If A&M would've lost, people would have questioned the progress.
Falcone: I agree.
Liucci: What excites me, Bridgette, is they're second in the west, something they haven't done. Johnny and Mike, that team couldn't beat LSU. Von Miller didn't beat them in the bowl game. Miles Garrett, best pass rushers ever to come through, they couldn't do it. They both lost games to LSU. Kevin Sumlin couldn't do it. They tried to hire John Chavis over, he couldn't do it. No one has done it. That was really significant for the Aggies and that breakthrough in so many ways. The way they won it, and this is separate, they out-physicaled Auburn this year. They went toe-to-toe physically with Clemson. Defensively up front they went toe-to-toe physically with Bama. They dominated Auburn physically. I thought Mississippi State got the best of them, but that wasn't A&M's best performance.
Falcone: No, I would say that was A&M's worst performance of the season.
Liucci: Yeah that was an off day. And Mississippi State's defense by the way is third in the country at the end of the season. They're an elite defense. And against LSU, I wouldn't say they beat them physically, but they certainly went toe-to-toe. Both teams ran the football very well, but A&M outrushed them. A&M stopped their running backs. Joe Burrow gave them problems in the QB running game, big problems. But A&M was every bit as physical. Devin White is an absolute monster out there, but like, Otara Alaka was a beast. He and Donovan Wilson; both those two guys were laying some pretty vicious hits throughout the game.
Falcone: Mack had a really great game.
Liucci: Daylon had a great game. The guys up front had 6 sacks. They had a half dozen sacks.
Falcone: I know! Gabe was reading that on Tuesday, I was like "oh my gosh!"
Liucci: So, to me, they matched physicality at the minimum, and then secondly, they outlasted LSU in 7 overtimes. Those guys were telling me after the game, this is what I call the Jerry Schmidt factor, when they're coming up and they're saying "We could have kept playing. We were ready to keep going. Practices are harder than that for us." That's the differences. Practices and offseason workouts are harder than a 7-overtime game against freaking LSU. That's the difference. When you play Clemson, and their hands are on their hips at the end of the game and A&M is still coming.
Falcone: We had how many injury timeouts?
Liucci: Quite a few for them.
Falcone: They were all over the ground. Which is amazing.
Liucci: They were faded. Yeah, didn't have enough Gatorade left. And Jerry Schmidt doesn't get nearly enough credit. And another guy that deserves credit is Mike Elko. On Saturday night Elko would probably come in here and say "What the hell are you talking about? We gave up 72." Well Dave Aranda who is another elite defensive coordinator gave up 74. We'll tackle that in a minute too. Mike Elko though, what he has done with this defense this year had been pretty remarkable. There were some major holes on the back end, some significant areas of deficiency back there. They also fought injuries in the secondary, they played a whole season with basically three linebackers, scholarship guys available. I saw so many guys get better. Dodson, Alaka, you talk about up front – you mention Daylon. Elijah Robinson did a great job with him. Justin Madubuike – he's one of those stay or go guys that should stay because I think he could end up being a top 15 draft pick before it's all said and done. Kinglsey Keke and what he's been able to do in moving over, so I think those guys – what Elko did this year. For them to rank 3rd in the nation in run defense, and they were 111th against the pass. Obviously recruiting they need to go out and recruit some elite defensive backs and develop some of these young guys. Miles Jones coming on was very encouraging late. But to finish third in nation in run defense, up until the last couple games they were brilliant on third down, believe it or not they were 14th in sacks.
Falcone: Oh wow.
Liucci: Which after a slow start, finishing 14th in sacks with like 35. So I thought Mike Elko has done as good as job as any defensive coordinator in the country. He'd probably disagree with me. Hell, A&M is 37th in total defense. That sounds modest enough right? They were a top 40 total defense with a chance to move up in a bowl. They're probably not going to play a real explosive offense in the bowl if they're playing against a Big 10 team not named Penn State, McSorley and those guys. He did a hell of a job. And on Saturday… Ironically, I thought the Aggies did a really good job in coverage for most of that game.
Falcone: It wasn't the run.
Liucci: Joe Burrow got them with the QB running game. And he was great. Had it not been for that, that might be a 20-7 or 34-13 type of football game because that was everything they had was him creating and I give him credit. But speaking of credit, offensively what they did against LSU, and what Jimbo Fisher did… Jimbo Fisher schemed circles around Dave Aranda and around Brent Venables earlier in the year. I mean he pantsed both of those guys. Elite. Two of the biggest names in the game and he de-pantsed both of them at Kyle Field. Because the game plan against that caliber of defensive talent was incredible. And with that offense this year, you look at now at the end of the regular season, they're 20th in total offense which is really good. And here's balance – they were 34th run offense, pass offense. 34th in both. And they're getting better. They're going to be a more prolific offense as these receivers get better and as the o-line gets better. And guess what they were on Saturday night? The o-line was remarkable.
Falcone: Oh yeah. Kellen had a lot of time now that I think back.
Liucci: He had time to throw. Trayveon did a great job in pass protection. And then running the ball, they cleared some great holes for Williams who ran for 200 and Trayveon's brilliant, but you don't run for 200 yards on 35 carried without great blocking up front.
Falcone: Oh yeah.
Liucci: And they did that with guys like Ryan McCollum in there, a backup. And I want to tackle that in a minute too, about these guys and the improvement. But I just thought offensively to do what they did, when they went into overtime and they were unstoppable. I mean there were a couple of field goal tries, but LSU couldn't stop them. And they did running and throwing the football. Kellen ran one, Kellen with the several touchdowns. I saw the most amazing stat of perseverance in Kellen Mond and these guys and what they were willing to do. His last 8 completions were for scores.
Falcone: That's insane. Wow.
Liucci: When you factor the touchdowns and the conversions. And speaking of Kellen – people were on him this year and I sat there and said this guy's getting better, with a chance to one day be great. 10 touchdowns, 0 turnovers against Clemson and LSU. That doesn't count the conversion throws – if you count that its like 14 or 15-1. I think it's 14-1 touchdowns to turnovers against LSU. What he's done since he threw those picks against Ole Miss and had the back to back turnovers, he was 5-7 for two touchdowns the rest of the way in the win. I thought the stats don't show it, but he was pretty spectacular against UAB without a turnover in that one. I think accounted for 3 touchdowns and no turnovers in that one. And then against LSU, 7 touchdowns without a turnover, and clutch throw after clutch throw. I actually saw somebody on TexAgs today say "Well that was a bad throw, great catch," on the 4th and 6 that Rogers made because they assumed he was throwing to Quartney. Which by the way, number one you're assuming that, you don't know that that's even true, number two if you have a six-four receiver and you get pressured where you almost got sack because they did have good protection… Kellen did a tremendous job Saturday night of stepping up, climbing up in the pocket and then getting out of the pocket by moving forward when he needed and keeping his eyes down field – he was brilliant down the stretch of that game. And threw the ball really well early as well. But Kellen has come so far this season, and in confidence wise after that game, if he can follow that in the bowl and this offense and these receivers can, their confidence going into the offseason is through the roof.
Falcone: Yeah that's great momentum, I agree. Great momentum into next season. Talk more about the receivers – how about them on Saturday? That was insane.
Liucci: It was, right? It's funny how the quarterback looks a lot better when the receivers are making plays like that. It's funny how that works. I've been saying since Clemson that I want to see these guys step and make these big time plays when it matters. Make these contested catches. Makes catches against tough secondaries. Makes catches in coverage. Make catches on throws where Kellen's not putting exactly where it has to be. And they did all those things. Quartney has been getting there and getting there – he's been a breakout player for A&M this year. Jhamon coming back has really helped. But what those three guys did, particularly number 1 and number 13… Kendrick Roger's performance was the best, second best I've ever seen at Texas A&M by an Aggie receiver.
Falcone: What was first?
Liucci: Well second-best performance by an Aggie receiver. Mike Evans had two of them.
Falcone: Okay.
Liucci: Mike Evans went for over 270 yards in 2013 against Bama and Auburn in each of those games. That's almost 300 yards over the course of an entire game. He was remarkable – he should have won the Biletnikoff Award that year, he was robbed. But what Kendrick Rogers did at the end of that game and in overtime? By itself? By the stats, had 3 catches for 54 yards and I'm going to call it the second-best performance by a Texas A&M receiver I've ever seen because he had, what? Two touchdowns? His third catch came on a game-saving catch and then goes down with a couple seconds left to move the chains and get them within striking distance. The others were touchdowns, and then the three 2-point conversion. It's like every catch was just different degrees of spectacular…
Falcone: Every single time… Someone should freeze frame every single catch.
Liucci: This one where he's falling, the one in the corner on 4th and 6 to save the game, the one to get out of bounds, or he didn't get out, he really did but they didn't call it, but the one to get the first down to save the game, and then the actual game winner. Not to mention the 2-point conversion over Kary Vincent was spectacular where he went about 8 feet in the air.
Falcone: That was spectacular.
Liucci: Kendrick is inconsistent. He has been, but he's incredibly talented. And he's a hard-working dude and he's going to be great. He wasn't great this year over the course because he battled injuries – and people forget that. Some guys, the injuries affect their games more. When he's health – you saw it. When he's healthy and gets rolling…
Falcone: Clemson?
Liucci: Clemson and LSU are two of the greatest showing I've seen by an A&M receiver. So he can do it and he will do it. He needed something like this to send him into the offseason. And what does it say about Quartney Davis? People forget he also scored a touchdown against Clemson, I think he did… Yeah, he did. First career catch was a touchdown. That's the same endzone where that pylon play happened, and Quarney was just devastated, and he bounced back with some nice games this year. Had a touchdown against Kentucky.
Falcone: He's been very consistent.
Liucci: Huge game against South Carolina, touchdown at Mississippi State. He's been good. But he was great Saturday night. And the touchdown on the skinny post was a great snag, and he smoked Kary Vincent in coverage. The touchdown at the end of the game will go down as one of the best catches in A&M history as far as I'm concerned. 18 yards, one second when the ball was snapped, against LSU, at home, from my era, like the games I've seen, it's up there with Matt Bumgardner against Texas in the Bonfire game, it's up there with Sirr Parker on the slant, it's up there with Greg Porter against OU in the back of the endzone… It's a short list. It's one of the five biggest receptions I've ever seen live since I've been covering A&M sports. But again, the perseverance. Not just for Quartney, but for this team to come back from back-to-back losses… A lot of people wrote them off. A lot of people wrote them off. To come back from that, and then look at some individuals. Ryan McCollum wasn't a starter then he's out there making some key blocks against LSU. Miles Jones was buried on the bench. He comes out in Auburn and he was like a total find out there in the secondary for Maurice Linguist and that struggling A&M secondary. He really helped stabilize them. Made some good plays against LSU. Look at Trayveon bouncing back from that fumble in that game. Daylon Mack, you mentioned him. All these guys. Quartney Davis coming back from the pylon thing. Kendrick Rogers kind of collecting mothballs from Clemson on – he was injured and came back. Kellen coming back from a couple of rough performances. These guys hung in.
Falcone: Yeah.
Liucci: That's part of the message. They throw the word around too much and every new coach wants to develop culture, but there's truth to it. But there was a culture that was developed.
Falcone: I agree. And something that I love – "I've seen 'em lose, I've seen 'em win, but I've never seen 'em quit." And that was the perfect game to broadcast that quote. That quote's been around… I remember my dad, my grandpa, they've always said that quote. A&M – lose, win, but they never quit. That game really showcased just how serious we are about this and how much take that to heart and how we genuinely are going to fight to the end.
Liucci: And guess what? Every recruit that came to watch A&M this year, this saw that, they saw them give up a fumble where Kentucky tied the game late, they saw A&M win that one in a walk off thrilling overtime. So, they saw two thrilling overtime games, and they saw A&M battle and come back against the No. 2 team in the country and take Clemson to literally the final snap of the game that wasn't a kneel. You know that two-point conversion. So, you want to talk about building a culture? Every kid that watched Texas A&M play football this year, every kid that was at a game, and some of these kids came to two or three of those games – that's the A&M they know. They don't know this battered Aggie crap. They know those guys fight. Jimbo and those boys fight till the last second, and they did it every time I watched them. And that's what I'm going to be like when I'm there. So that's how you change a culture too, cause class of '19, class of '20, class of '21, they go, man if I'm wearing that uniform, I'm never quitting because of what I've seen this year.
Falcone: Definitely. Switching gears a little bit – Ags defensive performance on Saturday and even throughout the entire season.
Liucci: You know what, and I forgot. Let me tackle two more offensive things before we go to that. First of all, the o-line got better and better. We'd be remiss not to mention them. Jim Turner's group, as the year progressed, there were times when I thought against SEC west real teams, they're going to be a liability. And they got better and better and better. I thought they had a rough outing against Mississippi State, again a number 3 defense in the country, multiple first rounders up front. From that point on, they played really good down the stretch, and two of those games came against Auburn and LSU, three of those were SEC games, even a fourth one against a UAB team that led the nation in sacks and still ranks top 10 in total defense. So, their last four games, really five if you count Mississippi State, but their last four games after that State game were really tough with exception of one of them (Ole Miss' defense is terrible), but the o-line, I thought really improved, they deserve mention with Erik McCoy, big Erik leading the way there in the middle. And then, two guys we didn't talk about: Jace Sternberger and Trayveon Williams. I hope that wasn't the last time they play at Kyle Field. If it was, what a way to go off.
Falcone: What a sendoff, yeah.
Liucci: I don't think it will be for both, but I mean they have decisions to make. We will talk about that in a minute. But Trayveon Williams, I think he's going to leave A&M as a… if he comes back, I think he will leave A&M as the best back in school history. I think he'll surpass Darren Lewis. I know Darren had more NFL prototype talent, and all that. But if Trayveon comes back, what he'll do in this offense again next year, A-I think he will leave as the all-time leading rusher, B-he's 160-something yards away from having the single season rushing record, just he represents all things that are A&M. That grit, that toughness, that perseverance, that fight… He's so dynamic. Some of his runs Saturday night were incredible. Some of his games have been incredible. And Trayveon did what a great player has to do. Alright, you've been good, you've piled up yards, you want to be considered one of the all-time greats? You have to be great in great moments. And he was quiet against Clemson, he was quiet against Alabama, which most backs are, it's a tough ask. I wish at this point they could play those teams because I still think Trayveon would run against him, but he didn't. And then all of a sudden here comes Kentucky. And he had nice games against South Carolina and Arkansas and here comes Kentucky. He goes out and runs for 130-something yards against a really highly ranked Kentucky defense and wins the game with a walk off in overtime. All of a sudden you look up and he's the SEC's leading rusher. And then what he did down the stretch: Auburn, Ole Miss. Auburn he did it running and catching, Ole Miss he did it 46-yard touchdown to ice the game, he had a boatload of yards in that one. Killed UAB, had to bring a backup off the bench, he had 100 yards in the fourth quarter alone against a run defense that ranked like fourth nationally. And then to go 35 for like 196 or whatever it was against LSU… 198…
Falcone: 198. Yeah.
Liucci: Was incredible. His finishes have been as good as anything I've seen. And then you go back on the road at Auburn he iced it a couple years ago with a 90-yard touchdown run. You go back to what he did against Tennessee in that battle of top ten teams, Trayveon's been an incredible player at A&M but more than that he's had an incredible season, he had an incredible game. I think it's the best single season in A&M history by a running back. And if he even tops 100 and falls a little short of Darren Lewis' single season record, I still think it's the best single season that I've seen and I think it's the best in the record books in A&M history when you consider who he was doing it against. Remember they're playing six of the top 30 defenses in the country this year. 4 in the top 8. And the ones who aren't in there are like Auburn, LSU, Kentucky. I mean come on. And the other guy that did that against those defenses and he was robbed in the national awards was Jace Sternberger. I mean Jace was absolutely robbed this year. He came out and backed it up against LSU. Scored a touchdown against Grant Delpit early, scored one late in overtime, had a big game in a big-time environment. That's the best season in history by an A&M tight end. He's got 810 yards and 8 touchdowns, he's like…
Falcone: 810, wow.
Liucci: He's about to tie the career record, I think Martellus had either 10 or 12, the career record for touchdowns by an A&M receiver, and he's done it in still less than a season, past Rob Bernstein. He has a chance to be a 900-yard receiver in one year. We'll talk more about them in a minute, but Jace, Trayveon, and Braden Mann should all three be in Orlando for the national awards, and it's a crying shame that two of them aren't. I don't understand why the national awards don't select these guys after their last game. Why do you have to do it prior to the final game of the season?
Falcone: I agree.
Liucci: It makes no sense at all. And in this instance it made absolutely no sense. Look what Jace did, you tell me Trayveon couldn't have played his way into being a Doak Walker finalist? With that performance? It makes no sense at all. It's a shame. But again, those guys have another year if they want it.
Falcone: Yeah. Do you think that this win was like, okay, look what you can do, don't you want to come back for more?
Liucci: That's very interesting right? Interesting point. Do they come back to kind of finish the job?
Falcone: Seal the deal, yeah.
Liucci: Trayveon Williams, Jace Sternberger, Erik McCoy, Tyrel Dodson, and Justin Madubuike, those are the guys that I think have decisions. And if they all came back, I think this is a preseason top 10 football team. Now I don't think they'll all come back, I do think the majority will. I know what goes on right now, I've done this a million times. What goes on right now is everybody thinks they're leaving. There's that goal, the NFL. You're getting close to it. You can taste it.
Falcone: Fear of injury and all that.
Liucci: There's a fear of injury. And you have agents in your ear, it's tough. And they lie to you, a lot of them are scummy. Some of them aren't, and I'm friends with some of them that are great people, some of them are real scum. They'll lie, but you have the NFL that tries to help, you have your head coach and coaching staff that tries to help, and you have your family. And you've got to sit down and really weigh this stuff, and once you start finding out where you really project, some guys will not necessarily get their feelings hurt, because guess what? All they're saying is it behooves you to come back. Jake Matthews played till he was a senior at A&M. Cedric Ogbuehi played till he was a senior. They helped their stock tremendously. Von Miller played as a senior at Texas A&M.
Falcone: I was going to say, somebody big played as a senior.
Liucci: You have to figure it out. But for Johnny Manziel and Mike Evans? The right move was to leave as sophomores. Maybe it turns out where Johnny…
Falcone: What would have happened.
Liucci: Johnny's stock fell for other reasons. The timing for him was probably right because it was never going to be higher. And that's what you have to consider. To me, I think the toughest decision is Trayveon's. Because of wear and tear. Running backs have a shelf life, and it's hard for them to move up anyway, because it not the most… unless you're Saquon Barkley or Leonard Fournette or one of these guys, it's hard to get drafted top 10 as a running back. You have to have all the physical measurables, a guy like Trayveon, his meter might not go very far one way or the other, and there is a lot of wear and tear. Then you have the stuff with his family with flood this year, Hurricane Harvey. So I don't fault any of these guys first of all, but Trayveon either way. You'd love to have him back. I think he can be one of the best ever. He will be the best to come through here. And I think he could lead this team to some big things next year. But he's the one that I think has the toughest decision. The ones that I think could really help themselves moving up the draft to return would be Jace and Madubuike. I mean Madubuike has two more years, and I don't think he should stay four, which would be five for him cause he redshirted. To come back, he's an interior defensive lineman that can play end in a 3-4. Justin Madubuike could come back and be a top 10 pick. Come back in be a top 15 pick. Hell, he could come back and be a top 5 pick. He's not gonna be that this year. He's not gonna be a first rounder.
Falcone: Yeah, like the momentum has just now gotten started.
Liucci: He could really, really help himself earn millions more dollars by coming back. He's one that should absolutely come back. And then Jace, it's tough. Man, he's getting a lot of hype. He's getting a lot of hype. And he's done it against big team. But if Jace returns, the hype he would have before the season, he would be a shoo-in for the Mackey and all that. But more importantly, I think he can lead. He has to become a better blocker and learn more about defenses and playing within an offense to where you can sit down with these NFL guys and go through on a chalkboard like they're going to try to do. I think Jace Sternberger could leave A&M as the first tight end drafted much like Evan Ingram and OJ Howard were and be a mid-first round draft pick. And again, I don't think that happens this year.
Falcone: Yeah. Do you think he would want more college playing time? Because I mean, before this year he didn't have a ton of it. So, does he want to keep… I personally think that college football has so much more in than professional.
Liucci: Well there's not money in it.
Falcone: Well yeah, but whatever, what's money?
Liucci: Well I don't know the kind of money you're talking about
Falcone: Just kidding! Just kidding! Money is great.
Liucci: I don't know that kind of money. You're right though, it's an experience.
Falcone: It's just, emotion wise.
Liucci: Look at Saturday night. Unless you win a Super Bowl, you'll never get that in the NFL.
Falcone: You'll not going to ever feel something like that.
Liucci: But Jace, I think right now he's maybe a second-round pick, maybe a third. I think he can play his way…
Falcone: Into the first.
Liucci: WAY into the first. Like, up into the first. First tight end picked, Texas A&M, Jace Sternberger. I think that's in front of him. Dodson and McCoy no question can help themselves. McCoy's in a little bit of a position like Trayveon though where you're a center. Now he can play guard and center. But those can still move. They're not gonna get picked in the first round. They may not go in the second, they could. I think Dodson is going to be a 10-year, 12-year NFL vet. His best football is ahead of him. McCoy too. Both of them I think will play double digit seasons in the NFL. But I think they certainly can help themselves. I just got a text… That was my take on this. Now let's move in to recruiting. We talked about what that win over LSU meant for those battles you fight with LSU but also big picture, all the kids that were there. For A&M to be viewed as a program on the rise. This is a podcast, so we can say this. "Harris flips." And I won't say who it is because you should be embarrassed because you are the same person that a year ago right now when Bobby Brown wasn't coming to A&M and Leon was in danger of flipping, you called me breathless – talking about how Jimbo can't recruit and what is he doing, they waited too long to hire a d-coordinator… "Harris flips and now Carter is visiting Bama. WTF. Class is collapsing." Those are the two... JUST STOP. JUST STOP. Like, did you see what just happened on that football field? Do you see where the class is with or without Carter, who I think they'll hold onto by the way, with or without Carter and Harris? And I think they'll hold onto Jeffrey Carter. But did you not see that football game? Did you not watch what this team did this season? Did you not see the player development? Did you not see the way they finished the class last year when everyone was crying, and the sky was falling and you weren't going to get anyone? Did you see what happened on signing day? Did you see where the class is ranked today even without Christian Harris? And to sit there with that negative, whining "we lose one guy and it's all over" attitude? That sucks. It's over. It ended Saturday night. It ended when you hired Jimbo Fisher. Stop it. It's ridiculous. Enjoy this. Enjoy following recruiting. It's not always going to be perfect. You are going to lose guys. You are going to lose committed guys. Bama's done it. They do it every year. Georgia does it. LSU does it. You are in a fight with the best in college football for the future best in college football. If you don't have the stomach for it, stop following it. You damn sure better not follow Demond Demas' or Zach Evans' recruitment. Because it's going to be ups and downs and visits and weathering things and things like that. But at the end of the day, if you want those kinds of players you're going to win your share and you're going to lose your share. A&M's gonna win a lot more than they lose. Just like Bama has done under Saban. Just like Jimbo Fisher did at Florida State. Stop it. When you lose on the road in the SEC, it's not over. When your quarterback has a bad game, you don't bench him. You stick with him so he can come out and do what he did against LSU. When Trayveon Williams fumbles, the f'in game is not over. It's not the end of the word. Oh, here we go. Here we go.
Falcone: Preach.
Liucci: When there's one second left on the mother freaking clock, it's not over. When it's 4th and 6, it's not over.
Falcone: I got into a fight at the game, I just thought about it.
Liucci: You got into a fight?
Falcone: There was this girl, we're row 12. We are right there. The best seats I've ever had as a student. We're right there. And right whenever Kellen did something, something minor as well. They're like "Just bench him!" I went full analyst on her. And I'm like "Oh really? And put who in there?" Yeah but I don't know when the Aggie mentality turned into this…
Liucci: Nick's great, and you're gonna take out a guy who…
Falcone: Who has been…
Liucci: Been good!
Falcone: Or how about being an Aggie and trust the guy in charge, and you support… Aggies support Aggies. You don't ever say somebody on your team is doing bad, you don't. You can analyze their performance, but they never are doing bad.
Liucci: It doesn't have to be blind loyalty, and Jimbo Fisher can make mistakes in personnel and play calling. We get that…
Falcone: But there's nothing you can do about it!
Liucci: Where I was going to is just like… Think like Jimbo said when he first got here. That famous quote. "It ain't like it used to be." It's not. It's different now. Everything's different. And if you didn't watch this season play out to see that everything is different, you weren't paying attention. And I'm so glad that that game ended the way it did and played out the way it did, because on every single conceivable level, it showed that things are not like they used to be. From beating LSU from winning a game late to winning a game late at Kyle Field and not letting it get away, and guys fighting through seven overtimes. In a year plus, they've gone from what happened at the Rose Bowl against UCLA, to what happened at LSU and in between is what happened against Clemson. That was there turning point. It is nothing like it used to be, so people like my friend who just texted me need to start acting differently than they used to as well. Start having some hope. Have some confidence. Start walking around with a little… I don't want to use the word swagger because that was overused in the previous regime but walk around with your shoulders back and your head up.
Falcone: Be proud.
Liucci: Yeah. Be confident that this thing is not only going in the right direction, it is a train rolling in the right direction. If you don't think all this crap coming out of LSU after this weekend, crying about the fight, and Ed O crying about… mumbling about the calls. LSU is scared. They know what's happening at A&M. They don't want that. They've already got Bama to their east.
Falcone: I think everybody knows what's happening here. I think Bama knows it.
Liucci: And recruits know it. Christian Harris knows it, but he's going to Bama. It happens. A&M got a lot of guys that Bama wanted as well. LSU is in an interesting spot. They've got a coach that deep-down people still don't completely believe in in Baton Rouge. And you've got the guy you used to have to your east in Nick Saban winning championships, and you've got the guy they wished they had and used to have as an OC to their west, and they just got beat by him, and they felt there was a titanic shift in momentum just then, and that landscape, that recruiting landscape in Houston, and they know it. LSU is in very uncomfortable space right now.
Falcone: Keeping on the recruiting track, Tim Brewster. What is the next step in trying to maybe replace him, and with him leaving to South Carolina, I gotta know. Is the Station still lit?
Liucci: The Station might not be lit anymore. But the Station will survive. A&M and Aggie football will survive. Brewster did a hell of a job at A&M. I really enjoyed getting to know him. He's a big personality. He's funny. He's a really good coach. You talk about a guy who was a head football coach in the Big Ten. He can recruit his ass off. But there are others guys who can recruit their ass off. There's guys on this staff that can recruit their ass off. There just not as active on Twitter and stuff, and Brewster, that helped. It was fun. A&M fans got behind it. It was like a short little whirlwind romance, love affair between Brewster and the Aggies. He loved it here. Longhorn fans want to make fun: "He left on the first chance."
Falcone: No, he did it because it was better for him.
Liucci: A lifelong friend in Mack Brown. Going home. Yeah. That was the only thing he would have left for. And he helped a lot in the short time he was here. But there are other really good recruiters. There's some elite ones on this staff and there's other elite ones in the country. Now it's an opportunity for Jimbo and these guys to go out and find one. Go out and find another guy who can recruit at that level. What you can't afford it to take a step back. Every time you lose a coach it's an opportunity to get better. They've got to go out and get a guy and I think get one pretty quickly, but I don't think it's gonna impact their current class at all. I think Leal, Cupp, those main guys he was recruiting, Wydermyer. Especially Leal and Cupp. Jalen is coming in this weekend and I think he'll be fine as well. It's a loss but again it's an opportunity to get better and you can't allow yourself to take a step back because Brewster was really damn good. And then just recruiting in general. Losing Christian Harris hurt, no two ways around it. He's an elite player at a dire need position. I think he's elite. He should be a five-star. But I equate to like the Auburn/Mississippi State losses. It's a process. And you're trying to go recruit with Alabama and Georgia. For everybody. And LSU. For everybody. And you're fighting them for the best of the best. You're not backing down. You're probably bringing in Ishmael Sopsher this weekend from Amite. 5 star defensive tackle that's either going to LSU or Alabama. He's probably going to Bama, but you're bringing him in and taking a swing at him. You've got nationally ranked guys like VERY highly rated guys in your already committed class. You're fighting for the two best linebackers in the country arguably with Nakobe Dean and Christian Harris. You probably won't get him. But you got Bobby Brown last year. You got Leon O'Neal. You took Vernon Jackson from Bama. You got DeMarvin Leal. You got Demone Richardson. You got Brian Williams. You went out and got Kenyon Green who could have gone anywhere in the world. You went and got Daylon Wright who Alabama desperately wanted. You're fighting and probably will keep Jeffrey Carter. You got Erick Young who could have gone to Bama or anywhere else. So, you're winning these battles and people need not forget that. But you're not gonna win them all. Now the question what do you do? Let's say you don't get Christian and you don't get Nakobe. They got a decision to make. Do you go out and get a linebacker, which you need? Numbers wise you need it. But he's gotta be able to play. He's gotta be able to play in the SEC West. He has to be able to do what Alaka did against LSU when he's an older player. So, do you do that, or do you go take an extra edge rusher or an extra corner? Those are still needs. Those are the decisions they have to make. I love where they're at still with David Ojabo, with Jaylen Wydermyer, with Ainias Smith, and the Hunter kid in Florida they still got a great chance with… those are the guys that I think A&M is in the best position with right now. Marcus Banks could be an addition at corner, the former LSU commit. You're still very much in it with one of the LSU committed ju-co corners. The Oregon commitment Elijah Blades is another one that I think A&M has a real shot with, so those are the kind of guys likely in your finish unless they decide to go after and bring a linebacker as well. I think over the next fews days we'll hear of multiple names at linebacker that they'll probable pursue and start bringing in. You could really do that now until January or until February if you want. That's where that's at right now.
Falcone: Alright simple question: Where do the Aggies play next and who is their opponent?
Liucci: I think A&M next plays.. It's gonna be Outback or Gator. It'll be one of those two. I think it's gonna be against either Iowa or Michigan State. It could be Wisconsin, but I think we're gonna be in the Gator or the Outback against Iowa or Michigan State. Someone was saying the Iowa has been in the Outback… this would be the third time in six years. One of our posters pointed that out. I've been hearing from my sources Outback versus Iowa most likely. But I know the Gator really wants A&M. It think it'll be Gator versus Iowa or Outback versus Michigan State, one of those two. I just have a feeling. I think they'll end up in the Outback.
Falcone: What do you think will be better for A&M?
Liucci: I don't think either. I think Outback is…
Falcone: A little more high caliber?
Liucci: Eh, not really. I just like the idea of playing on New Year's Day. That's like a thing, it's New Year's Day, let's wake up, watch some football.
Falcone: Didn't we do that one time?
Liucci: It's been awhile. I like to get up, watch a game on New Year's Day. And they played New Year's Eve in the Chick-fil-A Bowl. And that's what the Gator is now.
Falcone: That's what it was. And I was there. That was at… Reliant? NRG?
Liucci: No that was at…
Falcone: When did we play at Reliant? Not too long ago – like two years ago.
Liucci: That was Kansas State. That wasn't New Year's Eve though.
Falcone: That wasn't? I thought it was around then.
Liucci: But New Year's Eve is the Gator this year. So you're playing either New Year's Eve or New Year's Day. I like New Year's Day. It feels like a bowl game. It's during the day, it's in Florida…
Falcone: Everyone's off, family's in town for that perspective. You know…
Liucci: Opponent? I think Iowa… if you're rating them on like toughest to beat, I actually think Iowa might be one, Wisconsin two, Michigan State three in that order. Iowa is just always tough. They're well coached under Ferentz, they're the best of those three defensively. That's what I think. But that'll change a lot and we have till Sunday to figure that out. Falcone, the last thing we didn't tackle, you asked me about it earlier, is defense.
Falcone: Yeah, I forgot to come back to that.
Liucci: The game against LSU. We kind of covered it but I would be remiss if I didn't talk about the game, the season, but we kind of did that too with Elko. But the game and the season, the couple of seniors in that football game, 4 of them that I really want to mention. Landis Durham played lights out against LSU. Otaro Alaka, Donovan Wilson and Daylon Mack. All of those guys, everyone on the team went out in spectacular fashion as seniors. But Alaka, Dono, and Daylon and Landis really went out with a bang. Daylon played terrific football in so many ways. Ones that stood out on the stat sheet and others that didn't. A couple of sacks. Daylon as a five star was under way too much scrutiny, and he needed to develop at his own pace and Elijah Robinson came in and boy was he spectacular this year and I'm so happy for Daylon. OT, a great player as a freshman, then he had all those injuries. His last two years have been spectacular. And he's gonna get drafted. Scouts really like his game and they had to have loved it the other night. I think it was the best game I've ever seen him play. And he's coming back from a concussion the week before, where early in the week he didn't even know if he was going to be able to go… Talk about the difference between a win and loss – having him out there. And then Donovan Wilson. I told Dono, I saw him Saturday night, I said, "Man, that was the most physical I've ever seen you play." He's like "Looch I'm always physical. I always play that way." I said, "Donovan, go watch that game." That was the most physical…
Falcone: Monster, yeah.
Liucci: I've seen him in a couple of those games against Auburn and he's been spectacular…
Falcone: There's a few hits, yeah.
Liucci: But in that game… He and Alaka took it to Joe Burrow. And Joe Burrow was hurting. I heard that he was really hurting after the game in the locker room. To the point that he needed medical attention. And credit Burrow – what a tough son of a gun, man. That dude was tough, but A&M was tougher. And that's why they won that game and that's why this season could end with a 4-game win streak and a bowl victory, and 9 wins for the first time since the Manziel-Evans era.
Falcone: Since '12? Or '13?
Liucci: In '13 they went 9-4.
Falcone: Wow, that's crazy.
Liucci: Momentum is going good! Buckle up. Should be a wild ride.
Falcone: Yeah, glad I'm graduating. Thanks a lot.
Liucci: We'll do this again. Trevor and I will be back, and we'll talk a lot about the bowl game, and then we're gonna do a big panel discussion recap of the season sometime prior to the bowl, maybe get a real special guest for the LiucciCast sometime soon. Bridgette – thank you. You were a big help. You may get two lunches out of it. You'll be invited to the TexAgs luncheon.
Falcone: Yes! It's been a pleasure.
Liucci: Alright. Thanks, gig 'em, and enjoy championship weekend.
Falcone: Thanks, gig 'em.
Never miss the latest news from TexAgs!
Join our free email list