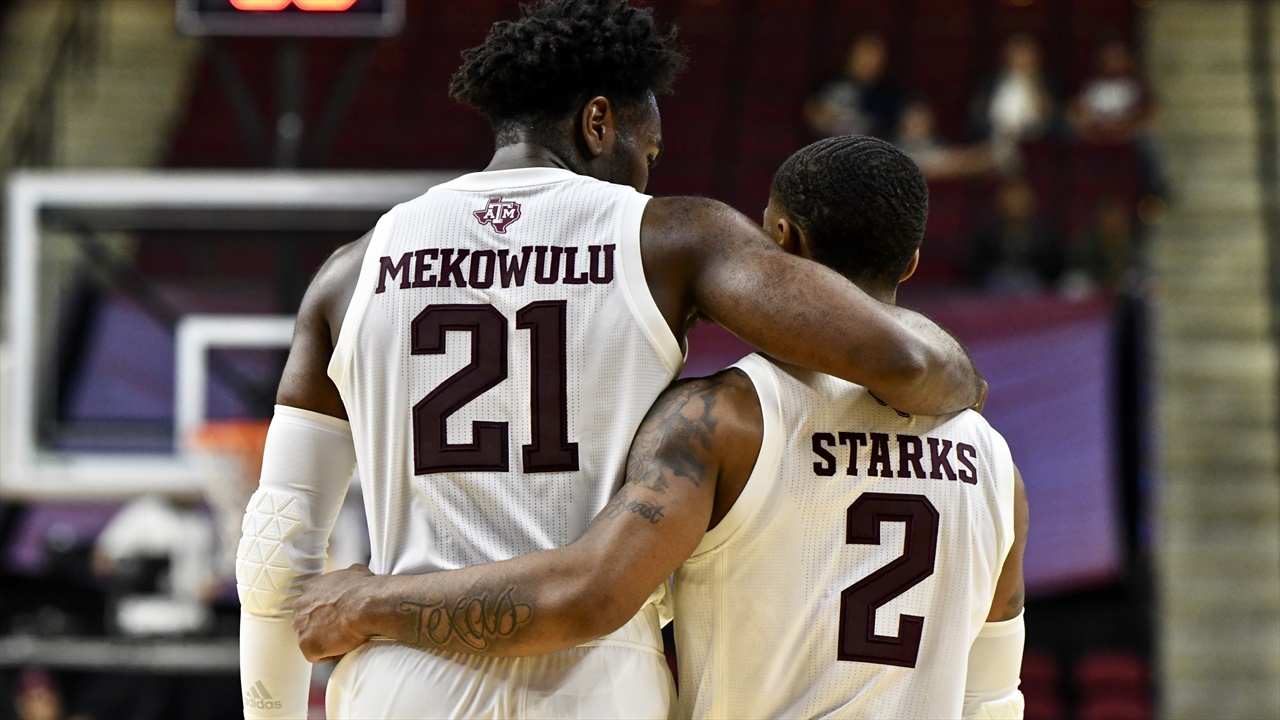 Photo by Lia Musgrave, TexAgs
Texas A&M Basketball
Aggie basketball dominates South Alabama to end losing streak, 74-62
---
Texas A&M sophomore Savion Flagg turned in a memorable performance Friday night much to the delight of an announced crowd of 8,569 at Reed Arena.
Yet, Flagg was playing in memory of two who were not there.
Despite a heavy heart, Flagg broke out with a 25-point performance in a 74-62 college basketball victory over South Alabama.
Then, he broke down in a postgame interview when revealing his cousin, 28-year-old Devin Taylor, died Friday morning in Houston from injuries sustained in a motorcycle accident. That tragedy came a week after Flagg's grandmother passed away.
"I had some stuff going on this morning. My cousin passed," Flagg said while weeping. "That was my motivation for this game. My cousin passed away in a motorcycle accident and my grandma passed away just about a week ago. It's kind of tough. I played for them."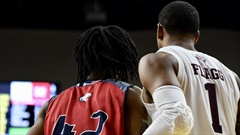 Lia Musgrave, TexAgs
It's a wonder Flagg played at all. No one would have blamed him had he sat out at least one game in mourning. He said his cousin and grandmother would have objected, though.
"I just know that they would want me to play," he said. "They wouldn't want me to be sad about it. Just give it my hardest and glorify them through myself."
He certainly accomplished that. Flagg hit 12 of 15 shots to post his highest-scoring output of the young season. He also dished a couple of assists and grabbed 3 rebounds as the Aggies (2-4) put an end to a frustrating four-game losing streak.
"I was watching him just to see how he was emotionally," A&M coach Billy Kennedy said. "He was engaged. He got upset at the end of the first half. When he got back in (in the second half) he was very effective."
"We've had two or three situations the last couple of days. We've just been through a lot of different tough times. Fortunately, we came through and were able to get a win and something positive happened."
Flagg was supported by T.J. Starks, who scored 13 points, and Christian Mekowulu, who added 12 points and 8 rebounds. Forward Josh Nebo hit a slot machine-like jackpot with 7 points, 7 rebounds and 7 blocked shots to support Flagg's performance.
South Alabama (3-3) was led by guard Rodrick Sikes, who hit 5 treys on the way to 21 points.
"We felt like we were very close to breaking through the last couple of games," Nebo said. "We just couldn't finish it out. Today, the mindset was to break out of the losing streak and just get a win. One win at a time. Just continuously play together as a team through adversity. We'll get through it."
Save a slow start, the Aggies dominated in a pivotal first half which essentially settled the issue at the break.
A&M shot 60 percent from the field and hit 10 of 12 free throws while building a 43-27 halftime lead.
Meanwhile, South Alabama hit 6 of its first 10 shots, but converted just 3 of 15 (20 percent) the remainder of the half. Mekowulu and Nebo allowed the visiting Jaguars just 6 points in the paint while A&M scored 24 inside.
"Today, the mindset was to break out of the losing streak and just get a win. One win at a time. Just continuously play together as a team through adversity. We'll get through it."
The Aggies broke away with a 17-2 run over a 5 1/2-minute span that provided a 34-23 lead with 3:28 remaining in the half.
Flagg, who netted 19 points in the half, started the run by banking in a runner and drawing a foul.
He missed the free throw, but didn't miss much else. Flagg scored six points in the rally and would not slow down the rest of the half.
South Alabama's R.J. Kelly hit a pair of free throws to interrupt the Aggies' scoring outburst.
However, Flagg hit a couple of layups and a jumper and Starks drilled a 3-pointer to give the Aggies a 43-27 halftime lead.
It was almost more.
South Alabama's Herb McGee lost control of the basketball with three seconds left in the half. Jay Jay Chandler picked up the loose ball and quickly passed down court to Flagg, who was streaking for dunk. But the horn sounded a nanosecond before he could slam it down.
It didn't matter. The Aggies were never seriously threatened in the second half. They built a 23-point lead, 60-37, on John Walker's steal and layup with 11:53 to play.
South Alabama whittled the margin to 70-58 with 3:05 to play, but Flagg made sure that Jaguars not no closer.
He answered with back-to-back clinching layups — one for each of those for whom he was playing.
Never miss the latest news from TexAgs!
Join our free email list