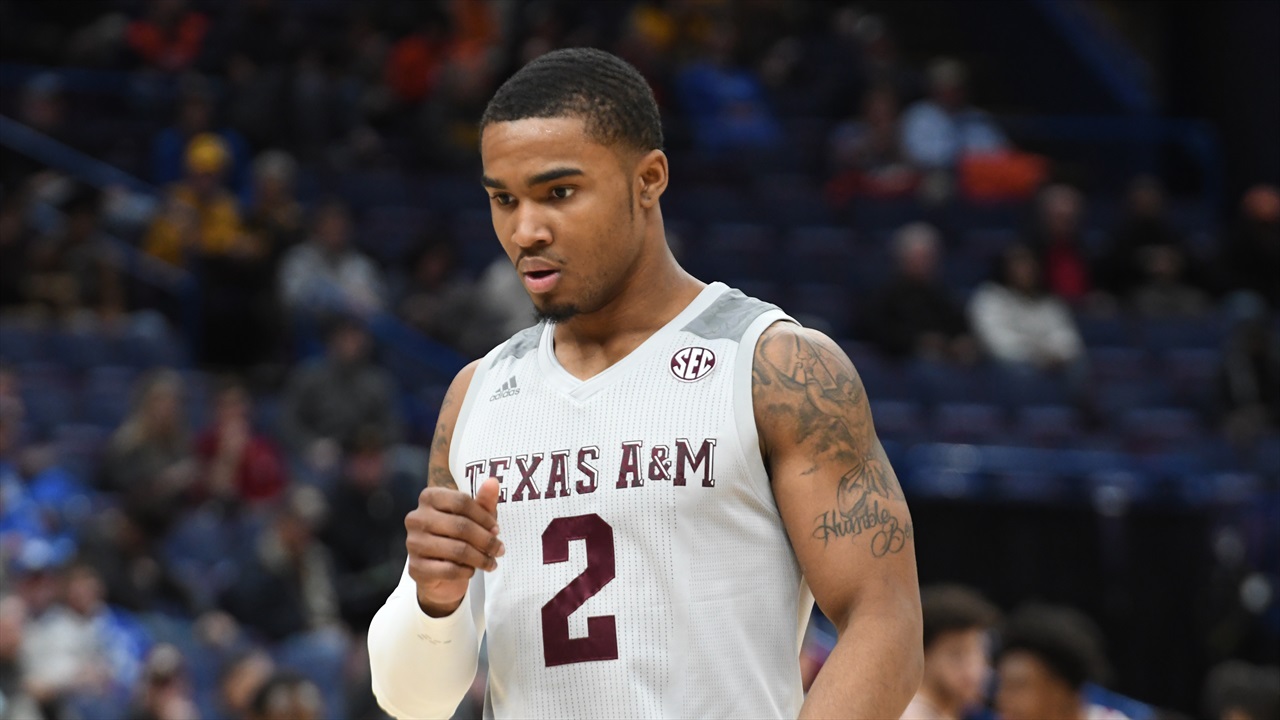 Photo by Justin Oster, TexAgs
Texas A&M Basketball
A&M losing streak extends to four as Aggies fall to Washington, 71-67
---
Despite a hot start, Texas A&M fell to Washington 71-67 in heartbreaking fashion on Tuesday night in the Vancouver Showcase.
The Aggies dominated the first half, but only led 38-33 at the intermission due to their inability to convert their shots in the paint. Texas A&M (1-4) played solid defense in the post and held Washington (4-1) to just 23-percent shooting from the floor, however, Washington dominated the offensive glass with 17 first-half rebounds.
The second half began with more of the same from both teams. Washington remained ineffective on offense, but A&M's struggled to maintain possession and score in the low post which ultimately prevented Billy Kennedy's squad from putting the game out of reach. Instead of continuing to feed Josh Nebo on the low block, the Aggie guards settled for quick jump shots, a strategy that proved fruitless.
As a result, Washington slowly chipped away at the Aggie lead, an effort led by guard Matisse Thybulle and forward Noah Dickerson, who finished with 24 points and 17 boards. As the clock ticked under 10 minutes left, the Huskies went on an 11-0 run to take the lead for the first time in the game.
Jay Jay Chandler had a career night with 21 points and 8 rebounds, but down the stretch, it was the Huskies who executed in crunch time. In fact, in almost the same way that A&M sputtered in the final minutes against Minnesota, the Aggies had two separate runs of over three minutes without a basket. That lack of any offensive production swung the momentum, and the score, in favor of Washington.
With less than a minute left and A&M down 67-64, Noah Dickerson was blocked by Isiah Jasey, giving the Aggies the ball and a chance to tie it. Yet, it was another careless turnover from TJ Starks that gave the ball right back and allowed the Huskies to hit a free throw making it 69-64.
Wendell Mitchell hit a layup to make it 69-66, but the Aggies simply ran out of time after a smart foul from Hamir Wright sent A&M to the line with 3.3 seconds remaining.
While Jay Jay Chandler hit his first attempt, a lane violation on Brandon Mahan negated any chance the Aggies had to complete the comeback. Washington would hit their free throws to send the Aggies home without a win in the showcase.
The Aggies return home on Friday night to play South Alabama at Reed Arena. Tipoff for that game is set for 6:30 p.m. and it will be televised on SEC Network.
Never miss the latest news from TexAgs!
Join our free email list