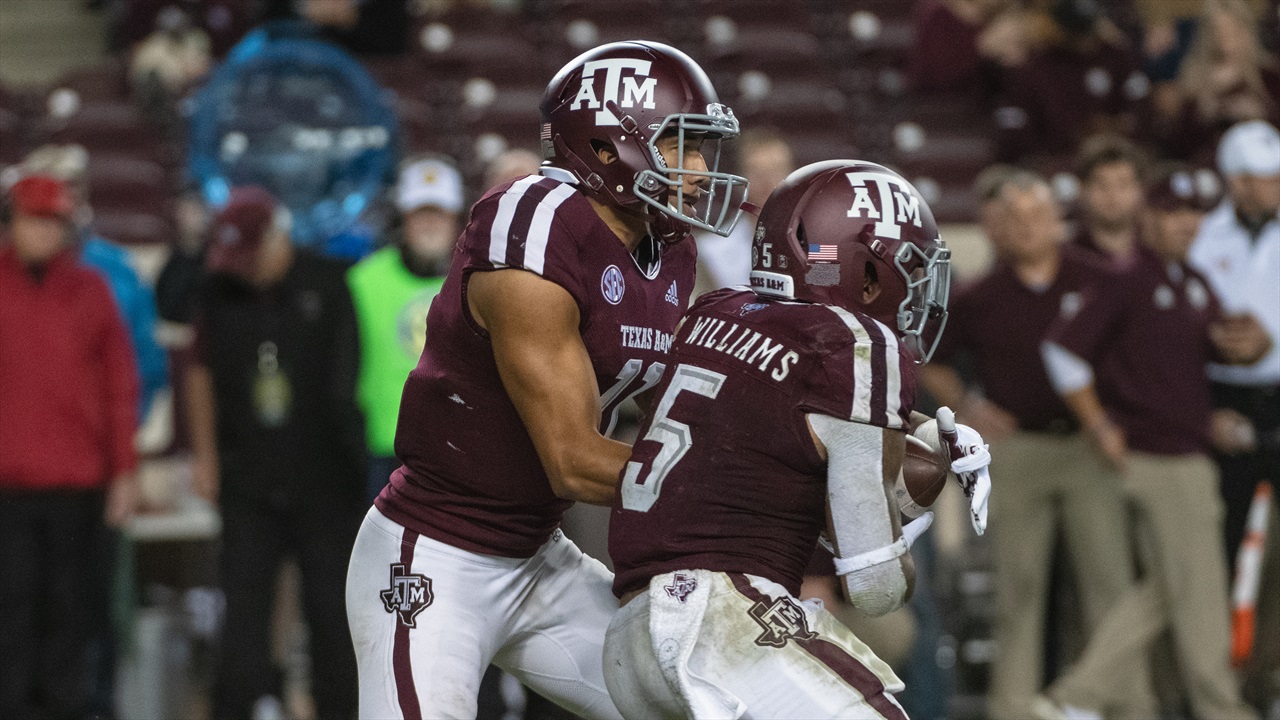 Photo by Rey Romo, TexAgs
Texas A&M Football
Post Game Review: Texas A&M 41, Alabama-Birmingham 20
---
Trayveon Williams ran for two touchdowns, Jace Sternberger caught two touchdown passes and Seth Small kicked two field goals as Texas A&M posted a 41-20 victory over Alabama-Birmingham on Saturday night at Kyle Field.
The Aggies (7-4) took an immediate lead as freshman linebacker Brian Johnson forced a fumble on the opening kickoff and Larry Pryor scooped it up and ran it in for a touchdown.
Williams sandwiched 9- and 1-yard touchdown runs around a 34-yard Seth Small field goal as the Aggies took a 24-7 lead against the Blazers (9-2), who were ranked No. 25 in the weekly coaches poll.
A&M extended the lead in the second half with another Small field goal followed by Kellen Mond's 25-yard touchdown strike to Sternberger.
Sternberger added a 20-yard touchdown catch in the fourth quarter to complete A&M's scoring.
Williams finished with 167 rushing yards, while Mond completed 11 of 20 passes for 192 yards. Sternberger finished with four catches for 85 yards.
Defensively, the Aggies allowed 417 yards, but notched 11 tackles for a loss of 63 yards.
UAB quarterback Tyler Johnston passed for 306 yards and a pair of touchdowns, but had passes intercepted by Donovan Wilson and DeShawn Capers-Smith.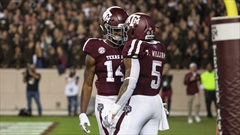 Rey Romo, TexAgs
RUMBLED: Junior running back Trayveon Williams rushed for 167 yards and two touchdowns to pad his SEC rushing lead. He scored on runs of 9 yards and a 1 yard scamper in the first half and generally ran out the final 4:44 of the game. Williams season rushing total has now reached 1,326 yards.
STUMBLED: Junior cornerback Charles Oliver had a difficult evening. He was often victimized by UAB receivers as quarterback Tyler Johnston appeared to pick on him. On UAB's opening drive, Oliver was beaten by receiver Andre Wilson for a 25-yard completion on third-and-10 and a 31-yard completion to Xavier Ubasi on third-and-8. At halftime he was replaced by Myles Jones, who had to sit out the first half for a targeting suspension.
UNSUNG HERO: Little known freshman linebacker Brian Johnson raced down on the opening kickoff to deliver a hit that jarred the football loose from UAB returner Andre Wilson. Larry Pryor scooped up the fumble and raced 13 yards for a touchdown to give the Aggies a 7-0 lead nine seconds into the game. In the fourth quarter, Johnson had another tackle on a kickoff to pin UAB back on its own 10-yard line.
Also, defensive tackle Jayden Peevy blocked a field goal and an extra point attempt, as well as having a tackle for loss.
TURNING POINT: UAB quarterback Tyler Johnston had completed third-and-long passes for 25 and 31 yards on the Blazers' drive for a tying touchdown on their first series. So, when the Blazers faced third-and-seven on their next series, the Kyle Field crowd was tense because Johnston was picking apart the A&M secondary. However, he never got a chance to complete a pass. Justin Madubuike and Landis Durham combined on a sack to force a punt. The Aggies opened the next series with a 24-yard Kellen Mond pass to Jace Sternberger to spark a drive for a touchdown that provided a 14-7 A&M lead. The Aggies added a field goal on their next series and another touchdown later for a 24-7 halftime lead.
KEY STAT: It's an old cliché that turnovers are the most important statistic, but that was certainly the case. The Aggies forced three turnovers, while committing just one. Larry Pryor returned a fumble on the opening kickoff for a touchdown. Donovan Wilson grabbed an interception at midfield which led to a Trayveon Williams touchdown run. DeShawn Capers-Smith also had an interception. It was the first game this season in which A&M has forced three turnovers or grabbed two interceptions.
---
Scoring summary
First quarter:
A&M: Larry Pryor 17 return of Andre Wilson fumble on opening kickoff (Seth Small kick). A&M 7, UAB 0
UAB: Andre Wilson 9 yard pass from Tyler Johnston (Nick Vogel kick). Drive: 75 yards, 10 plays, 3:36. Big play: Xavier Ubosi 31 pass from Johnston on third-and-8 to the A&M 3-yard line. A&M 7, UAB 7
A&M: Trayveon Williams 9 run (Small kick). Drive: 66 yards, 6 plays, 2:09. Big play: Jhamon Ausbon 17 pass from Mond on third-and-9 to the UAB 9-yard line. A&M 14, UAB 7
Second quarter:
A&M: Small 34 FG. Drive: 56 yards, 6 plays, 1:50. Big play: Quartney Davis 37 pass from Mond to the UAB 16-yard line. A&M 17, UAB 7
A&M: Williams 1 run (Small kick). Drive: 49 yards, 6 plays, 1:10. Big play: Camron Buckley 23 pass from Mond to the UAB 12-yard line. A&M 24, UAB 7
Third quarter
A&M: Small 25 FG. Drive: 68 yards, 9 plays, 4:39. Big play: Mond 29 run to the UAB 46-yard line. A&M 27, UAB 7
A&M: Jace Sternberger 25 pass from Mond (Small kick). Drive: 70 yards, 7 plays, 3:25. Big play: Jashaun Corbin 21 run to the UAB 38-yard line. A&M 34, UAB 7
Fourth quarter
UAB: Wilson 10 pass from Johnston (kick blocked). Drive: 11 yards, 4 plays, 2:15. Big play: Broderick Thomas recovers Kwame Etwi fumble at the A&M 11-yard line. A&M 34, UAB 13
A&M: Sternberger 20 pass from Mond (Small kick). Drive: 56 yards, 4 plays, 2:02. Big play: Williams 20 run to the UAB 36-yard line. A&M 41, UAB 13
UAB: Spencer Brown 10 run (Vogel kick). Drive: 90 yards, 10 plays, 4:37. Big play: Collin Lisa 20 pass from Johnston to the A&M 26-yard line. A&M 41, UAB 20
Never miss the latest news from TexAgs!
Join our free email list