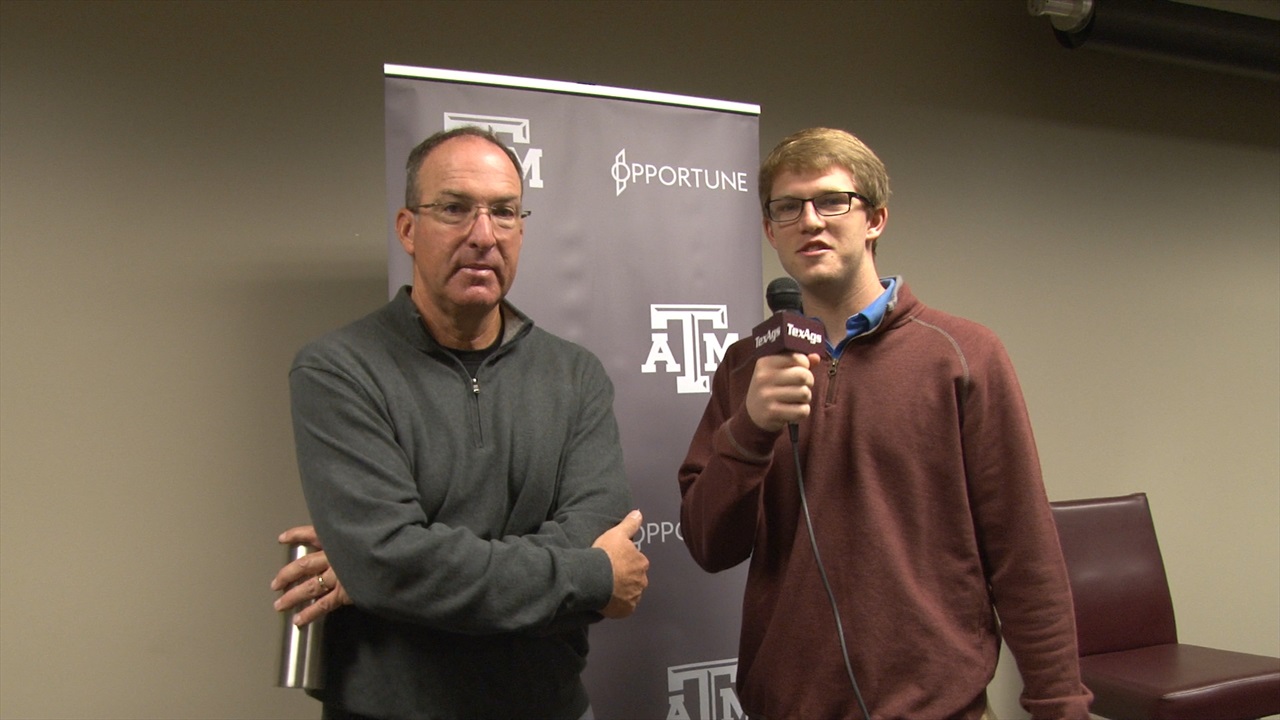 Texas A&M Soccer
Coach G looking forward to second round matchup against TCU
---
On Friday's overtime win over North Texas...
"I think that we saw the heart of what these Aggies are all about. We played against a team that's disruptive and some would say play 'anti-soccer' to destroy rhythm against opposing teams. Their strengths were their athletes and their 1-on-1 defense. As usual, a goalie has a career night and sets a personal record for saves. More than anything I saw a team that was going to do everything that they could to win and Ally Watt is a great answer for that. I couldn't be prouder of her toughness and how she has grown as a player."
On having 28 shots and just one goal...
"We would have won in penalty kicks. The other team was playing for kicks but we have some excellent penalty kick takers and a great goalie in the net and we would have won in kicks. It is nice that we didn't have to though. The thing is that we have to continue to complete the last pass prior to the shot, not shooting from too far out. Addie McCain was incredibly close on several occasions to slotting the last ball in but UNT would just get a toe on it or a bounce. We put ourselves in position with our forwards, we just didn't complete that last pass. That's something we are working on in practice this week in preparation for TCU. We're going to have to attack a very organized TCU team is going to be tough. Emily Alvarado is the goalkeeper for the U20 Mexican National team. The goals that we scored against them in the preseason - she was gone that game - so we're going to have to continue to do what we've been doing which is getting better every day. I feel really confident in everything that we're going to do this week."
On the importance of having Cosette Morche in the net in the NCAA Tournament...
"She brings confidence to the backline and she has saved penalties in the past. We practice penalties every day in training. It's live action too so the keepers know their tendencies and they are still able to score on them. Morche is really good and then we have Jordan Burbank who is a great penalty goalkeeper and Olivia Ausmus is really good as well. Really we think that when it comes down to it that Cosette will save a couple and we will make all of ours."
On switching to a 4-5-1 formation...
"Karlina Samples is a little over a year out of surgery from her ACL. For the first half of the season was wearing a huge knee brace. She's someone who recruited to come out there and be the backbone of our defense and you could see why on Friday night. The shape that we started the game wasn't the shape that we finished with. It's nice to get a shutout again. It's great confidence knowing that we can prevent teams from scoring goals. North Texas is a team that has scored a lot of goals. I was really pleased with how our defense played. Briana Alston, who has been dealing with some injuries all season long, but we went ahead and saved her for bigger stuff later on."
On upcoming matchup with TCU on Friday...
"TCU is a team that plays. They are exactly the opposite of what North Texas was. It's a lot easier for us to train that way because they play like us. Last week I had to stop practice a lot because our second team was passing the ball too much. It was very foreign to them to play like that, well TCU plays a lot like us. They have Messiah up front, who has great pace, they are very dangerous on set pieces and any balls that are served. Emily Alvarado in goal is a very good shot-stopper. It's a really great matchup. It's a good matchup for us because we know what we can expect. For them, I'm sure they are excited that they don't have to play us at Ellis Field. It's probably good that we have had a cold front here so that we can prepare for cold temperatures in Tennessee."
On what this week's practice schedule will look like...
"We gave them off Saturday. With football playing here on Saturday morning coming on campus didn't really make sense. We gave them a routine to work on, on their own. We trained on Sunday night. Monday is going to be a day off and they'll come in for treatments. We'll train on Tuesday and we'll travel on Wednesday. We will have a walk-through on Thursday in Tennessee and then we'll be ready to go on Friday."
Never miss the latest news from TexAgs!
Join our free email list