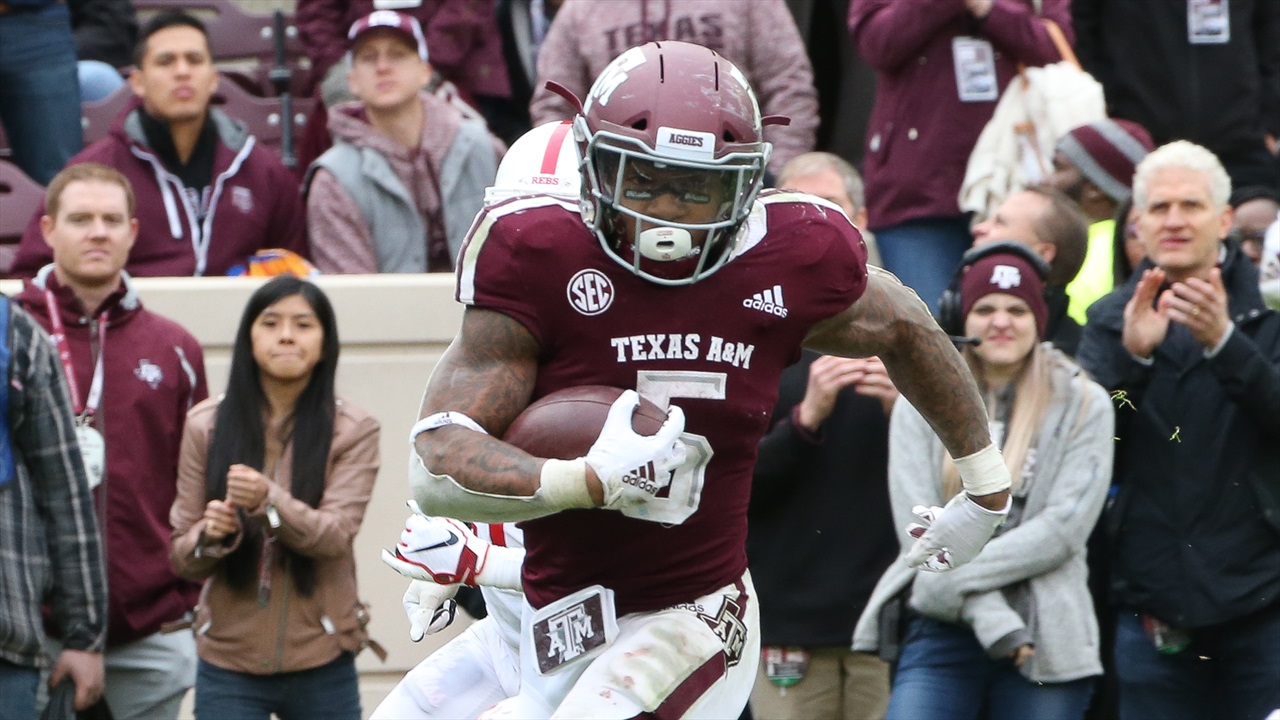 Photo by Matt Sachs, TexAgs
Texas A&M Football
Trayveon Williams establishing himself as an all-time great A&M back
---
Kingsley Keke was perplexed.
A key figure on the nation's second-ranked run defense, Keke is convinced the Aggies can contain any running back they face.
"I'm not going to brag about that, but I feel confident about my team," Keke said. "We do really well against the run. We've shown that."
But could they stop the running back they cannot face? Could Texas A&M junior running back Trayveon Williams run successfully against Texas A&M's defense? That question hit Keke like a crackback block. His mouth fell open. He made a gurgling sound. He winced and grimaced. Then Keke smiled, nodded, said "yeah" and laughed.
"That's a hard question because we've been doing really well against the run and he's a really good running back," Keke said. "We've gone against good running backs, but I feel like we could stop him. I'm not going to brag too much. That's my guy."
Williams should be every Aggies' "guy." Every Aggie — not just football players or athletes — should admire his productivity. They should follow his example of dedication and determination. They should emulate his team-first attitude.
"You can see it when he runs, how he does things. Takes coaching. You can coach him hard. Sometimes you get upset with him and you get "Yes sir."
"He has a drive inside of him," A&M coach Jimbo Fisher said. "You can see it when he runs, how he does things. Takes coaching. You can coach him hard. Sometimes you get upset with him and you get "Yes sir."
"His leadership, his competitiveness, and his drive to be good and get the most out of himself that he can get. That's all you can ask out of somebody. When they have physical abilities as he does then you start to produce the numbers."

Williams is a backfield version of former A&M star receiver Christian Kirk. Being good isn't good enough. Williams aspires for more. He's chasing greatness. And he's gaining ground. He's producing like some of the greatest running backs in A&M history.
The 240-yard outburst he had against Northwestern State is the second highest single-game rushing output in program history. The 228 yards he churned out last week against Ole Miss is eighth. Williams has gained 1,159 rushing yards this season. That's A&M's eighth-highest single-season total. And he still has three games to go.
"With that guy behind you all you have to do is give him a little sliver and he's going to make the best of it," tight end Trevor Wood said.
Williams averages 115.9 yards per game, which is ranked 11th in the nation. That's even more impressive considering the caliber of competition he faces. So far Williams has competed against six opponents that are ranked among the nation's top 60 in rushing defense.
He'll face another on Saturday at Kyle Field against UAB, which is 15th in run defense. Williams will close against LSU, which is 30th. Compare that to NCAA rushing leader Jonathan Taylor of Wisconsin. He's faced four top 60 rushing defense. Six of his opponents rank between 81st (Penn State) and 123rd (Illinois).
Of course, some cynical skeptic would point out that Williams has been ineffective against strong defenses. They might point out that he managed just 31 rushing yards against Alabama and Clemson.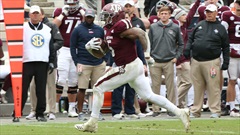 Matt Sachs, TexAgs
That's a fair point. But that's not uncommon, either. LSU's Leonard Fournette was arguably the Southeastern Conference's most hyped running back in the last decade. Yet, during his 1900-yard rushing season in 2015, he managed exactly 31 yards against Alabama.
Even special backs can struggle against elite defenses. Make no mistake, Williams is special. Fisher found out it soon after arriving in College Station.
"I felt very special about him when he first got here in the spring because of his demeanor and psychological disposition to want to be good," Fisher said. You saw that work ethic in practice."
That work ethic has enabled Williams to evolve into a complete back. Obviously, he's a gifted runner. He's also a receiving threat. Further, he isn't averse to taking on a blitzing linebacker in pass protection.
All Aggies should appreciate how special he is because they may not have him much longer. Three games remain this season. They could be the last three games of his collegiate career.
Williams has been asked if he'll opt for early entry into the NFL draft. Predictably, he's answered that he's only focusing on A&M's next game.
Williams likely will end this season as A&M's third all-time leading rusher. With a tremendous senior year, he could even surpass Darren Lewis as the Aggies career leader. But that may not be enough to resist the allure of the NFL and the riches that come with it. Williams has given A&M three excellent seasons. A fourth may be too much for which to ask.
So, celebrate his ability. Appreciate his determination. Acknowledge his greatness.
And be thankful the question of whether Keke and the Aggies defense could contain him can never be answered.
Never miss the latest news from TexAgs!
Join our free email list