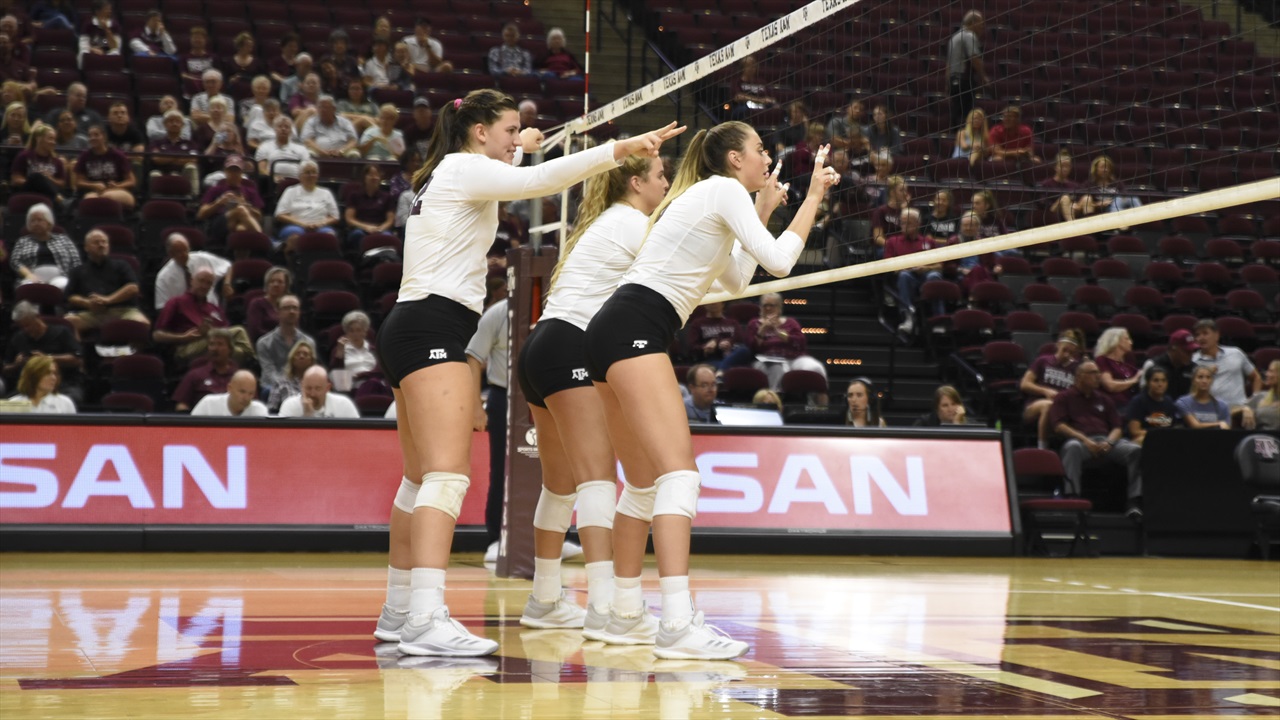 Photo by Elisa Schmitt, TexAgs
Texas A&M Volleyball
Aggie Volleyball starts slow, finishes strong to beat Ole Miss in four sets
---
Texas A&M not only defeated Ole Miss in football on Saturday afternoon, but in volleyball on Sunday as well. All four sets were consistently neck to neck 21-25, 25-15, 25-22, 25-21.
"We had a slow start, but I am proud of the finish. We pulled away at the sets we were winning and really went to our middles a lot. The balance of the offense was what we needed today," Head Coach Laura "Bird" Kuhn had this to say about today's match. A strong offense is what they got. Junior, Hollann Hans led the Aggies in kills again with 21, as well as 4 aces and 1 block. #4 Sydnye Fields also reached her season high of kills today with a total of 12.
Both freshmen middles, London Austin-Roark and Mallory Talbert put up 20 kills total. "We have been working on transition a lot in practice and it really translated into this game. Just being up quick and allowing Camille to know we are there and feel us and either feed us the ball or pull the other middle. It meant a lot to us to work on our transition this game," Talbert explains.
Setter Camille Conner also celebrates a good night with 55 assists and 10 kills. Libero, Amy Houser leads the team defensively with 17 digs.
Texas A&M Volleyball is now 7-8 in conference play and 14-13 overall. "It always feels good to win and especially in front of the 12th Man. They are so supportive, so getting that win for them is important," says Hollann Hans.
Aggie volleyball will be making their next appearance Starkville, Mississippi on Sunday, November 18th at 1 p.m. They will be back in Reed Arena for their last home match of the season against LSU on November 23 at 12 p.m.
"There are little things we have to do better, but overall I am proud of the balance and the response," says Kuhn.
Never miss the latest news from TexAgs!
Join our free email list