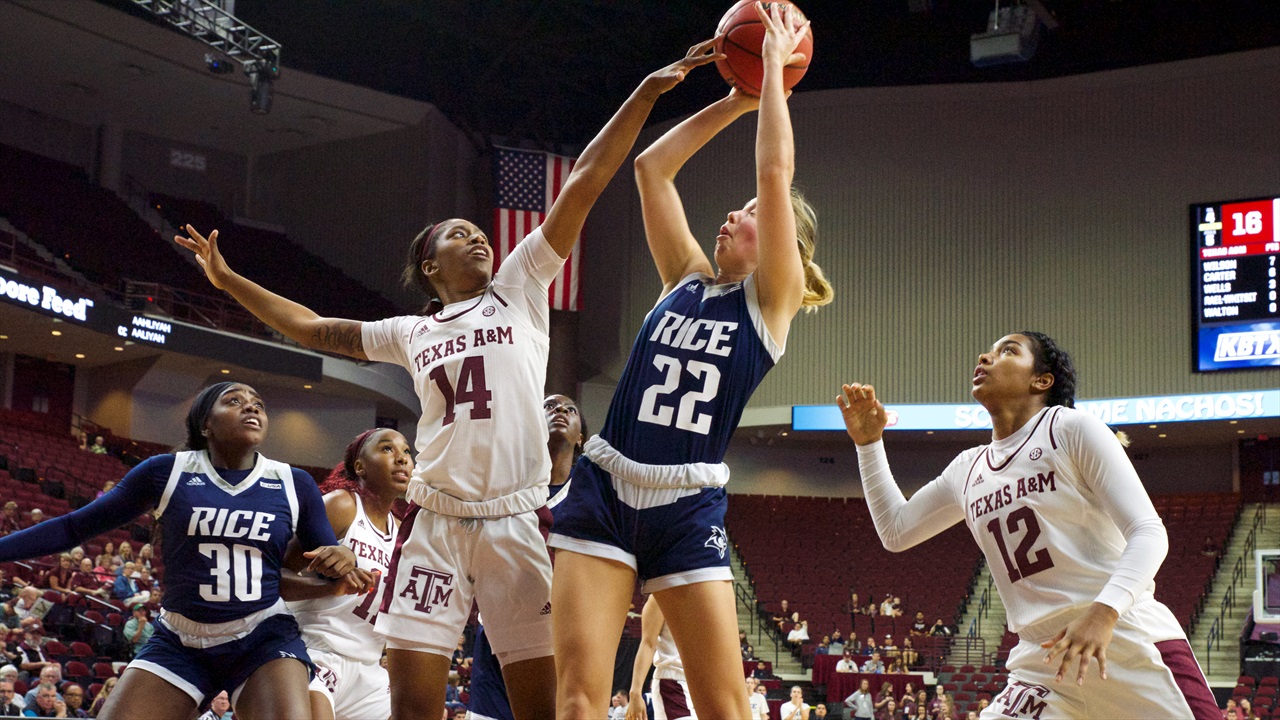 Gary Blair
Wilson & Johnson
Texas A&M Women's Basketball
Women's basketball collects first home win of the season over Rice, 65-54
---
The preseason No. 20 ranked Aggies defeated the Rice Owls with a strong defensive effort in their season opener Wednesday night at Reed Arena 65-54.
The Aggies had a fast start, putting up a 12-point lead over the Owls in the first 4 minutes of play. Sophomore guard Aaliyah Wilson led the Aggies in the first period with 9 points, including a clutch three-pointer.
Chennedy Carter, last year's National Freshman of the Year, was commended by Coach Gary Blair for her defensive improvements since last season. She spurred a strong start to her sophomore campaign, dropping 22 points and recording four assists.
Carter wasn't the only player to have strong offensive numbers. Aaliyah Wilson (18) and Kayla Wells (16) both finished with double-digit points to lead Texas A&M to victory. Free throw shooting was another strong point for A&M. The Aggies finished 14-17 from the line with Carter making 8-9 and Wells shooting 5-6.
Wells, the Aggies' leading scorer off the bench last season, was also unexpectedly strong on the defensive front against Erica Ogwumike, who led the Owls with 12 points, 2 assists, and 8 rebounds. Coach Blair gave credit to Wells' long legs to help her deny the ball back to Ogwumike. Ogwumike was followed by Nicole Iademarco with 11 points and 2 assists for Rice.
With several fouls and substitutions, the Aggies fought to maintain their chemistry in the second period. Texas A&M struggled to finish at the rim, only putting up 10 points heading into halftime.
As play resumed, Rice struggled to overcome Texas A&M's defensive effort with several shot-clock violations, but the Owls regained their momentum, scoring 21 points in the 3rd quarter alone.
"When you play a good team, eventually they will find your weakness, and they did," Blair said.
The Aggies came back to outscore the Owls in the final period, 17-15 to solidify their win.
"I thought Texas A&M played a tremendous game, especially on the defensive end of the floor," said Rice head coach Tina Langley. "I believe they're going to have a fantastic season."
Texas A&M will return to action at Reed Arena on Sunday, November 11th against Jacksonville. Tipoff is scheduled for 6:00 p.m., and the game will be broadcast on SEC Network +.
---
Special thanks to Mac Resource Computers for their sponsorship of all women's basketball content produced throughout the season at TexAgs.com! For the seventh consecutive year, all WBB content will be available to you for free!
Never miss the latest news from TexAgs!
Join our free email list