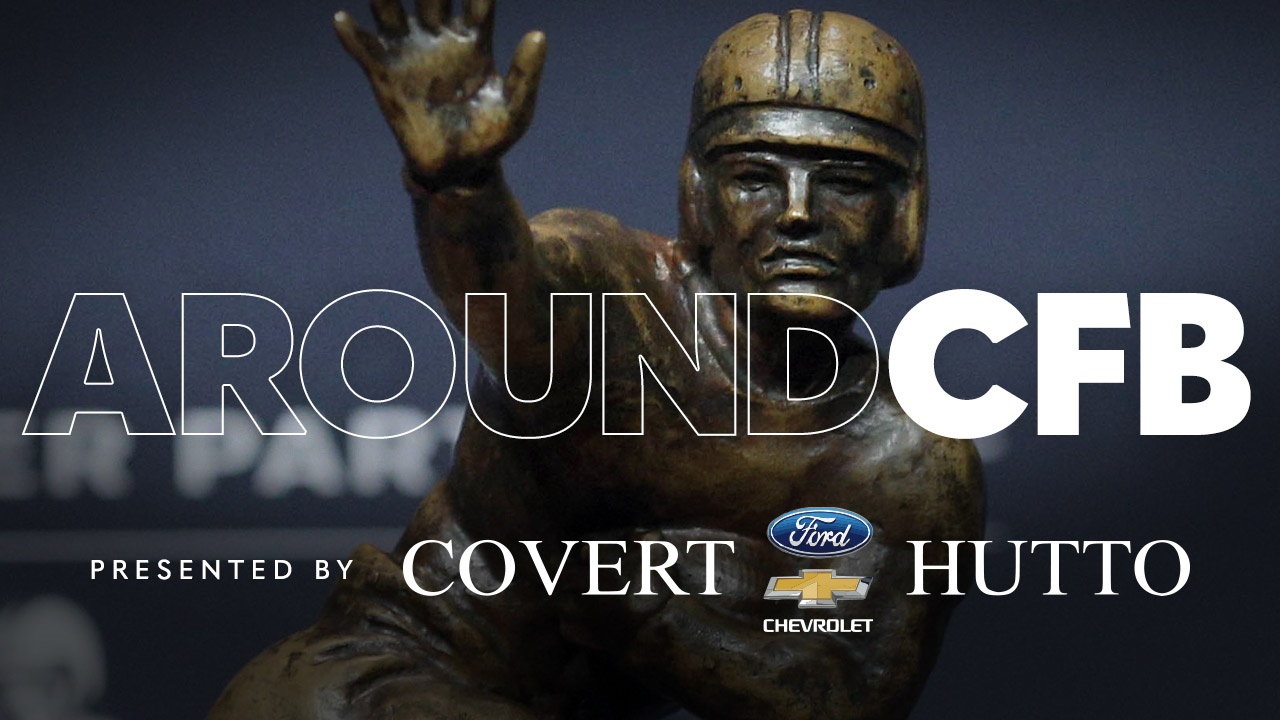 Photo by Brad Penner-USA TODAY Sports
Texas A&M Football
Around CFB: Head coach help wanted, openings and best candidates
---
This week's announcement that David Beaty won't return next football season as Kansas head coach is the first of many firings to come.
College coaches fall like leaves in autumn. Each year there are almost as many college head coaching jobs open as there are bowl games.
Expect between 20 to 25 college programs to have different coaches in 2019.
However, don't necessarily expect to see the best candidates leaving for better jobs. So many high-profile programs hired coaches last season that several rising coaches may not have significantly better options for career advancement.
Still, here's a look at the best candidates and perhaps the best jobs that are likely to come open.
Best candidates:
1. Dave Aranda, LSU defensive coordinator: LSU is 7-2 and ranked No. 9 despite an offense that ranks 104th nationally in yardage and 83rd in scoring. He routinely produces Top 10 caliber defensive units. Aranda could be the next Bob Stoops — a successful defensive coordinator who immediately becomes a successful head coach.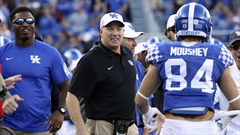 Jim Brown/USA Today Sports Images
2. Mark Stoops, Kentucky: The Wildcats are ranked 12th and likely will finish the regular season 10-2 and have a chance at an 11-win season. Kentucky hasn't posted 10 victories since 1977 and its only 11-win season came in 1950 under coach Bear Bryant. Stoops has already clinched a third consecutive bowl appearance, which is no small accomplishment in Kentucky. Some program figures to lure him away.
3. Jeff Brohm, Purdue: After posting double-digit win totals in consecutive seasons at Western Kentucky, Brohm went to Purdue in 2017. He took over a Boilermaker program that was 9-38 over the previous four seasons. Purdue went 7-6 in Brohm's first year in West Lafayette. The Boilermakers are now 5-4 with a big victory over Ohio State. He figures to be the top choice at Louisville — his alma mater — if Bobby Petrino is fired. More on that later.
4. Dino Babers, Syracuse: In nearly three seasons under Babers, Syracuse is 15-18. That doesn't seem that impressive, except that the Orange is currently 7-2 and ranked No. 13. Syracuse almost upset Clemson, but allowed a decisive touchdown with 41 seconds remaining. The Orange lost to Pitt in overtime after allowing a tying field goal with eight seconds left. That's right. The Orange is less than a minute away from being undefeated. This from a program that managed a total of seven wins in the two seasons before Babers' arrival.

5. Matt Campbell, Iowa State: He'd be higher on this list if not for his buy-out, which is $7 million if he leaves Ames before Feb. 1, 2019. That means he won't leave unless a major program courts him. Still, he had three nine-win seasons in four years at Toledo. He posted eight wins last season at Iowa State and the Cyclones are currently 5-3 and ranked No. 23. Considering the remaining schedule and bowl game, a 10-win season isn't out of the question.
Jobs that may come open:
Auburn: Yeah, it sounds crazy. Coach Gus Malzahn has about a $40 million buyout. And the AD has announced he'll be back next season. But Auburn is one of the craziest places in college football. Remember, Gene Chizik was fired two seasons after winning a national championship. The Tigers are 6-3, but still have rivals Georgia and Alabama awaiting. A 7-5 finish won't sit well, especially with Alabama seemingly on its way to another national title. It's absolutely ludicrous to think Malzahn could be fired with that buyout. But anything is possible at Auburn.
Louisville: If coach Bobby Petrino wasn't such a — let's be nice — controversial figure he'd probably get a pass on the disaster that this season has become. In his second stop at Louisville he's posted at least eight victories in each of the previous four seasons. But this year the Cardinals are 2-7 and allowing an average of 40.8 points per game. Also, the guy who hired him — Tom Jurich — was fired as athletic director earlier this year. If the powers that be can convince Brohm to come home Petrino may be on his way out. He may be anyway.
North Carolina: Dick Crum and Mack Brown proved it's possible to win at basketball-crazy North Carolina. Heck, Larry Fedora did, too. The Tar Heels went 11-3 in 2015. Since then they have steadily declined, though. They posted eight wins in 2016, three wins last season and are currently 1-7.
Illinois: Not sure how attractive a job Illinois is, but Ron Zook got the Illini to the Rose Bowl, so there is hope. Unfortunately, the nearly three-years of the Lovie Smith regime has been almost hopeless. Smith is 9-24 in three years in Champaign-Urbana. That includes a current 4-5 record. A bowl game seems doubtful.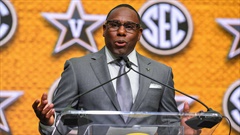 Dale Zanine-USA TODAY Sports
Vanderbilt: Derek Mason needs two more wins for Vandy to gain bowl eligibility. That's not assured. If the Commodores don't win two more they will miss the postseason for the fourth time in five seasons under Mason. Mason took over for James Franklin, who left for Penn State after posting back-to-back nine-win seasons. Also, David Williams, the athletic director who hired him, has resigned.
Heisman watch
1. Tua Tagovailoa, Alabama, QB: Facing LSU's strong secondary Tagovailoa wasn't as dominant as usual. He actually had to play in the fourth quarter and even threw an interception. However, he still passed for 295 yards and two touchdowns in a 29-0 victory. He's now passed for 2,361 yards and 27 touchdowns.
2. Gardner Minshew, Washington State, QB: He exceeded 300 passing yards for the ninth time. Minshew threw for 343 yards and a touchdown while also throwing an interception in a hard-fought 19-13 victory over Cal. Minshew leads the nation with 3,517 passing yards. He has 27 touchdown passes and seven interceptions.
3. Kyler Murray, Oklahoma, QB: Murray threw a couple of interceptions, but more than compensated with 460 yards of total offense. He passed for 360 yards and three touchdowns and rushed for 100, including a 12-yard touchdown run. He has passed for 2,689 yards and rushed for 574 and ranks third in the nation in total offense.
4. Will Grier, West Virginia, QB: He's more than atoned for his miserable performance in a loss to Iowa State three weeks ago. In a 42-41 come-from-behind victory over Texas, Grier exceeded 300 passing yards for the second consecutive game and the seventh time this season. He threw for 346 yards and three touchdowns and ran in a clinching two-point conversion. Overall, he's thrown for 2,618 yards and 28 touchdowns.
5. Dwayne Haskins, Ohio State, QB: He had a subpar showing in a 36-31 escape of Nebraska, but still passed for 252 yards and two touchdowns. He's second in the nation in passing. He's thrown for 3,053 yards and 32 touchdowns.
Predicted playoff participants
1. Alabama: Tide has won every game by at least three touchdowns.
2. Clemson: The last four opponents have been outscored 240-36.
3. Notre Dame: Irish launched clutch scoring drive to repel Northwestern threat last week. Florida State doesn't appear to be much of a threat this week.
4. Michigan: The Wolverines don't figure to be seriously challenged again until the Nov. 24 clash with Ohio State.
This week's best games
No. 18 Mississippi State at No. 1 Alabama: Last year's game wasn't decided until the final minute.
Auburn at No. 5 Georgia: The South's Oldest Rivalry. Georgia leads the series by just a 58-56-8 edge.
No. 2 Clemson at No. 17 Boston College: BC has issues in pass defense, which doesn't bode well against Clemson.
No. 8 Ohio State at No. 24 Michigan State: A weird predicament for Sparty. A win over the Buckeyes would virtually assure Michigan wins the Big Ten East.
No. 16 Fresno State at Boise State: If Boise prevails the Broncos and Bulldogs could clash again in the Mountain West championship game.
Never miss the latest news from TexAgs!
Join our free email list