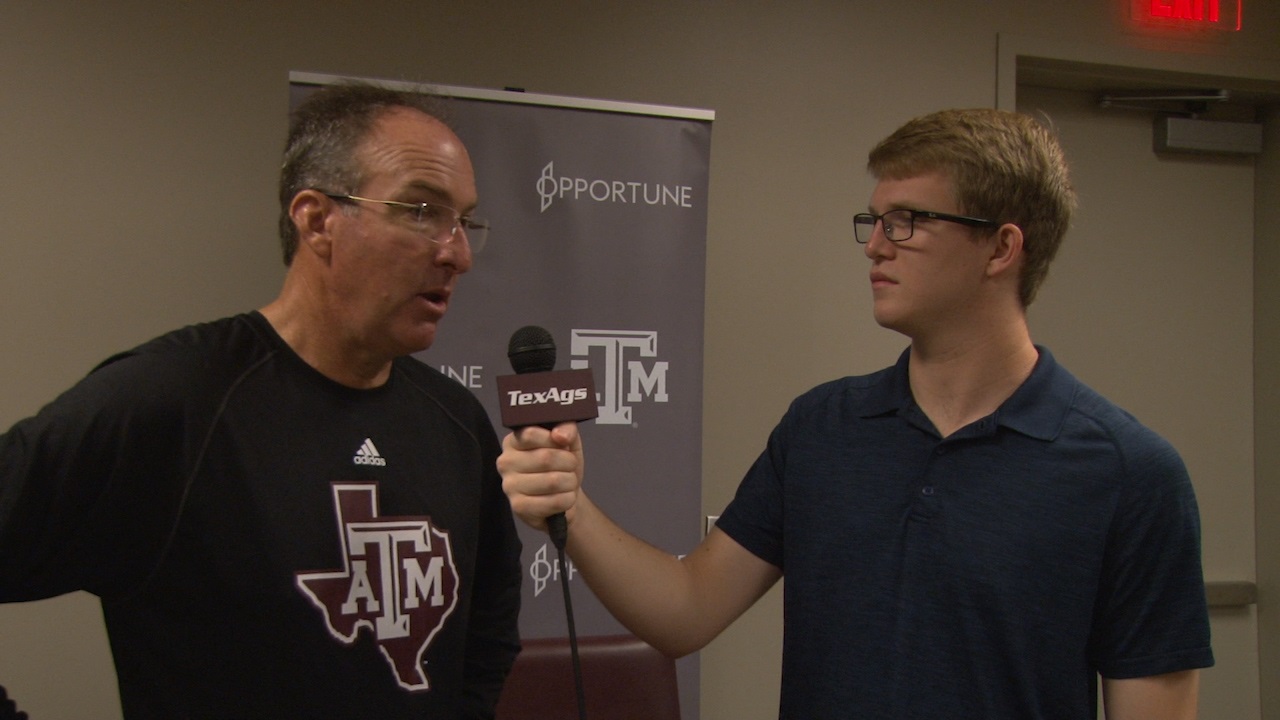 Texas A&M Soccer
Coach G Previews SEC Tournament
---
On the performance of Ally Watt despite battling illness...
"First and foremost Ally Watt is just an amazing kid, she was still battling back from pneumonia and still had a lot of the symptoms. We thought that we might get five or 10 minutes out of her and she goes 110 minutes when you add in the overtime. What a competitor; it was very unselfish of her to go out and do that for her teammates."
On the performance of the team in last week's win over South Carolina...
"I was really pleased with the way that the team defended. Callyn Walton came in and did an awesome job in place of Briana Alston who we sat out just to help her get healthy and Kendall Ritchie was terrific again. Cosette Morche had a couple of huge saves. We didn't hold the ball as well as we would have liked and that's something we've been looking at since we've gotten back. For us to find ways to open them up better and find more opportunities on the counterattack. The Thursday game was huge for us for NCAA purposes, it's so tight in the SEC. We go in now as the No. 3 seed and we are pleased with how things are, we just know that we have a really tough game on Tuesday against a team that we just beat them on their home field. They are going to be really motivated to come out and beat us."
On changes this go around against South Carolina...
"I don't think that either team is really going to change that much. I'm sure that they look at the game and say that they had chances. Obviously they are going to be very aware of what Ally is doing. I think that we can do a bit of a better job in that midfield. The first pass is the most important pass and we have to move on and keep it. Now we go onto elimination games against teams that we've played in the past. Penalty kicks become a factor and we are a very good penalty kick team, Cosette is really good at saving penalties. A big part of our emphasis has been getting healthy and polishing up things going forward."
On the role fatigue plays in the SEC Tournament...
"if you look around the country Texas A&M is one of the best tournament teams ever it points to the depth that we have. We'll have our team doctors with us they are very important and our medical team and all those guys. We have a lot of things set up so that as soon as one game is over we'll start setting up for the next one. The game against South Carolina is going to be so difficult that we're focused on that one first."
On potential seeding in the NCAA Tournament...
"Winning takes care of a lot. You look at any sport, if you win there's a lot of happy people. First and foremost we just need to win. If we win we don't have to rely on anyone else around the country to get results."
Never miss the latest news from TexAgs!
Join our free email list