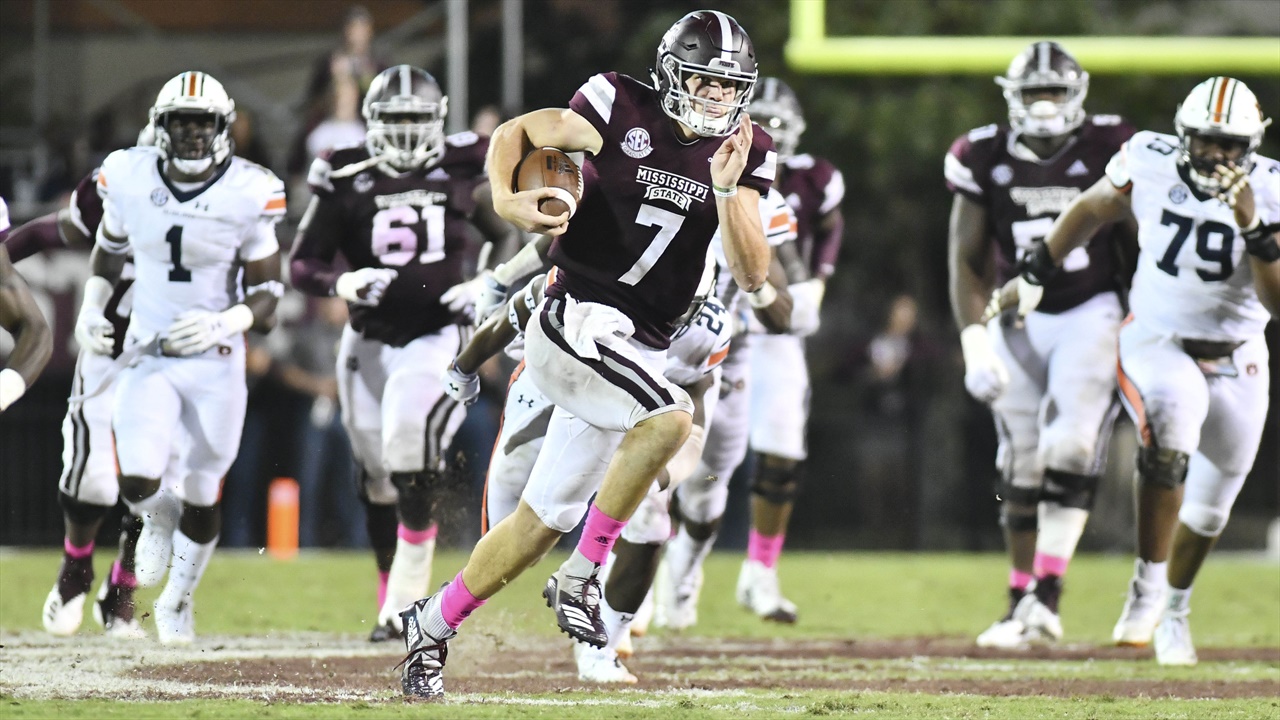 Photo by Derick E. Hingle/USA Today Sports
Texas A&M Football
Aggies seek to solve rushing 'headache' in QB Nick Fitzgerald
---
On one dynamic play Nick Fitzgerald signaled he would be a headache for Texas A&M.
Indeed, he's been a migraine ever since his first-play, a 74-yard touchdown run in a Mississippi State 35-28 football victory over the Aggies in 2016. A powerful 6-foot-5, 230-pound senior quarterback, Fitzgerald rushed for 182 yards and passed for 209 yards that day.
Then, last season he triggered another headache, rushing for 105 yards and a touchdown and passed for 141 yards and two touchdowns in a 35-14 victory over A&M.
"He can run for days, man," A&M senior defensive end Kingsley Keke said on Monday. "He's killed us with his legs. We have to account for that. A guy like that at the quarterback position that can run like that is tough. It's tough the way he runs."
Over the last three seasons Mississippi State is 15-3 when Fitzgerald has rushed for 100 yards.
Therefore, breaking the cycle of Fitzgerald's rushing success has to be the top priority for the No. 16 Aggies (5-2, 3-1 in the Southeastern Conference) when they travel to Starkville to face Mississippi State (4-3, 1-3) on Saturday.
"They run the ball pretty effectively with the quarterback," A&M senior defensive end Landis Durham said. "It's been probably the most effective I've seen in recent years. That will be a big part of our defense this week just to stop the quarterback run.
"We've played a couple of guys who had real deal speed, but this guy has got some power to him, too. He's a pretty big cat. He might be one of a kind"
That's why the migraine label might be insufficient. Fitzgerald has been a migraine with aura.
Except, lately the aura is fading.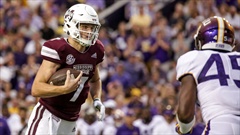 Derick E. Hingle/USA Today Sports
Fitzgerald flourished and even surfaced in Heisman Trophy discussions in former coach Dan Mullen's offensive system. But under first-year coach Joe Moorhead, who favors downfield passing, he's been a square peg in a round hole.
Never considered an exceptional passer, Fitzgerald has somehow regressed in that aspect of his game. He's completed only 46.9 percent of his attempts, has thrown for just 768 yards and has almost twice as many interceptions (7) as touchdowns (4).
Fitzgerald appeared to hit rock bottom in last week's 19-3 loss to LSU in which he threw four interceptions and completed just 8 of 24 passes for 59 yards.
Once adored in Starkville, there have been calls for Fitzgerald to be benched in favor of sophomore backup Keytaon Thompson.
Moorhead seems to be listening. He indicated Fitzgerald will continue to start, but Thompson may take over for a series or two.
"We have discussed in the staff room, not making a change but during the first half and second half giving KT an opportunity to start a drive for two reasons: as a change of pace, because he is a talented player and secondly physically to take some of the wear and tear off of Nick, who has 120 carries in six games," Moorhead said.
A&M coach Jimbo Fisher said the Aggies would be prepared for both quarterbacks. But Fisher also made it clear that he isn't taking Fitzgerald's recent struggles as an indication that he's no longer a threat.
"That guy's a great player. He'll rebound," Fisher said. "He's played in a big-time games. He's had consistency over a long period of time. He is a heck of a football player. Everybody has times when you don't play as well as you want to.
"But the guys who are true competitors …. You watch. He'll battle back and be ready to play this week. He'll get back to his basics and play a great game. That's just the way it is. That's what great players and great competitors do."
"We have to be accountable for our gaps. The way he runs he just runs anywhere he wants and makes anything happen. We just have to be ready for stuff like that."
Of course, great defenses find ways to minimize great players. A&M remains fourth in the nation in run defense. No opponent has rushed for more than 109 yards against the Aggies.
Quarterbacks in particular have had little success on the ground. Clemson's Kelly Bryant rushed for just 54 yards. Kentucky's Terry Wilson managed four yards.
"We have to game plan against him really well," Keke said. "We have to be accountable for our gaps. The way he runs he just runs anywhere he wants and makes anything happen. We just have to be ready for stuff like that."
Added Durham: "They just do a good job kicking out D-ends, creating big gaps for him to run through. He doesn't miss them either.
"If they've got a gap or two for him he's going to hit one of them. He's going to hit it hard. We've got to be sure to play gap discipline and just do our jobs out there."
Or risk suffering another major headache.
NOTE: Fisher said starting guard Keaton Sutherland and starting receiver Kendrick Rogers have sufficiently recovered from injuries and will be in action against Mississippi State. He also said defensive end Michael Clemons and cornerback Clifford Chattman remain questionable. Neither have played yet this season.
Never miss the latest news from TexAgs!
Join our free email list
PRESENTED BY