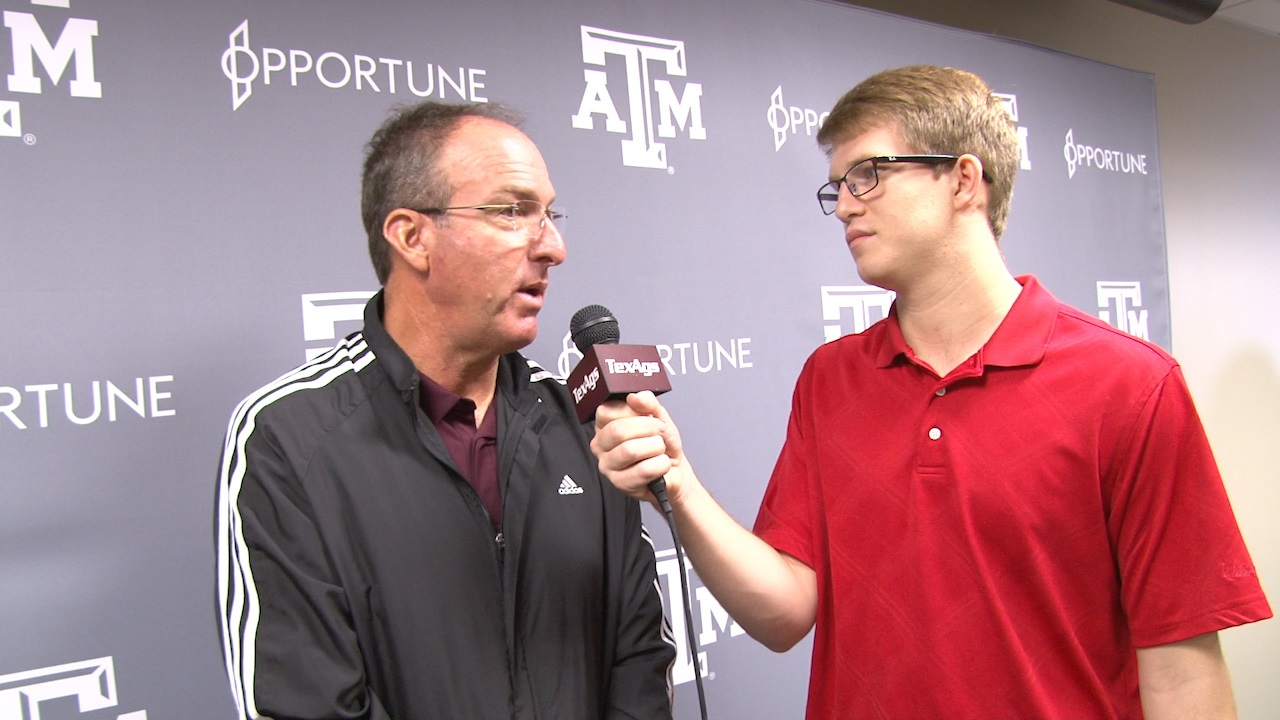 Texas A&M Soccer
Coach G confident his team will rebound after two tough losses last week
---
On the team's two losses last week...
"It's uncharacteristic for sure, it's something that we're not used to but at the same time, it's a time where we need to sharpen our game and get ready for the win-or-go-home portion of the season. That's where we are right now, one game left to go before the SEC Tournament. It will be important at ourselves realistically and see what other people are doing to get results against us. We've got to close that down and get ourselves back to playing the way that people fear us."
On the importance of Briana Alston, who left Sunday's game early with an injury...
"One of the biggest changes in the way that we have been able to play this year and last year has been the added athleticism to our back line. Last year Bri came in as a transfer from Florida State and boom, we become SEC Champions. This year we get Jordan Hill back into the mix which adds more athleticism. When we lose Bri -- Jordan had a good game until things kind of fell apart there at the end, which will be some hard lessons for her to learn. Not having Bri in there takes away a lot of the confidence of the players because now they have to do a little more since she's not there. She'll be back training on Tuesday and back in the lineup on Thursday, I'm 100-percent confident."
On the importance of Ally Watt, who didn't play on Sunday due to an illness...
"Ally Watt, what do you say? You lose arguably the most scary forward in the country and a kid who we've leaned on all season and she wants to be leaned on. She wanted to be out there yesterday but she had a 102-degree fever and just couldn't. She couldn't breathe, so you don't want her out there getting more people sick. Rheagan Smith was sick a week and a half ago and she couldn't go. We've just got to get ourselves well and that's the biggest thing with Ally, can we get her back to 100--percent as soon as possible. We need her in this part of the season because of the win-or-go-home nature."
On not winning the SEC regular season championship...
"You've got to give credit to Vanderbilt, they've played the teams that were on the schedule and beat them. They haven't lost since August and that was to Florida State which is understandable. Darren is doing a great job. We would like to play them but it looks like for us to play them it would have to be in the semis of the SEC Tournament. It's disappointing to us because our realistic goals are to win the SEC. There are a lot of teams that can't even dream about that. There are a lot ot teams that will play this week and that's it, their season is over. For us, its a chance to refocus and look at the big things that this team can do. I still say that when we get our stuff together, we can beat anybody. But, we've proven this week that we can beat ourselves. We've got to kind of shore that up a little bit, take away the kinks in the armor."
On preparing for South Carolina...
"We've got to work on defending, we gave up four goals that's unheard of. We gave up four goals and Cosette Morche had a great game, made some big saves early on. I thought that we outplayed Tennessee for the last 15-20 minutes of the first half and most of the second half. But, we can't let that happen, we've got to defend better on crosses. We'll make a couple little adjustments tactically, but we're not going to throw the baby out with the bath water, we'll bring in some fresh water and get ourselves ready to go. Again, it's going to be a very tough game. As far as the SEC Standings, Vandy will be the No. 1 seed that's for sure. We're tied for second and we know for sure that we have a bye through the first round and we don't have to play until next Tuesday which is great. We know Kentucky's going to come in last but 2-13 are still up in the air."
Never miss the latest news from TexAgs!
Join our free email list