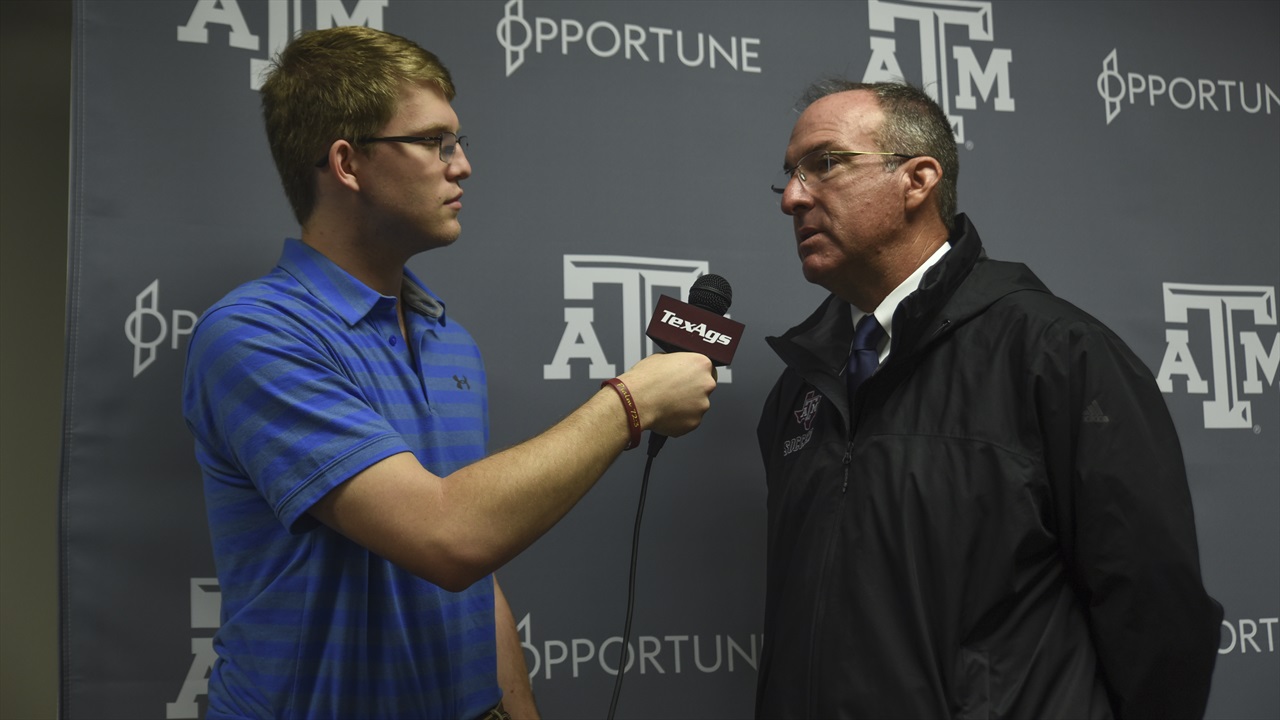 Photo by Elisa Schmitt, TexAgs
Texas A&M Soccer
Coach G excited for matchup with Mississippi State on Senior Night
---
On fast starts in last two matches...
"The big thing for us has just been the focus of the players was a real emphasis of the week. We talked this time last week that we were disappointed in how our energy was when starting some matches. Our two games in which we didn't get wins were at night and we were just waiting and waiting, climbing the balls waiting for the game in a hotel. We've had teams that have been excellent on the road in the past so we needed to turn the mirror on ourselves and make sure we were focused on the match. We were able to do that last weekend. It's one thing for us to talk about it, but it's another to actually do it. It's a players game -- I don't have any timeouts or anything. They have to be able to take things as they go and adjust on the fly. Starting is massive and just the deep breath and the exhale when you're up two goals in the first 10 minutes."
On the play of the midfield...
I referred to them yesterday as our 'Engine Room.' It's where the energy comes from, it's where the players play comes from. You look at Addie McCain, she's just a really gifted player in the way that she can find spaces in the room that opponents give us. Her combination play and goal threat is huge. Emily Bates getting a couple of goals on Sunday was massive for us and her confidence as well. Grace Piper is a beast at winning 50/50 balls and that's known throughout the league. I'm sure they'll have someone knocking her around this week. Those three have been very influential in how we defend and on the attack."
On Mississippi State coming to town on Friday...
"They do have some goal scorers -- No. 9 and No. 10 up top. They are very dangerous in set-piece situations. They scored five goals against Alabama and they were all set pieces. They have a kid from California that has a really long throw-in which allows them to have some opportunities. But, more than anything they are really hard to score against. You look at their draw against Florida and all the one goal results that they've had. They've got very stout athletes back there and I'm really pleased to be playing them at home on Senior Night. They come in and ranked in the Top 10 in RPI and a Top-20 National ranking. They'll have our full attention this week leading up to the game."
On it being Senior Night...
"It's always shocking how fast it comes. It's the middle of October, we're already celebrating girls that are leaving. In this class, celebrating girls that were primarily born in 1997, it's a special group. They are great people on and off the field that have made huge impacts. This entire class is really, really special and have been a big part of our success and the fight that this team has had the last couple of years."
Never miss the latest news from TexAgs!
Join our free email list