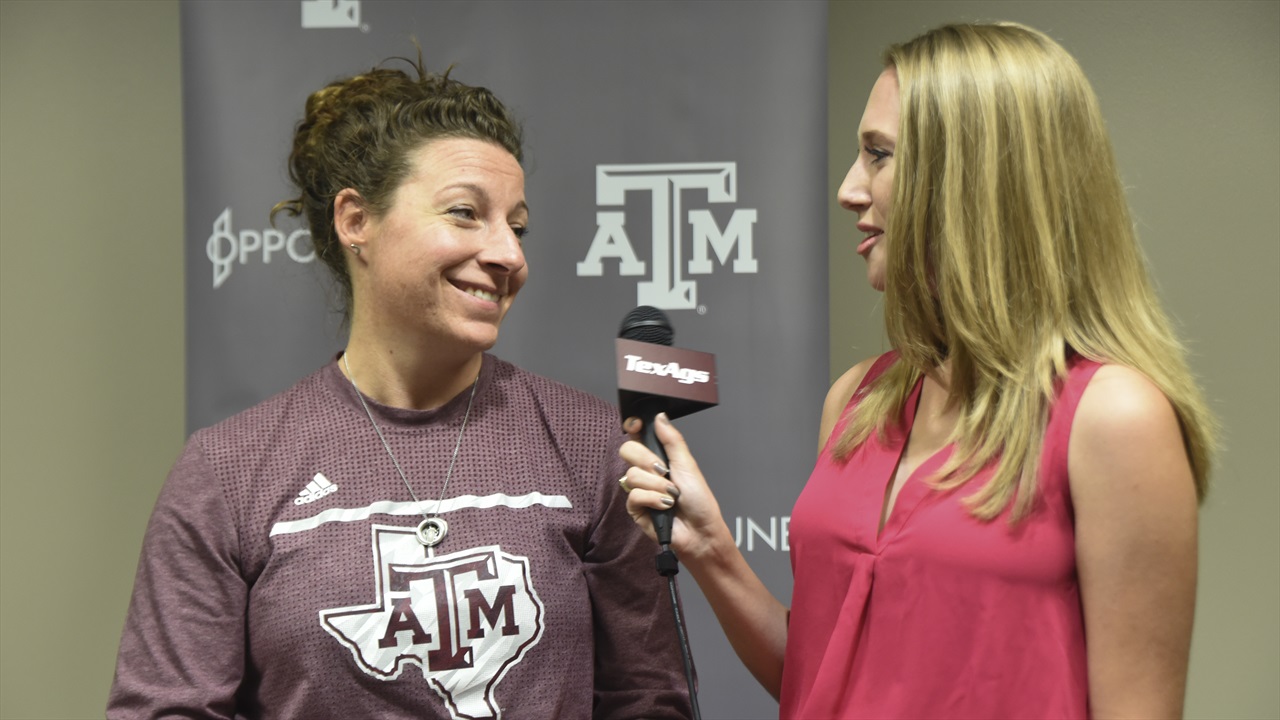 Photo by Elisa Schmitt, TexAgs
Texas A&M Volleyball
Laura "Bird" Kuhn discusses volleyball's recent ups and downs
---
On her takeaways from a tough 3-match road swing:
"I feel like I'm almost bipolar. I'm so proud of them. We needed to finish that match on Friday, and then disappointed on Sunday. We have to separate ourselves from the average teams who respond that way — we talked about that. I'm still proud of them; I just think they need to understand it's not just gonna happen, so they need to wield those things and be in control of what they can control during matches, and that's the first contact."
On how high levels of competition have pushed her team:
"I think we've been challenged. Our identity has been challenged and I think they know exactly who they are, but we learned a tough lesson on Sunday that they have to be that consistently. When it's not going our way, we need to sharpen up and we need to tighten up faster and sooner."
On how moments of adversity have brought the team closer:
"I think the road trip in general was good for us...There's little things that we do. There's little activities, there's study halls, there's team activities like we did Family Feud, we randomly had them arm wrestle for no reason. Just fun stuff like that, but it brings us together. There are experiences like that away from volleyball, and it translates. I know the average fan, when you watch, you don't think that way, but in female sports especially, that kind of stuff brings them together. But again, you still have to focus and execute X's and O's when you're called upon."
On the team's preparation for Auburn and Georgia this weekend:
"Auburn's going to be a good team. I know their record doesn't show it, but they're talented, and we're back to the drawing board. We have to execute the game plan and really get back to the basics: serving and passing. We struggled. We had way too many errors on Sunday, so it's really going to come down to that — our side and taking care of the ball."
On the team's excitement to play at Reed Arena after 3 games on the road:
"They're very excited — just the energy when we get back to campus from being on the road. It wasn't the outcome that we wanted, but it feels good to be home and it's going to be the same thing on Friday. Then we'll take that energy with us to Georgia."
On how the presence of the 12th Man impacts their gameplay:
"We talk about when you're on the road, you have to control that energy and make it your own. But it's different. When you feel that behind you, it does inspire, and we've had some great comebacks because of it. It's something deep within and they really believe it, and they feel it when they're here. I'm looking forward to getting that little spark back."
Never miss the latest news from TexAgs!
Join our free email list