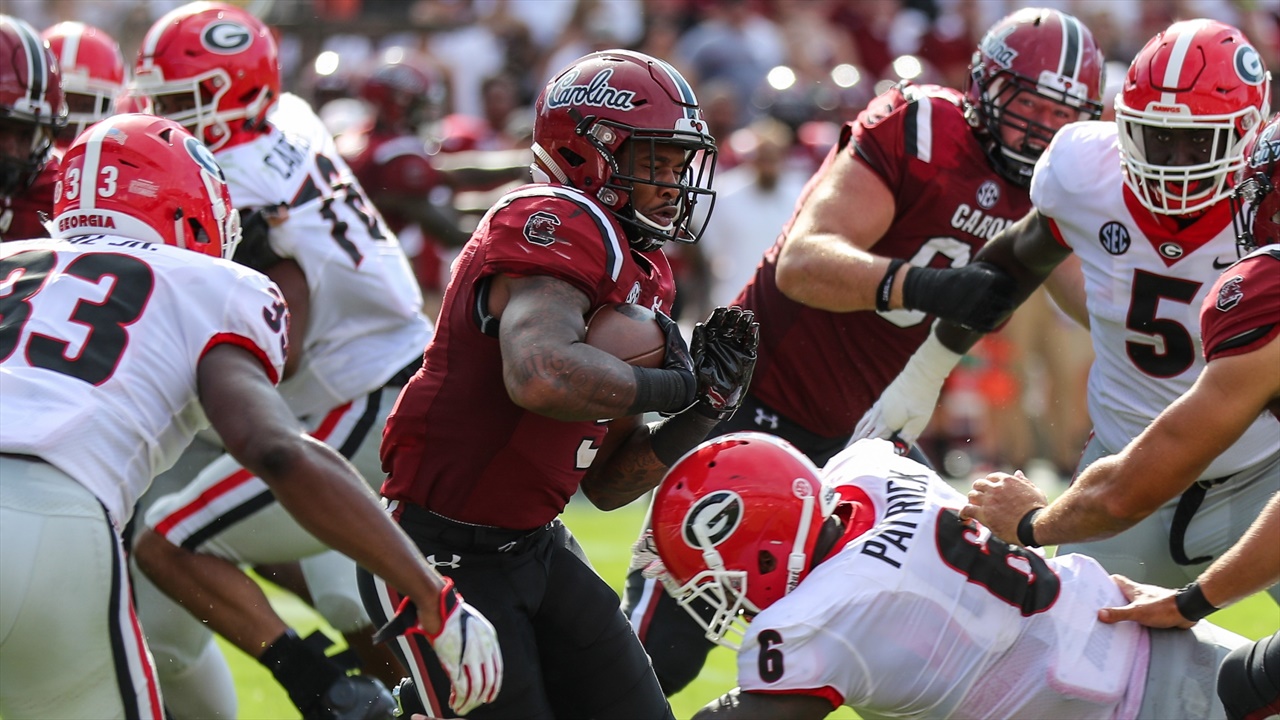 Photo by Jim Dedmon/USA Today Sports
Texas A&M Football
SEC Round-Up: Run game struggles pushing South Carolina towards mediocrity
---
Just a few weeks ago South Carolina was ranked 24th in the nation and largely considered the second-best team in the SEC East. Now, the Gamecocks (3-2, 1-2) are struggling and appear to be spiraling into mediocrity.
Surging Texas A&M, who the Gamecocks play host to on Saturday, and Florida remain on the schedule. So does arch-rival Clemson.
The Gamecocks could even fail to gain bowl eligibility if they don't figure out what's wrong.
Well, actually they have figured out what's wrong. They're struggling to in the running game and to stop the run. That's a double-whammy in the powerful SEC.
The real concern is whether or not coach Will Muschamp can fix the problems.
The Gamecocks won big when they ran successfully against Coastal Carolina and Vanderbilt. But they rushed for only 54 yards in a loss to Georgia and just 128 yards in a loss to Kentucky. They also rushed for 128 yards a week ago but managed a come-from-behind 37-35 victory over Missouri.
The inconsistent running game has negatively affected the passing game, too. Opponents too often ignore play action and rush aggressively. Kentucky sacked quarterback Jake Bentley four times.
"We've got to find some ways (to run)," Muschamp said this week. "We can't get in a situation where we become a drop-back game.
"We can't get in a situation where we become a drop-back game."
"Sometimes it isn't pleasing to the eye at times, but you have to do those things in order to be able to create some balance in what you do and not let them tee off every single snap. And that's what happens in our league with some of the defensive lines we face."
Texas A&M's defensive front may best the Gamecocks have faced. The Aggies are fourth in the nation in run defense. Their pass rush has also surged in the last two games.
South Carolina needs to run effectively to help out Bentley, who missed last week's win with an injured knee.
Bentley is expected to start, but protecting him could be a problem. It might not be Muschamp's biggest problem, however.
With the exception of Vanderbilt, South Carolina has not been able to stop opposing running games. Georgia rushed for 271. Kentucky had 195. Missouri rushed for 286 yards.
That's cause for concern against Texas A&M running back Trayveon Williams, who leads the SEC with 720 rushing yards.
"We've got to hash some things out to be able to stop the run better," Muschamp said. "We, in my opinion, are certainly capable, but we got to figure out some things."
South Carolina's linebacker play has been suspect. Too many tackles have been missed. But there are other issues beyond Muschamp's control.
Injuries have forced star defensive end D.J. Wonnum to the sideline. He won't play against A&M. Linebacker Eldridge Thompson underwent surgery this week and will miss the remainder of the season. Safety J.T. Ibe started the first four games, but is out with injury.
Obviously, the Gamecocks have a lot of problems. If solutions aren't found quickly they could be in a major fix.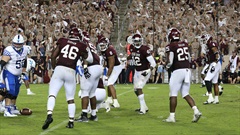 Matt Sachs, TexAgs
Who's hot: Texas A&M's defensive front has led the way for the nation's fourth ranked run defense. However, what may have gone unnoticed is the fact that the Aggies have posted 11 sacks in the last two games. Kingsley Keke now leads the Aggies with 4.5 sacks, while Justin Madubuike and Landis Durham each have three and Daylon Mack has two.
Who's not: Missouri passing defense is ranked 13th in the SEC. It's only that good because of early games against Tennessee-Martin and Wyoming. The Tigers have allowed at least 249 passing yards and three touchdowns in each of their last three games. Purdue torched them for 572 passing yards last month. To make matters worse, the Tigers next face Alabama quarterback Tua Tagovailoa, who threw four touchdowns passes against Arkansas State, Texas A&M and Arkansas.
Keep an eye on: Arkansas running back Rakeem Boyd is averaging 6.4 yards per carry since he was thrust into the lineup three games ago. Last week he rushed for 102 yards against Alabama. This week he faces Ole Miss, which has the worst run defense in the SEC. LSU bludgeoned Ole Miss for 281 rushing yards. Alabama had 210. Even more alarming: Southern Illinois rushed for 241. Trends suggest Boyd should have a very productive outing.
The pressure is on: Auburn is uncharacteristically struggling to run the football. The Tigers have rushed for fewer than 100 yards in each of its last three games. The lack of running success has compromised the play-action elements of the passing game. Consequently, Auburn is 12th in the SEC in total offense. The Tigers must get production from their running game or risk an upset against Tennessee. The Vols are vulnerable in run defense. They've been respectable against the pass, although they're having injury issues in the secondary.
Best matchup: No. 2 Georgia and No. 13 LSU meet as ranked opponents for the 11th time since 1987. The series is 5-5 with both teams ranked. Georgia prevailed 44-41 in the most recent clash (2013) and won 52-38 in the last game played in Baton Rouge (2008). The outcome figures to be decided largely by the Georgia offense against the LSU defense. Georgia averages 42.8 points per game. LSU allows an average of just 17.
Never miss the latest news from TexAgs!
Join our free email list