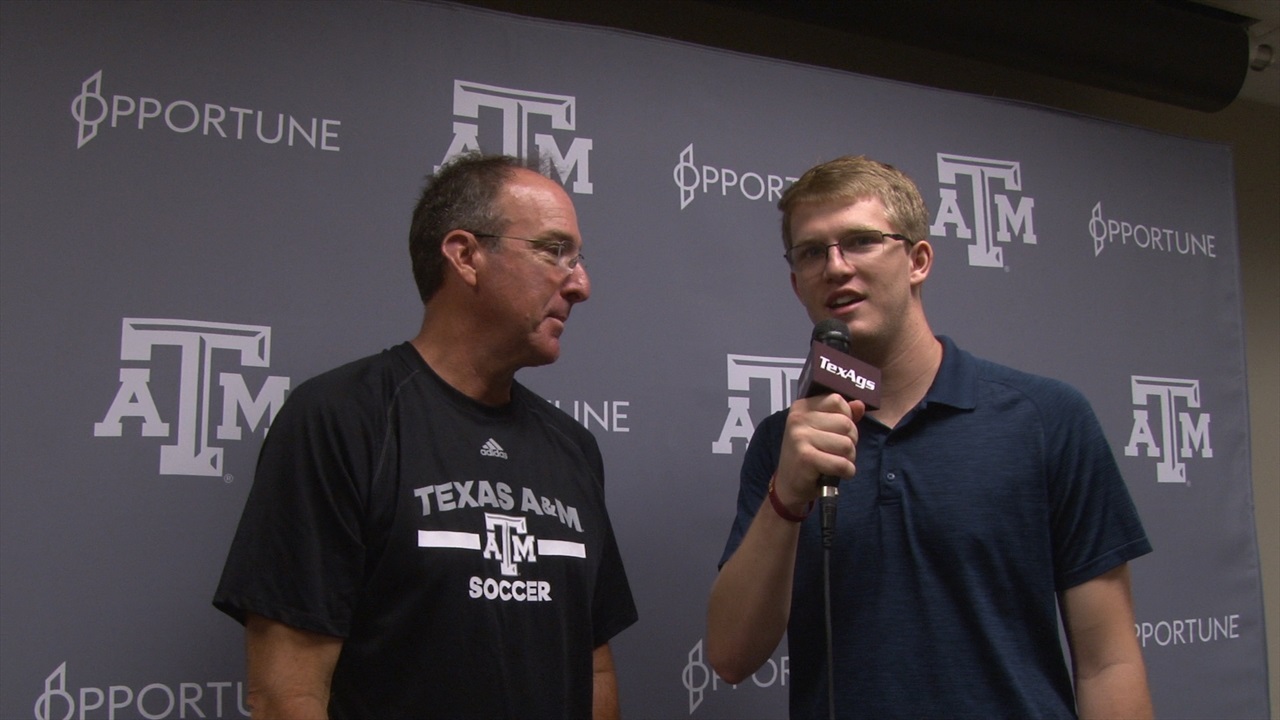 Texas A&M Soccer
Coach G reflects on 1-1 tie to Ole Miss, looks ahead to Auburn match tonight
---
On last week's 1-1 tie to Ole Miss...
"We found the goal, there were just a lot of people standing in front of it. They cleared at least four balls off the line and we hit the post twice, missed a penalty kick. All that and then a tough gritty performance, was what it took for them to get a tie against us. We were an inch here or an inch there from just breaking the darn thing open but it just really never happened. For us to be able to come back and tie it up is great but we're kind of kicking ourselves that we weren't able to get that last one over the line and come out with all three points."
On honing in on finishing skills...
"The reminder is that we're the biggest game of the season for all of these teams. We came in with a No. 2 National ranking and we know that we're going to get a World Championship effort from every team that we play, especially on their home fields. We've seen that now in the last two SEC road games. I think that's something that we now have to expect again and we've got to look at every game as a championship so that when it comes time to play those games with a trophy on the line, we've been there before and can approach it."
On getting every team's best game...
"You hear Jimbo talk about how it's a faceless opponent every time and that's absolutely true. It's one of the things that's made us such a strong program over the years. We win championships because of the approach that we have. It's not like we have to completely change anything we just need to up our approach and focus on finishing. It really is just one inch to the right or one inch to the break these things open."
On getting to take the weekend off...
"This was the first weekend that the girls have had off since July. So it's been 13 games back-to-back with no real time off to decompress and to breathe. That was about the best thing about the weekend is that they got to have a chance to get away and go see family or friends or to sleep in on a weekend. A lot of times in the throws of our season they don't really get a chance to be regular college students and they got to do that. I think that will make them that much hungrier against Auburn. They were the only team that beat us last year so that's a game that I don't think we're going to have a hard time getting up for. They're coming in as a little bit of a wounded animal after they lost to South Carolina."
On the play of Auburn compared to last year...
"They're a different team that they were last year, they look a lot like us in their shape.They've got Le Beau in goal whose a solid shot stopper and made countless saves last year. They've got creative players in the middle of the park and really good athletes so it should be wide open. It should be an exciting game from the opening whistle on."
On the bigger picture of where the team stands...
"We are on the right track but we can't stop now. There's still a lot of work to be done. One of the nice things about having the weekend off was it gives it a chance for the players to come in refocus but also the coaching staff. We get to come in and say what are the chances that we're going to take to win these games and win every one of those games so that we win the league again."
Never miss the latest news from TexAgs!
Join our free email list