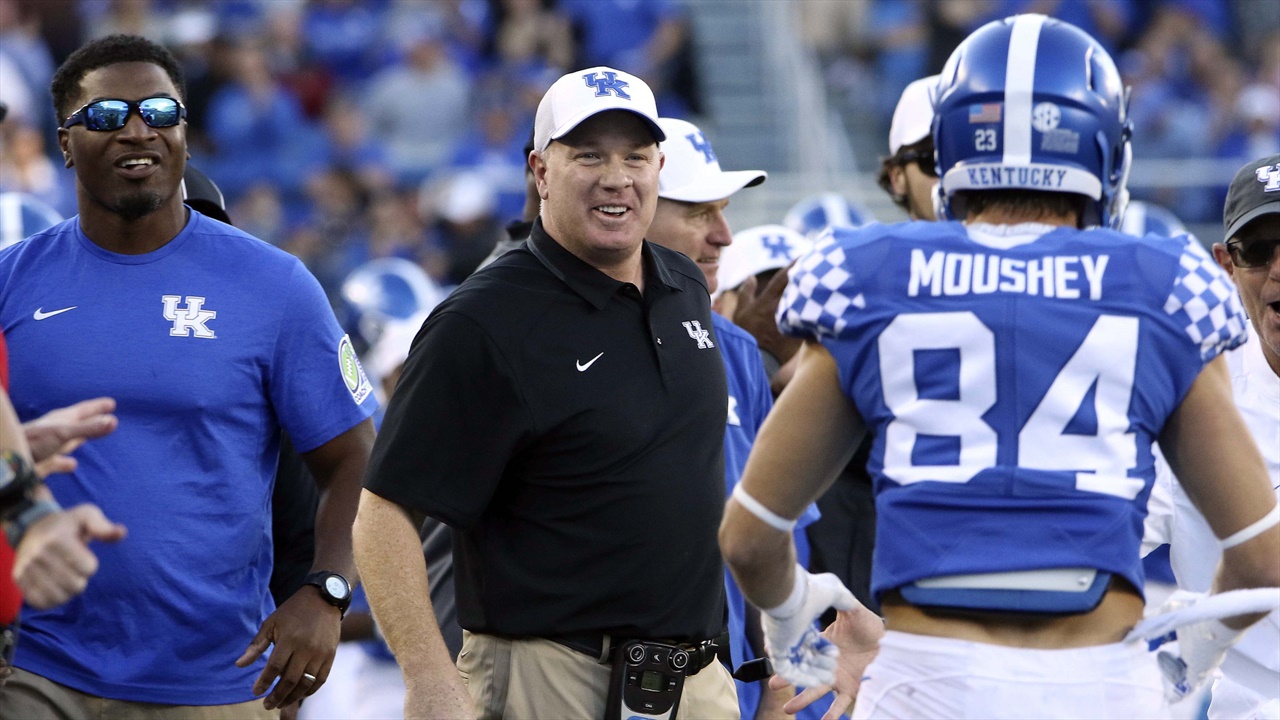 Photo by Jim Brown/USA Today Sports Images
Texas A&M Football
SEC Round-Up: UK no longer waiting for hoops, now competing at highest level
---
Typically, at this time of year Kentucky fans attending football games feign jump shots in the fourth quarter. The message has always been obvious: Enjoy beating the Wildcats now because revenge is coming in basketball season. This year, however, has been quite atypical.
This year's Wildcats, ranked No. 13, are seeking a 6-0 start for the first time since 1950 when Bear Bryant was coach and — is it possible? — have wrestled the spotlight away from John Calipari's basketball program if only for a few weeks.
Kentucky has a very realistic shot at its first 10-win season since 1977, which officially didn't count because the program was on NCAA probation. The Wildcats' successful start — which includes the first victory at Florida in 31 years — may surprise most, but not coach Mark Stoops, who anticipated a banner year.
"I was very confident in the team, just in what we were doing and our approach and the way we've been going about our business," Stoops said this week. "I knew we had some good players that were really working hard and focused, and good leadership."
No doubt, these Wildcats are much more talented than previous Kentucky teams.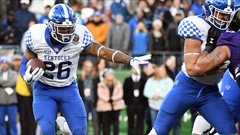 Christopher Hanewinckel/USA TODAY Sports
Running back Benny Snell is a bona fide All-American candidate. Quarterback Terry Wilson isn't an accomplished passer, but can make big plays with his arm and legs. The offensive line is big, physical and productive.
Linebacker Josh Allen may be the best defensive player in the Southeastern Conference. He shares the national lead with 10.5 tackles for loss and has six sacks. The secondary is talented. Inside linebacker Kash Daniel is tough and active, although he'll miss the first half against A&M because of a targeting penalty in last week's victory over South Carolina.
Kentucky was an underdog in that game as well as in wins over Florida and Mississippi State. The Wildcats played with an attitude because they felt disrespected, but that's no longer the case.
And that's OK.
Stoops said his team is good enough to win without that form of motivation
"We didn't need any extra motivation last week," he said. "We needed to play a little bit cleaner football and we could've put that game away a lot earlier than we did.
"It's going to be the same way this week. "Playing in that environment is going to be a real challenge for our players but we don't need any extra motivation. We want to try and get a win and we have to be able to handle that situation, handle that environment, handle the fact that it's a big game on national TV and we have to get down to playing and executing good football."
Who's hot: Remember when LSU coach Ed Orgeron was something of a punchline after the Tigers lost to Troy last season. Well, Orgeron is the one laughing now. Since that stunning loss to Troy, LSU is 11-2 with losses to Alabama and Notre Dame in last season's Citrus Bowl. The unbeaten Tigers opened this season ranked 25th, but climbed to No. 5 and have posted victories over No. 8 Auburn and No. 17 Miami. Actually, Orgeron is 17-4 since taking over as interim coach for fired Les Miles midway through the 2016 season. Maybe it's time to acknowledge the guy is a pretty good coach.
Who's not: Mississippi State's offense has managed just 13 points and 403 yards in the last two games combined. Further, Bulldogs quarterback Nick Fitzgerald has completed just 38 of 85 passing attempts (44.7 percent) against three "Power Five" opponents.
Actually, Orgeron is 17-4 since taking over as interim coach for fired Les Miles midway through the 2016 season. Maybe it's time to acknowledge the guy is a pretty good coach.
Keep an eye on: LSU center Lloyd Cushenberry was originally listed as "questionable" because of an unspecified leg injury. He's since been upgraded and is expected to start. But how effective will he be? The Tigers are already without injured guard Garrett Brumfield. Orgeron has said Cushenberry is LSU's most consistent linemen. He'll be needed to play at a high level against Florida's defensive front.
The pressure is on: Statistically, South Carolina's secondary is among the best in the nation. The Gamecocks are ranked 11th against the pass and have allowed only three touchdown passes. Stats can be deceiving, though. South Carolina has yet to face anything resembling an elite passing offense. It will against Missouri, which is ranked seventh in passing offense. Quarterback Drew Lock averages 320 passing yards and has thrown for 11 touchdowns.
Best matchup: Behind running back Benny Snell, who has rushed for 639 yards, Kentucky is ranked 12th in the nation in rushing offense. Meanwhile, Texas A&M is sixth in the nation in run defense. The Aggies have allowed almost 200 rushing yards less than Snell has accumulated thru five games.
This week's SEC games: Kentucky at Texas A&M; Alabama at Arkansas; Auburn at Mississippi State; LSU at Florida; ULM at Ole Miss; Missouri at South Carolina, Vanderbilt at Georgia
Never miss the latest news from TexAgs!
Join our free email list
PRESENTED BY