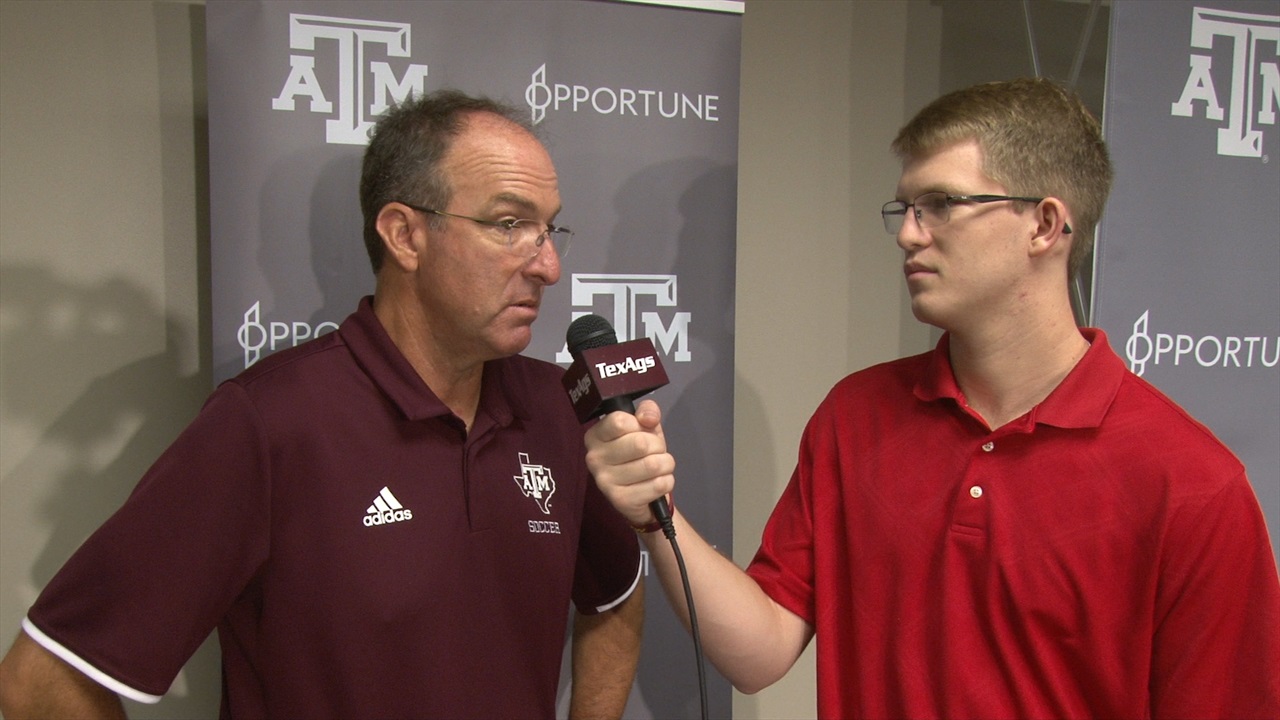 Texas A&M Soccer
Coach G discusses Arkansas loss, optimism for rest of SEC Play
---
On the positive takeaways from their first loss to Arkansas...
"It was a poor performance, you've got to hand Arkansas credit - they are very good at playing an ugly, ugly game and we didn't respond well to it. Even though we had scouted them exactly what they were going to do and they did it, it was a good slap in the face. You never want to take a loss but to see the things that we were slighting on and slipping up in, was good. We've got to clean some things up to win the SEC Championship, which is our goal."
On why the girls lost to Arkansas...
"We have a phrase that's 'hard work wins' and it's one of the rare games where I don't thionk that we ourworked our opponent, I think that they outworked us. To be able to bounce back from it and to beat Georgia who had beaten Arkansas by two goals. We scored early and were able to manage the rest of the game. We still had some highs and lows in the Georgia game but by far I think the players have looked at their performances and have already started cleaning them up. We're going to have to be really clean when we go to Oxford this week. [Cece] Kizer is on a real tear right now, she scored two great goals against Auburn. [Channing] Foster has a lethal left foot and they have great pace on the flanks. If you look at our games against Ole Miss ever since we've come into the league we've had some really tough games. We've come out on top most times but none of them have been easy, especially in Oxford."
On netting the early goal against Georgia on Sunday...
"It was huge in that it reminded us that we are who we are. YOu play an SEC team, Georgia is very talented but they're very young. They are playing the No. 2 team in the country at our field, and they knew that they were going to get a pissed off Aggie team. For us to be able to put one in the back of the net so early was kind of a relief and a nice breath. It also took the wind out of their sails and they knew they were in trouble. We don't give up many goals so when we score one, the other team knows that they've got a tough, uphill battle ahead."
On the performance of Kendall Ritchie...
She's lethal with that left foot. She serves a great ball whether its on corner kicks or free kicks or direct shots and she does a great shot with that. But that goes back to the way that we recruit this team, we don't recruit destroyers. Briana Alston came in as a destroyer but has really developed into a total player. If you look at Jordan Hill and Kendall Ritchie, they're both converted forwards. We have to be able to create al over the field. We want to hold the ball, be able to keep the ball and pass the ball well. If you have people who have just been breaking things they're whole life, they aren't going to be very creative. Kendall's a great example of someone who has stepped into a new position but not necessarily a new role for us.
On match against Ole Miss on Friday...
We were talking about that this morning in our staff morning and a couple of things were a bit off in that we traveled a little differently because of some A&M rules but we'll make some adjustments. Typically when we would have to go play at Ole Miss, we would have to stay in Memphis because there are so few hotels which is about a two hour drive away. We are going to be able to stay in Oxford which is great. We have a little bit more time with it being a Friday game. It will be a good rhythmic week and we're going to need to up our game against these guys. They are very dangerous on the attack and on counters.
Never miss the latest news from TexAgs!
Join our free email list