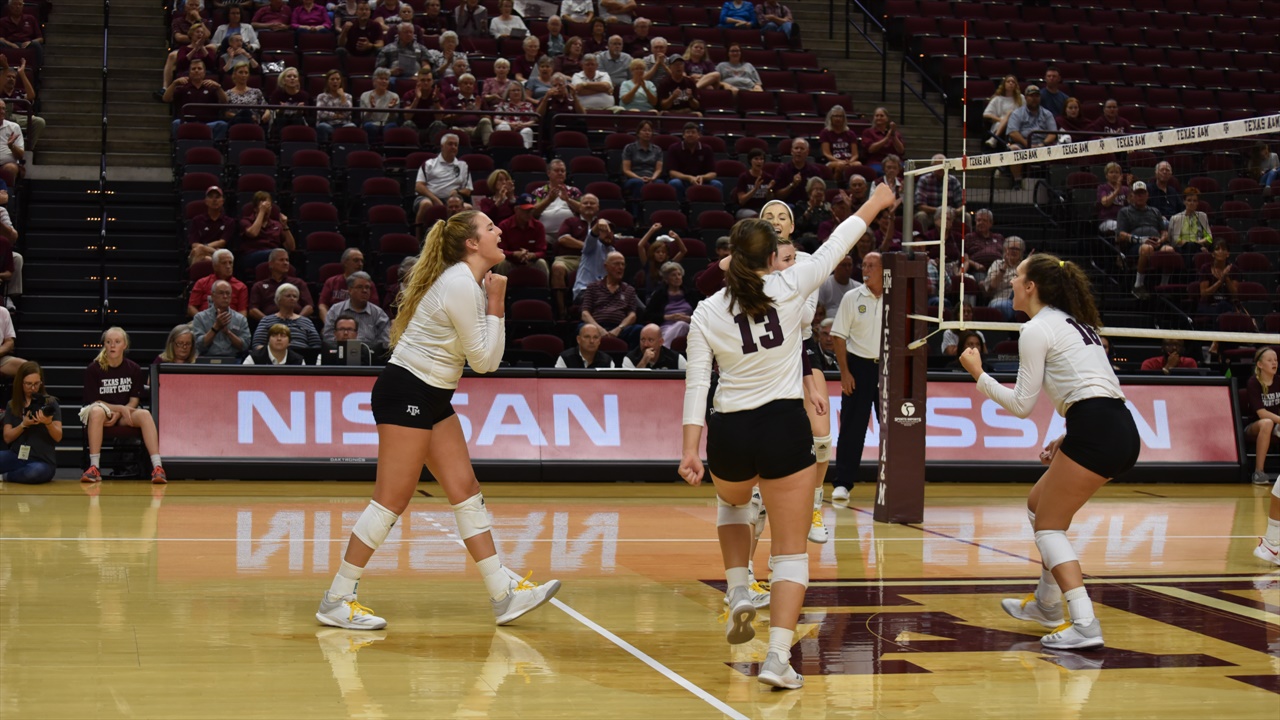 Photo by Elisa Schmitt, TexAgs
Texas A&M Volleyball
Aggie volleyball sweeps Arkansas in SEC opener
---
Texas A&M volleyball starts off conference play with a bang tonight by sweeping Arkansas at home, 25-23, 25-23, 25-23.
Tonight's match was head to head with constant ties and a constant battle over who would ultimately win. With Arkansas having a grand total of 9 blocks, it only allowed for a hitting percentage of .168 for the Aggies.
Makenna Patterson earned her season high but also led the team in kills with a total of 13 and put up 4 blocks for the night as well. Not only that, but she proved to be a go to for the offense tonight, "I knew I was just going to go in there and be confident, and we had absolutely nothing to lose in this situation because we have everything to gain. I think the coaches also gave me the confidence by saying you can do it."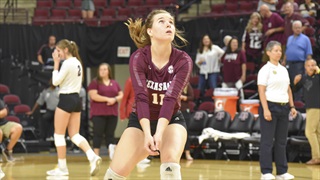 Elisa Schmitt, TexAgs
Brookah Palmer wasn't far behind with 8 kills, 4 serving aces, and 6 digs. Samantha Sanders also got a piece of the action by putting down 6 kills.
Camille Conner also brings in both high offensive and defensive stats with 34 assists, 6 kills, and 6 digs. Libero, Amy Houser leads the team in digs with 19.
A scrappy three sets makes for an interesting game to watch, but when you can pull off being down 11 points in the second set it always makes for a fun game to witness. Arkansas was up 21-12 but A&M refused to back down. Coach Kuhn says, "Tonight they felt it and they actually did it. For them to come back and win that set is something they earned. They have to believe and keep working and grinding through that."
"Anytime you can finish an SEC opponent in three sets, it is huge. Arkansas is a good team."
Texas A&M will be back in Reed Arena Sunday, September 23 at 2p.m. for their second conference match of the season against Georgia.
Never miss the latest news from TexAgs!
Join our free email list