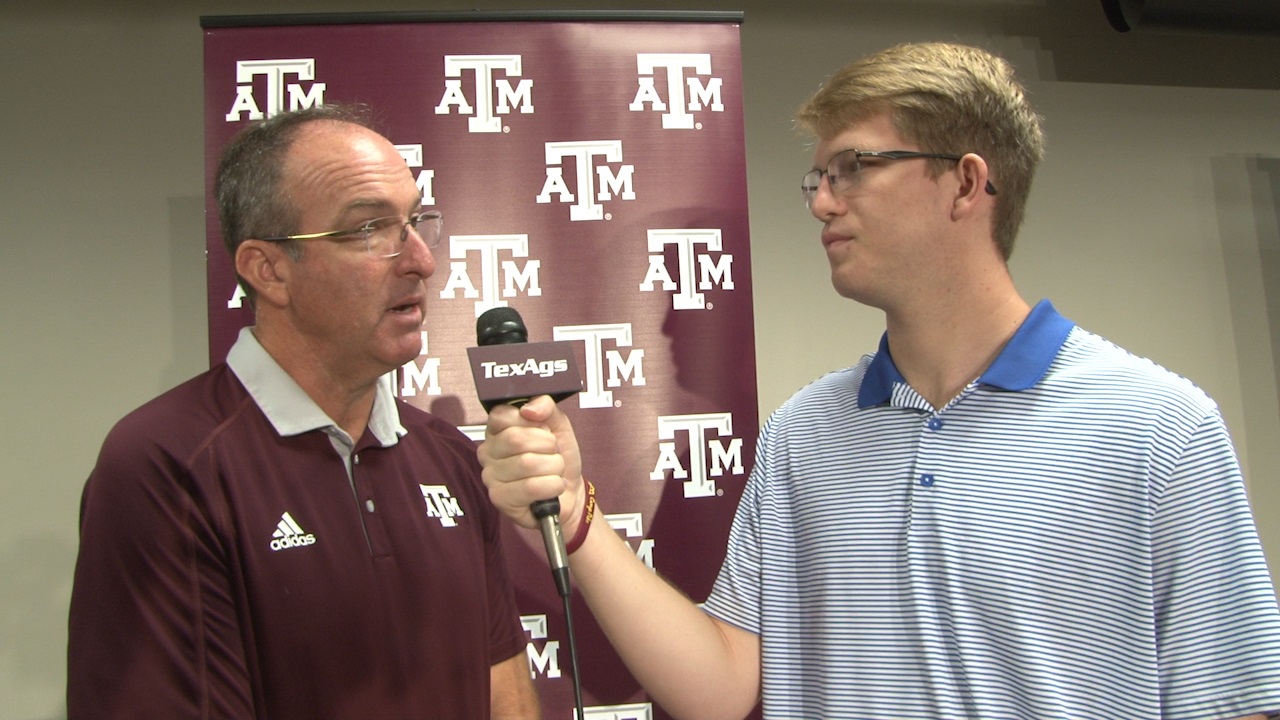 Texas A&M Soccer
Coach G discusses A&M's two wins last weekend, previews SEC play
---
On what he learned from his team last weekend...
"Well, number one that we've been able to put our foot on the gas a little bit in the second half in last weekend's two matches. To be (8-0) is what we planned for, it's what we always plan for. In the years since 1997, we've stubbed our way somewhere along the way. Whether it be the No. 1 team in the country in 2010 or that we just take our eye of the ball a little bit and we let somebody make a result from us. I'm really pleased with how our team has been able to keep our focus on what we call the battle rhythm of getting ourselves from one match to recovery and then being able to refocus against the next task at hand. Now that we get into the SEC season, we won't have any trouble getting our girls motivated against an LSU team that is (6-1) that comes to town Friday night."
On what he tells his girls when teams play very defensively...
"Well it's one thing to talk about it and it's another for them to have the experience to break it down. It takes a lot of experience and patience to not try and run your head into a wall. Hawaii did that in our season-opener and our first five minutes were kind of frantic in that game and then the poise kind of set in and we were able to get things done. It was better on Friday, in the 26 years I've been here I can't remember a team putting a back four and then a sweeper and then putting four more players on top of them. There were 10 players 35 yards from the goal all the time. They were very organized in how they did it and we had to work very hard on Friday night and then again on Sunday to get the win. I think that makes us more prepared for that the next time we see it. I don't know that LSU will do that, they have the athleticism that is at another level than the two teams we played last weekend.
On the status of Emily Bates and emergence of Addie McCain...
"Well, Addie plays next to her so it wasn't really a fill-in role. I thought she had her best weekend of the season so far and her not just being a connector from the back line to the front line and the left to the right but being a vital part of us going forward. She got on the end of the ball on several runs into the penalty area to get shots. She was a little bit off on her shots but the fact that she was getting shots was a great sign for us. She worked her fanny off the whole weekend. Emily, who came out on Friday, she could have gone back in but we held her out as a precautionary because we know how big this weekend is and how important she is for us going forward. We expect her to be available for us on Friday night and then again on Sunday. "
On the message before two big games this weekend...
"I think that we can look back at the win over Santa Clara. It just got bigger after they knocked off Notre Dame and North Carolina last weekend. I think it shows the magnitude of that of a 4-0 win over those guys. Our players know that they can do it. Knowing and having a little more name recognition with the two opponents this week will help with our focus and training. These players are very goal-oriented and understand that there's a path to achieving those goals and the path goes right through beating these two teams. We've got to be able to keep our eye on the ball and focus on LSU which we've had some close games with the past two years. Kansas, we won the game in Lawrence last year. Both of these teams are going to be super focused. We carry a very high ranking, No. 4 in the country, which means that we are a scalp for somebody to try to get. We've got to make sure that we inflict pain on them before they inflict pain on us.
On the anticipation of the big weekend...
"Of course, I make the schedule. These games are on the schedule because we want these games on there. It's cool that we're wrapping up a big homestand this weekend, we've got eight games in a row at Ellis Field and every game builds on the next one. This past weekend was a good weekend we though maybe to come down off of the game against Santa Clara. It ended up having to work much harder than we did in some of our other matches and that was just because they made the spaces so small for us. That helps us to prepare but as much as anything else, the confidence to know that we're unbeaten in our last 25 games is pretty special. We're chasing history every time that we step on the field."
Never miss the latest news from TexAgs!
Join our free email list