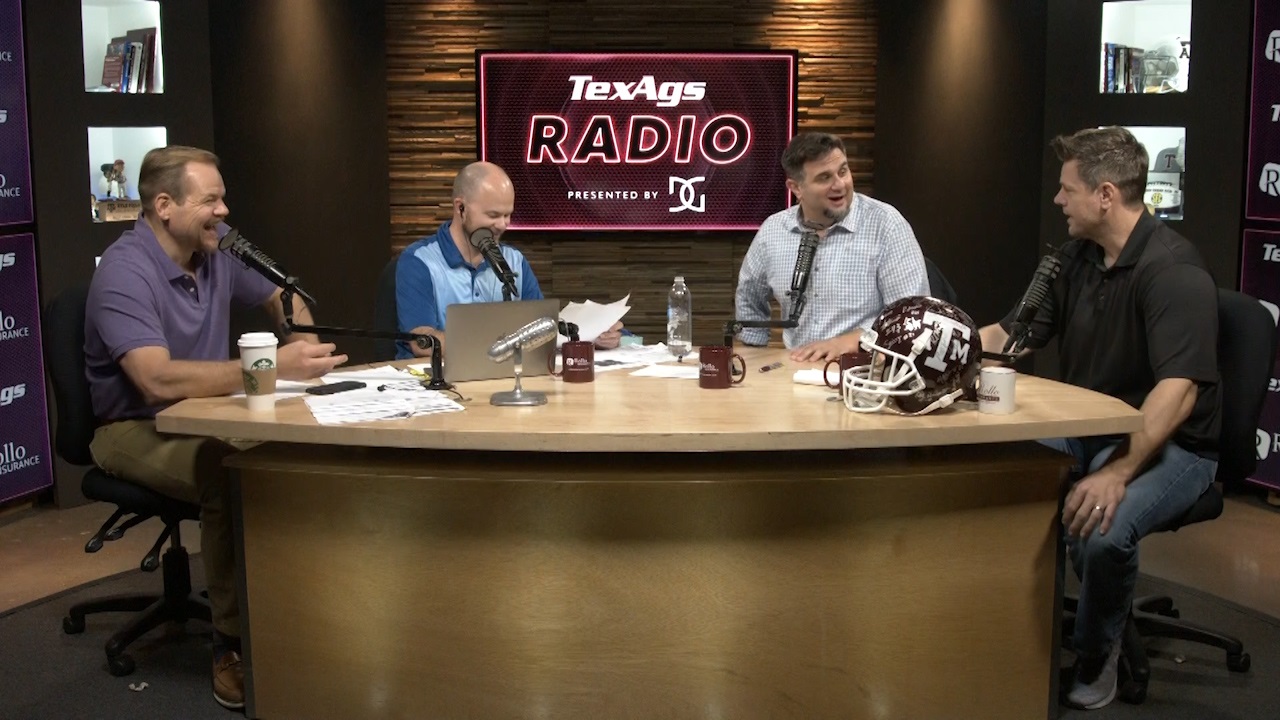 Final Countdown
Hart & Cubelic
Texas A&M Football
The Final Countdown: Liucci, McKinney Bros. & SECN Crew preview ULM
---
During Friday's edition of TexAgs Radio Gabe and Billy were joined in-studio by Tom Hart & Cole Cubelic of the SEC Network as well as Steve & Seth McKinney to get you ready for A&M-ULM tomorrow night at Kyle Field.
Liucci, Steve & Seth's game prediction
Billy: Texas A&M covers, need to see better tackling on the back end.
Steve: Texas A&M doesn't cover because of the weather, need to see better tackling.
Seth: Texas A&M covers, let's see the run game explode.
Key notes from Tom Hart & Cole Cubelic
Tom: Before Clemson, Jimbo said that the quarterback competition was on going. Kellen showed what he needed to in order to win that battle, so my question is "Is that battle won?" For me, absolutely. Kellen won that job Saturday night. You have to show consistency and repeat that performance but he was great last week.
Cole: If Kellen continues to do what he did Saturday night, he deserves to be mentioned in that class of elite SEC quarterback. I thought the A&M offensive line held up better than I expected. For me, Kellen is 'THE QB' for the Aggies, there is no competition in my mind. He's grown throwing the ball and he has the mobility to escape the pocket. I don't know that I've heard enough buzz about those wide receivers too. Jhamon, Cam, and Kendrick all had great nights.
Cole: I want to see the offensive line find ways to run the ball between the tackles. This line showed me some good push, and I want to see them dedicate themselves to running the ball. If they do that, it will really stress opponents' ability to prepare for them. I really liked what I saw from Daylon Mack and Justin Madubuike. When they play against Alabama and LSU, I want to see them continue to build on that and compete.
Tom: If everything goes as planned, it's not about ULM, this is about Alabama. Let's see how much depth the Aggies have and how they handle individual matchups. They are dealing with injuries but you have to keep playing. Let's see how A&M handles this week in preparation. I was at practice yesterday and it was a nice balance of pushing the guys and patting them on the back as well.
Cole: ULM is an aggressive defense. They will go three man fronts, four man fronts, they will run a lot of blitzes. Even though this is a game that A&M should win, the tackles will get tested. You think about how the A&M secondary has been tested, they have faced a good group of receivers thus far and they will face another good one on Saturday. I think it prepares you for Alabama next year. When ULM was winning games in the SEC, they had a good veteran quarterback and that's what they have in quarterback Caleb Evans.
Tom: This is a typical "Fun Belt" offense. They are going to sling the ball around and try and put up a lot of yards on offense. I think this is like playing a par five, if you can eagle or birdie it you're off to a great start. If you shank it off the tee then you're in the woods.
Never miss the latest news from TexAgs!
Join our free email list