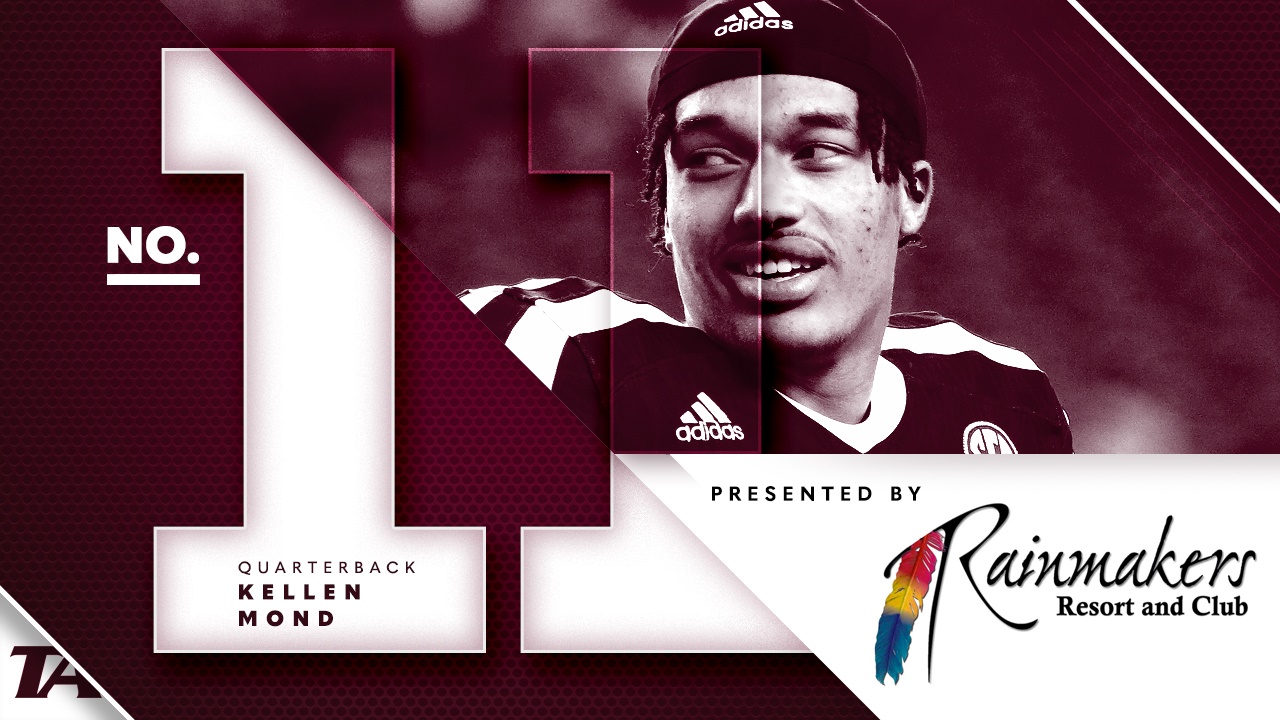 Texas A&M Football
30 Players in 30 Days: #11 — Kellen Mond
---
Position: Quarterback
Classification: Sophomore
Hometown: San Antonio, TX
Listed Height: 6-2
Listed Weight: 210
Notes from Billy's breakdown on Mond
There are two big things I like about him. The first is that he is a noticeably bigger dude now. He's a broader shouldered bigger guy. He told me he's gained 10 pounds this offseason. I wouldn't be surprised if he was closer to 215 lbs. The second is that I've seen his progress throwing the football.
The dual threat thing is great. All things being equal, I will always go with the dual threat QB over the one that can't create. All things have to be equal, though. As long as the mobile QB doesn't flee at the first sign of stress, and Kellen has showed he doesn't do that, almost to a fault. There were times last year where I just wanted to him to run instead of waiting and waiting to throw.
Were does he have to get better? That clock has to speed up, in terms of you can't hold on to the ball in this conference. The O-Line won't be there yet, where you can just sit comfortably in the pocket. And then the accuracy still. His development is plain to see. His ability to run is a game changer.
As a football player, I see some Colin Kaepernick skill set, in terms of the size he's going to end up being and the way he beats you running. He's not a juke runner like Johnny, but he sees a lane and goes. He's more of a straight-ahead runner. Because of who his coach is, I think he can be a much better passer than Kaepernick ever was.
My thing with Kellen. We know he's improved a lot as a passer and that he can really hurt you running the ball. The other thing is that he's pretty calm under pressure. He does have to prove that when the live bullets are flying, he can get rid of the football and find the right guy.
---
Special thanks to southeastern New Mexico's best kept secret, Rainmakers Resort and Club, an Aggie-owned resort featuring summer temps in the 70s and 80s and a Robert Trent Jones-designed golf course.
Go to RainmakersUSA.com to see for yourself what makes Rainmakers Resort and Club so unique and special.
Follow the entire 30 Players in 30 Days series here.
Never miss the latest news from TexAgs!
Join our free email list