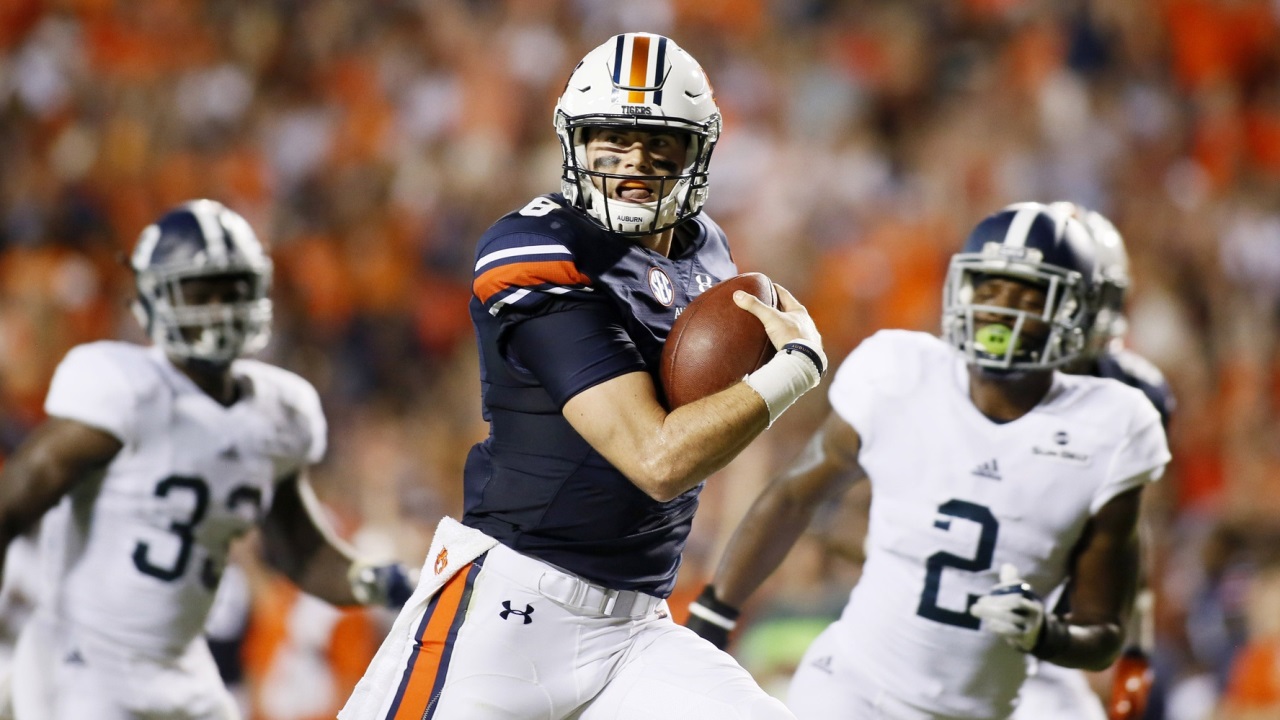 Photo by John Reed/USA Today Sports Images
Texas A&M Football
Auburn Tigers hope to rise above uncertainty with Stidham at quarterback
---
Prior to SEC Media Days July 16-19, Olin will preview each of Texas A&M's conference opponents for the 2018 season. Today, the Auburn Tigers.
Down on the plains of west Alabama, some say Auburn could field an even more talented football team that it did a year ago.
That's tough talk, indeed.
Auburn's list of 10 victories in 2017 included wins over Georgia and Alabama — the teams that played for the national championship.
The Tigers don't have a proven running back, are rebuilding the offensive line and are replacing the best pass rusher and top two defensive backs from a year ago.
Yet, the feeling remains that second-year quarterback Jarrett Stidham, a good group of receivers and a strong defensive line make the Tigers legitimate contenders for the Southeastern Conference championship.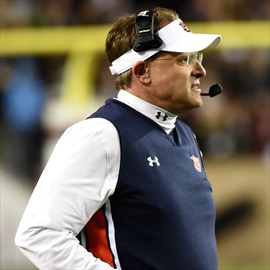 Alex Parker, TexAgs
"Our defense has a chance to be really good," Coach Gus Malzahn said after spring drills. "From a head coach's standpoint, I feel very good about our overall team."
Much of the optimism is based on Stidham, who threw for more than 3,000 yards in his first season at Auburn. He figures to improve, especially with a seasoned receiving corps led by Ryan Davis, who set school receiving records a year ago, and Darius Slayton, who averaged 22.2 yards per catch.
The Tigers receivers did suffer a couple of set backs in the spring with Eli Stove and Will Hastings lost to ACL injuries. Their hope is that they will be able to return to the field by midseason. Whether that will be enough to compensate for the losses in the offensive line and at running back will be key. However, Auburn always seems to find a running back. The Tigers have had a 1,000-yard rusher every season for almost a decade.
Some feel Auburn will field its best front seven in a decade.
Marlon Davidson, Derrick Brown and Dontavius Russell return up front, while linebackers Deshaun Davis and Darrell Williams aim to build on productive 2017 campaigns.
If a couple of effective new starters emerge in the secondary the Tigers defense really could be something to talk about.
Auburn Tigers
Coach: Gus Malzahn
2017 record: 10-4, 7-1 in the SEC West
Postseason result: Lost to Central Florida, 34-27, in the Peach Bowl
Returning starters (at least six starts)
Offense: (7) HB Chandler Cox, WR Nate Craig-Myers, WR Ryan Davis, G Mike Horton, WR Darius Slayton, QB Jarrett Stidham, T Prince Wanogho
Defense: (7) DT Derrick Brown, DE Marlon Davidson, MLB DeShaun Davis, CB Jamel Dean, DB Jeremiah Dinson, DT Dontavius Russell, LB Darrell Williams
Special teams: (3) KR Noah Igbinoghene, P Aidan Marshall, PR Stephen Roberts
Strengths: Quarterback Jarrett Stidham passed for the second-most yards (3,158) in school history last season. That was his first year in the offense. He projects to be at least as successful in his second year. That is, if protection from a rebuilt offensive line holds up.
Areas of concern: As alluded to above, the offensive line returns just one full-time starter and one par time starter, so there are concerns there. However, there may be even more concern at running back. That's blasphemy at Auburn, which has had a 1,000-yard rusher in each of the last nine seasons. Kerryon Johnson and Kamryn Pettway both chose early entry into the NFL draft. That left Auburn with junior Kam Martin, a Port Arthur product, rushed for a respectful 453 yards in 2017, but at just 5-foot-10, 182 pounds his durability is a legitimate question. Other options are unproven redshirt freshmen Asa Martin and JaTarvious Whitlow.
Top players
Jarrett Stidham, QB: Although he had not played in more than a year, Stidham had a strong first campaign at Auburn. He threw three times as many touchdown passes as interceptions. Look for him to be just as good — if not better — this year.
Although he had not played in more than a year, Stidham had a strong first campaign at Auburn. He threw three times as many touchdown passes as interceptions. Look for him to be just as good — if not better — this year.
Derrick Brown, DT: Some of his defensive teammates are higher profile, but Brown is a wrecking ball at tackle. He posted 56 tackles as a sophomore —an eyebrow-raising total for an interior lineman.
Ryan Davis, WR: Davis is aiming to build on a break-out year in which he set a single-season school record with 84 catches for 815 yards and scored five touchdowns. He had 26 catches in the final three games against Alabama, Georgia and UCF.
Impact newcomer: Uncertainty in the offensive line may be eased by junior Jack Driscoll, a graduate transfer from Massachusetts. He started 20 games there and earned all-conference recognition.
2018 schedule:
Sept. 1 vs. Washington at Atlanta
Sept. 8 vs. Alabama State
Sept. 15 vs LSU
Sept. 22 vs. Arkansas
Sept. 29 vs. Southern Miss
Oct. 6 at Mississippi State
Oct. 13 vs. Tennessee
Oct. 20 at Ole Miss
Nov. 3 vs. Texas A&M
Nov. 10 at Georgia
Nov. 17 vs. Liberty
Nov. 24 at Alabama
Predicted finish: 9-3
Never miss the latest news from TexAgs!
Join our free email list