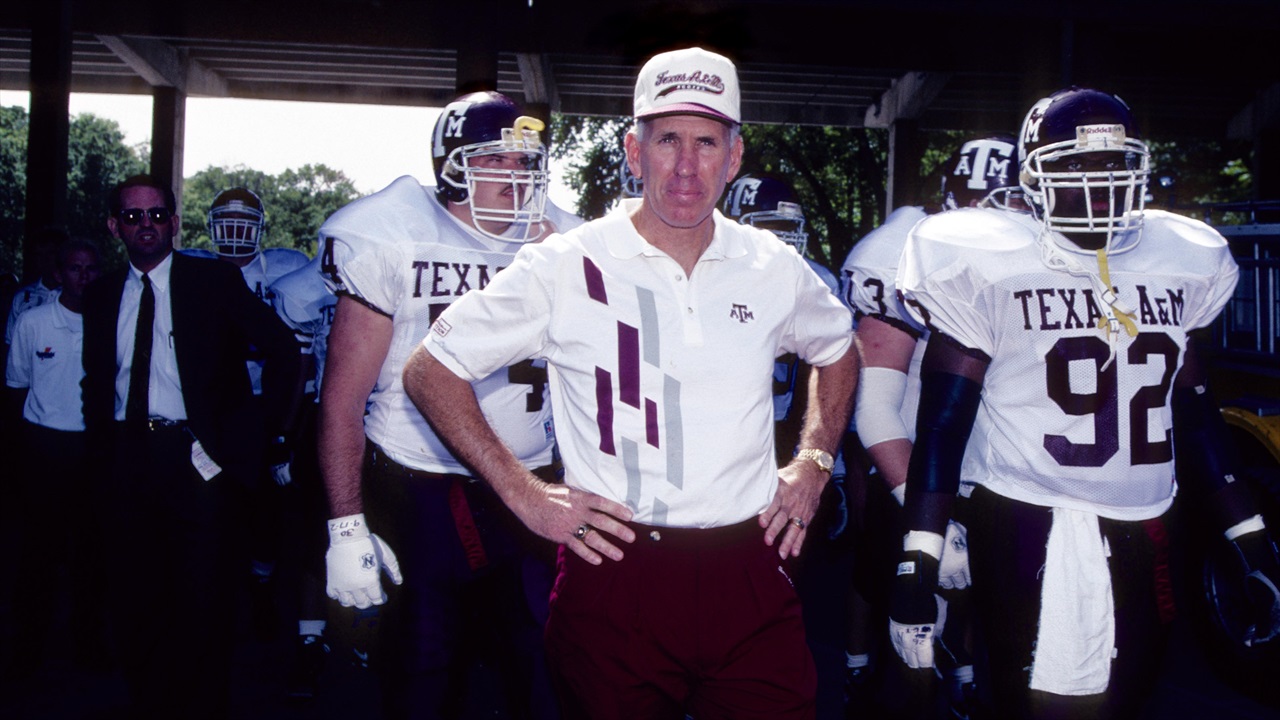 Photo by RVR Photos/USA TODAY Sports
Texas A&M Football
Raw Deal? R.C. Slocum opens up about A&M's early '90s NCAA troubles
---
Memories came flooding back as R.C. Slocum listened to a Greg Hill interview on TexAgs Radio a few weeks ago.
Anger did, too.
The winningest coach in Aggie football history, Slocum is irked that some see Hill as rule-breaking prima donna who got Texas A&M put on probation in 1994. And Slocum is still miffed that an NCAA Infractions Committee headed by David Boren, who would soon be named president of OU, put A&M on probation at all.
As Slocum delicately put it in his Orange, Texas, drawl: "That was the biggest screwing a school ever got."
That became more than apparent 12 years later when Oklahoma received a slap on the wrist for a similar, yet more egregious infraction. More on that later.
First, understand the way things worked in college athletics 25 years ago. Today, athletes receive "full cost of attendance," which covers an entire year of tuition, fees, room and board and includes a stipend of approximately $5,000 annually. That wasn't the case before 2016.
So in those days, football players didn't typically stay on campus during the summer. Instead, the athletic department helped arrange for them to land summer jobs that provided athletes a chance to earn and save money for the upcoming school year.
"During that time it was traditional for college kids to work summer jobs," Slocum said. "I worked one summer in a shipyard. I worked in a chemical plant and at a Conoco refinery. That was a big part of my education. I learned how hard some of those jobs were and how little I got paid."
In the summer of 1992, Hill, a star running back who would become a first-round NFL draft pick, was among several A&M players who got a job working on Housing and Urban Development (HUD) projects in the Dallas area. They were summer help for a full-time staff that did "make readies" — replacing carpet, painting, cleaning, etc. — on HUD apartment units.
An audit found that from 1990-92 many employees were paid for hours when they were not actually at work. That included, but was not limited to, Hill and some other A&M athletes.
"They were doing what everyone else was doing," Slocum said. "They were summer employees and doing what the full-time employees were doing. Sometimes they left early. Well, everybody else was leaving early. Sometimes after lunch they didn't have anything to do, and the regular workers would say, 'Just show up (tomorrow) morning.'"
Slocum said the problem was more with the lax management on the South Dallas project than with the workers. A responsible manager could have docked their pay or fired them.
In fact, Slocum said another player was dismissed at his urging. A prize recruit who was on his way to becoming All-American was working that summer on a similar HUD project in Garland. Actually, "working" might not be an accurate verb.
That player was employed under a more diligent manager than Hill was, and the boss phoned Slocum to report that his player's on-the-job effort wasn't satisfactory. Slocum recommended the player be fired. He was.
Slocum feels that proves A&M wasn't conspiring to pay players for nothing. If one highly valued player wasn't paid for unperformed work, why would Hill and some of the other, more marginal players be treated differently?
True, A&M had committed NCAA violations in the past. But after becoming head coach in 1989, Slocum was determined to run a compliant program.
Slocum had a private polygraph company administer tests to him, recruiting coordinator Tim Cassidy and other staff members to prove they were not involved in any schemes to fraudulently pay players. Hill and the other players involved also took the polygraph test.
"The first thing I did was call each of those players individually," Slocum said. "I told them, 'I can deal with it if you made a mistake, but I can't deal with it if you told me a bold-faced lie. If you lie to me, you can't be on this football team.'
"When I went to Greg Hill's house, his mother and grandmother were there. They said, 'Gregory, you better tell coach the truth.' They all fessed up except for one."
Actually, one player was released from the team. Slocum suspended Hill for the first five games of the 1993 season.
That wasn't good enough for the NCAA or Boren, then an Oklahoma senator. A&M was advised an investigation would continue.
Then on Sept. 10, 1993 — the Friday before A&M faced Boren's Oklahoma Sooners in Norman — the NCAA Infractions Committee announced A&M would face greater sanctions. The Aggies lost to OU, 44-14, the next day.
Those sanctions rankled Slocum. He was also upset by the timing of the announcement. At that point A&M had won consecutive Southwest Conference championships and dozens of recruiting battles against OU. The Aggies were also ranked fifth in the nation.
Could it be that Boren strategically waited until the eve of the A&M-OU game to make that announcement in hopes that it might be a distraction for the Aggies and give the Sooners an edge? Slocum thinks so.
"They hung us out to dry," Slocum said. "If they had any integrity, that would at least have waited until Monday. That kind of indicates the vindictiveness at that time. Obviously, when I was coaching I couldn't say anything about it."
Just days after A&M completed a 10-2 season, the NCAA placed Texas A&M on five years probation and barred the 1994 Aggies from appearing on television or in a bowl game and from competing for the Southwest Conference championship.
The next season, A&M blasted Oklahoma, 36-14, en route to an undefeated 10-0-1 campaign. With A&M ineligible, five teams — Baylor, Rice, Texas, TCU and Texas Tech — shared the SWC championship with 4-3 conference records.
"That's a championship our team won but didn't get credit for," Slocum said. "We won on the field with none of the players that were involved (in the controversy)."
The NCAA cited a "lack of institutional control" as a factor in A&M's harsh punishment. Slocum still says that charge was bogus. He said he and compliance director Tedi Zalesky were doing everything they could to run a clean program. He even felt like they were a model of compliance.
"We were so conscientious about what we were doing," he said. "We were the cutting edge of what was being done for compliance. But they (the infractions committee) said we should have gone on the road and monitored those jobs. That's stupid. We had players on jobs all over the country. If you showed up one day, somebody might not be there the next day."
Even Boren would have to admit Slocum had a point.
In 2006, during Boren's tenure as OU President, Sooners quarterback Rhett Bomar and guard J.D. Quinn were found to be paid for work not performed at an Oklahoma City car dealership. Bomar received as much as $18,000 despite only working five hours a week.
Bomar and Quinn were dismissed from the team, but the Oklahoma program received almost no punishment. Oklahoma had to "vacate" its 2005 season and lost two scholarships in 2009 and 2010. Unlike A&M, Oklahoma was still allowed to compete for championship. The Sooners won the Big 12 championship the following season.
Slocum denied the inconsistencies in NCAA sanctions motivated him to speak out. He maintains he's merely responding to those who ignorantly and unfairly criticize Hill.
"Greg Hill was a good guy, a good man who paid his dues," Slocum said. "I can't say what he did was right. He'd be the first to say he made a mistake in judgment. But he was just doing what the other workers were doing."
However, Slocum also couldn't deny some bitterness remains.
"I'm going to my grave saying we took a royal screwing," he said.
Never miss the latest news from TexAgs!
Join our free email list
PRESENTED BY