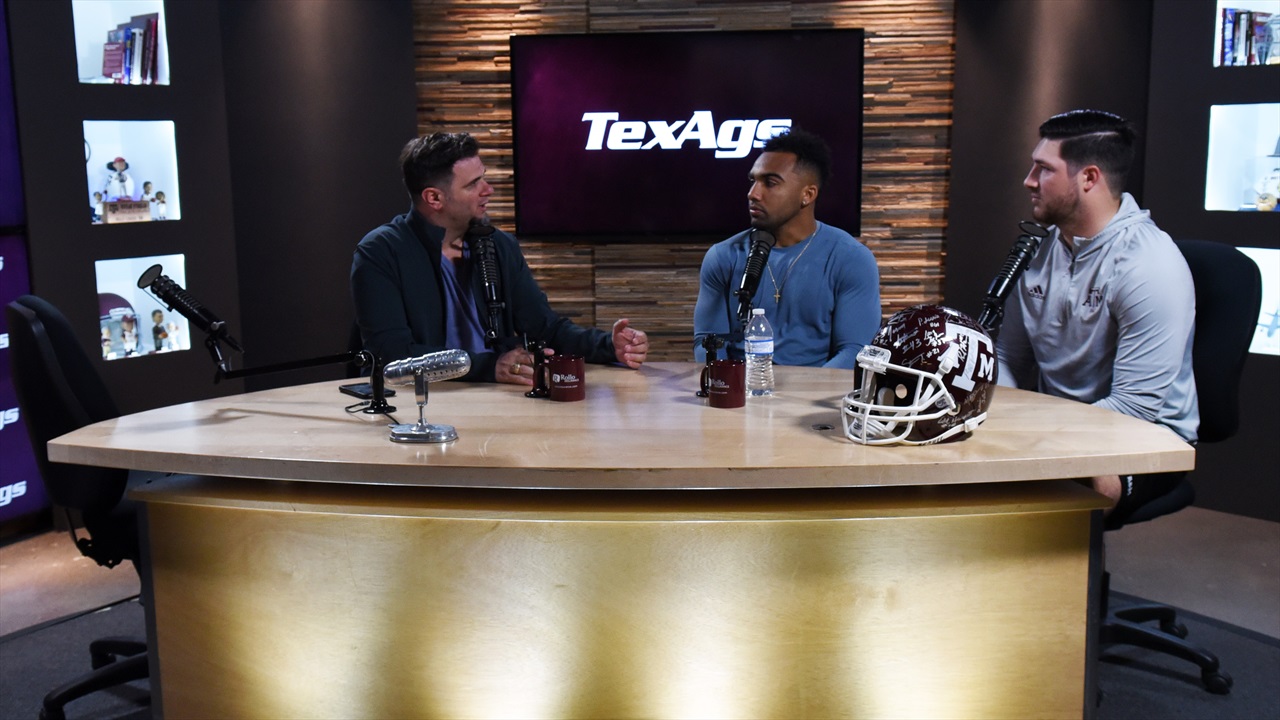 Photo by Ronnie Woodard
Texas A&M Football
Billy Liucci & Jake Hubenak talk Pro Day & more with WR Christian Kirk
---
Key notes from Christian Kirk and Jake Hubenak
Christian: I'm a little anxious, it's been a long journey. Spent five long days at the combine and just a lot of training since then. Now it is just more of getting into football shape. All about going out there and showing that I can run the entire route tree. I'm ready to go out there and kill it. Definitely happy with the 4.47 40-yard dash at the combine. That's just the role that Skip plays on the show. I'm just going to stick with that time
Christian: I want to prove to people that I can play on the outside. Those were a lot of questions that I fielded at the combine. I know I can do it, I did in practice. Just with what coach Mazzone wanted to do offensively, I was more valuable in the slot, so I did it. I'm not going to sit there and complain about it. I had great success in the slot and if anything I know I can go on the outside, but always have the slot mastered. I feel like I will get more one-on-ones on the outside.
Jake: I think he is so much smarter than anyone else on the field. The conversations we had on the field, Christian was a guy who knew everyone's responsibilities. He knew he wasn't always running his route to get open, sometimes it was to open someone else. He also knew what the defenses were doing, and we had a lot of option routes that he could run to what the coverage dictated. The work he puts in was second to none.
Christian: Me and Jake were able to build off our time together in the bowl game my freshman year and just connect. Personality wise we are very similar, we were roommates last semester and its always been easy to communicate. It just always clicked. All the stuff that when you click off the field, it is so much easier to do it on the field. If anything I knew when Jake got in the game he would rely on me to make plays.
Jake: I would always go to Christian when I came into a game. Christian was the guy who I wanted to hear from in between series'. Then I could communicate that to the other quarterbacks who were playing. Then when I get in, I'm going to rely on the number one guy. Essentially, unless they were triple-covering him, I was going to force him the ball.
Christian: I caught balls from six different quarterbacks at A&M; Kyler, Kyle, Trevor, Jake, Nick and Kellen. It was difficult at time. I could've taken the easy road out and transfer with all of the changes, but that's not me. There were times when we got in games and struggled, but that helped me grow. This season had a lot of ups and downs, switching between Nick and Kellen, and just being able to work with both of them challenged me as a leader and a player.
Jake: That speaks to who he is. He is getting knocked for not having as many catches as other guys during draft coverage, but he had to catch balls from six different quarterbacks in three years. He not only did he consistently play well, but he also could change his game depending on who is throwing him the ball. He would go out of his way to make a young guy feel comfortable. My hope for him is he goes and plays for a guy who can consistently throw him the football.
Christian: I think it's a durability thing with returning punts and kickoffs. It's a physical play in the return game. For me it's a lot of fun and another way for me to impact the game. I will do it until the coaches tell me not to. I don't know if I like the idea of taking punts and kickoffs out of the game. That's a big momentum swing moment. You can change the game instantly.
Christian: I think number one, the Aggies are in a good place at quarterback. After talking to Jimbo before the bowl game, I think these guys will fit into the scheme. Kellen is a guy who has all the talent in the world, we've seen that. Starkel came back in after the injury, you saw what he did in the bowl game. He's got the talent. At the end of the day, Jimbo will make the right decision.
Christian: At wide receiver, I'm really excited because it's a receiving corps full of sophomores. Jhamon is definitely the most talented, but there are guys that are pushing him for that spot. Klyde Chriss a guy who I think will turn some heads because he can fly. Cam Buckley is a guy who we've already seen make some big plays. I'll be excited to see what they do in this new system.
Christian: It's surreal getting to know some of these guys in the NFL. It's crazy to think I will be playing next to guys like Larry Fitzgerald and Antonio Brown. Being from Arizona Ive formed a pretty good bond with Larry. I spent some time in LA last week and worked out with Johnny and Odell. People don't always see it, but those guys put in a lot of hard work. I'm honestly just ready to make some more relationships with guys on whichever team I go to.
Christian: Johnny is definitely close. When he is going right, he can just flip the wrist and throw it 50 yards. You can tell he's getting back to his old ways. Super tuned in to what he is doing and he wants to succeed. Excited to get on the field tomorrow and have him throw to me at the Pro Day. I shot him a text in January and asked him to throw at the Pro Day and I'm super excited for that. We're out there to make each other look good.
Christian: I think Armani needs to go out and run a good 40 number one. We've been training together and I've seen him put in the work and I think he's ready. In reality, that doesn't matter to me. We've all seen how explosive he is and the ability to close on plays. Tomorrow he won't be able to show his physicality, but he can showcase his quickness. I think he will show how well he can move his hips and play man-to-man. He wasn't asked to do that a lot in college so he needs to showcase that. Honestly, just give that kid some shoulder pads and let him hit.
Jake: The things that Christian and Armani had to play through were impressive to watch. You're never going to be fully healthy in the SEC, but these guys never quit. The rib injury that Armani dealt with this year was wild. The fact that Christian went back in the Wake Forest game after rolling his ankle was something else. One of the mist disgusting things I've ever seen.
Christian: It was just your average toss play to Trayveon, I was blocking on the edge and engaged with my guy. I know Trayveon's coming eventually, and after giving my guy a shove, he pushed me back and then Trayveon undercut me, sliding my ankle under my body. The head trainer sat there and watched the whole thing and said I was lucky I didn't break my leg. I was in excruciating pain and the only thing I could think of was the fact that I hadn't missed any time in my career. Eventually, I started to walk it off and went back in the game despite the trainers wanting me to be done. Just took an Ibuprofen and had them tape it up a little tighter. The next day my ankle was the size of a softball.
Jake: I was getting choked up on the sidelines when he went down. I went to a knee and started praying that nothing bad happened.
Christian: I decided to play in the bowl game way before, and I wasn't going to cut it short. In the moment I really wanted to win the game. There's a difference between being injured and being hurt, but in that moment I might've been a little bit of both. I knew the NFL was going to be there regardless so I just wanted to play it out.
Christian: The teams that are showing me a lot of interest are New Orleans, Philadelphia and I'm also taking visits to Seattle and New England. Dallas is also another team that has shown a lot of interest in me, I have a workout with them the day after Pro Day. Those are the teams that have shown the most interest right now. But I've also heard from plenty of guys who say they got drafted by teams who barely talked to them. It is all in God's hands at this point.
Christian: Waiting right now for an invite to the draft, Gil Brandt is the guy who sends out the invite. I'm hoping to go there for it, if not I will be back in Scottsdale with my family. Definitely want to go to Dallas, but nothing wrong with spending it at home with my family.
Never miss the latest news from TexAgs!
Join our free email list