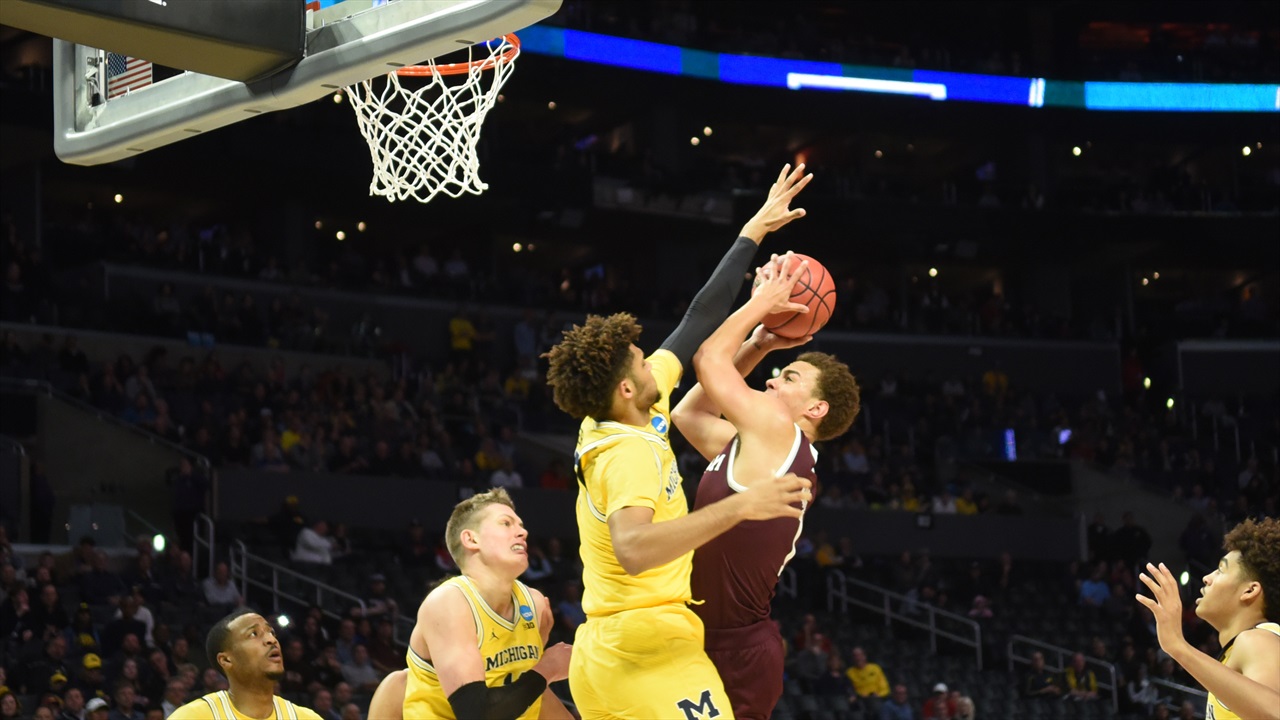 Photo by Ronnie Woodard
Texas A&M Basketball
Michigan uses cavalcade of three-pointers to knock out Texas A&M, 99-72
---
LOS ANGELES — The Aggies' hopes of advancing to the Elite Eight of the NCAA basketball tournament were buried under an avalanche of three-point goals on Thursday night.
Hot-shooting Michigan staggered the Aggies with 10 treys in the first half and added four more in the second half to finish off a 99-72 victory at Staples Center.
Tyler Davis led the Aggies (22-13) with 24 points and Williams had 12.
Muhammad-Ali Abdur-Rahkman led Michigan with 24 points. Mo Wagner had 21 and Charles Matthews had 18.
Michigan (31-7) had shot just 28 percent (13 of 46) and scored no more than 64 points in previous NCAA Tournament victories over Montana and Houston.
The Wolverines hit 10 of 16 (62.5 percent) from behind the arc on the way to a 52-28 halftime lead. Many of those treys were wide-open looks against A&M defenders who often appeared lost.
While Michigan bombed away from the perimeter, the Aggies, who could not get the deficit under 18 points in the second half, could not capitalize on their perceived advantage in the paint.
In the decisive first half, both teams scored 18 points in the paint, but A&M had missed several from point-blank range. Williams even missed a dunk.
The Aggies also committed 10 turnovers in the first half, which the Wolverines turned in to 15 points.
Overall, Michigan scored 20 points off 14 A&M miscues.
The closest the Aggies could get in the second half was 79-61 after Jay Jay Chandler scored a layup with six minutes remaining.
Predictably, the Wolverines answered with a Abdur-Rahkaman 3-pointer from the corner.
STAR OF THE GAME: Muhammad-Ali Abdur-Rahkman was the best choice among several Michigan candidates. The 6-foot-4 senior guard hit 9 of 16 field goal attempts. That included going 4 for 7 behind the arc. He finished 24 points, five rebounds and seven assists.
TURNING POINT: The Aggies were staggered by still in contention after Jay Jay Chandler hit two of three free throws to pull within 22-10 with 10:37 remaining in the first half. However, Michigan hit its next four shots — three from behind the arc — in an 11-2 run. That gave Michigan a 33-12 lead with 8:26 left in the half.
IT WAS DECIDED WHEN: A&M has made miraculous comebacks before (see 2016). However, early in the second half, it was pretty clear the Aggies would not mount a rally. A&M hit six of its first eight shots in the second half, yet Michigan still extended its lead by a point at the first media timeout.
Never miss the latest news from TexAgs!
Join our free email list