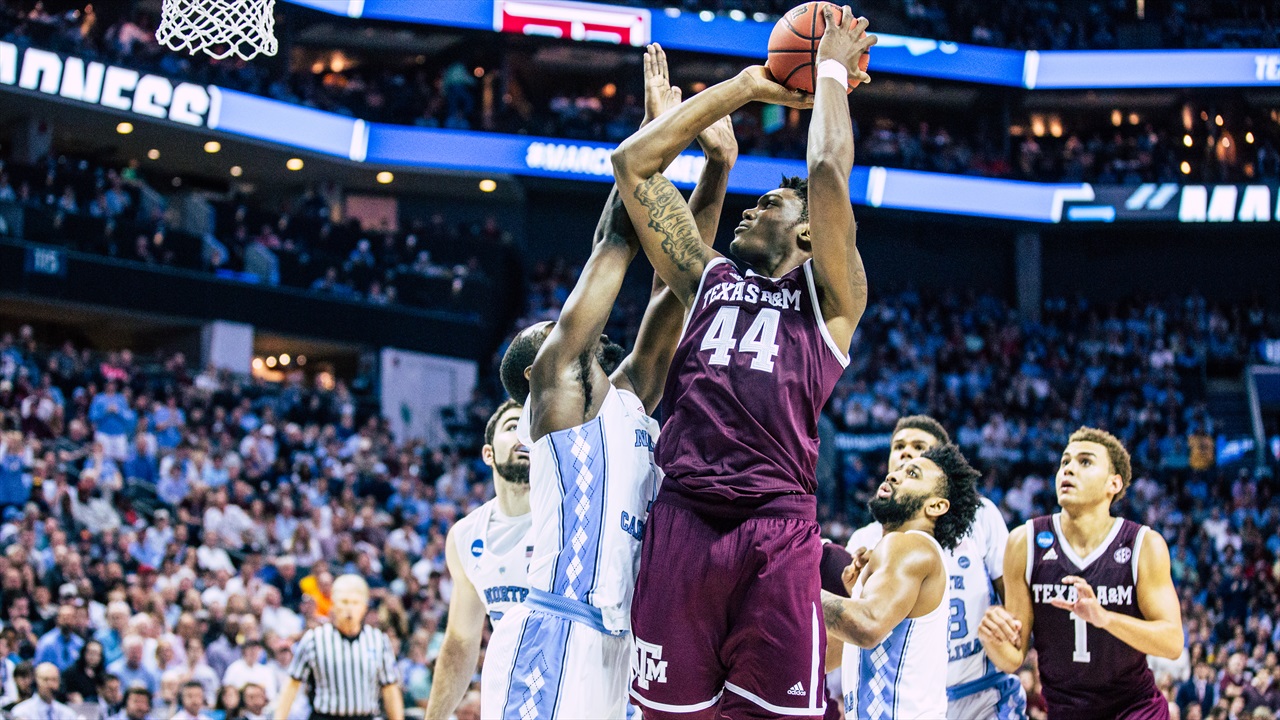 Texas A&M Basketball
Texas A&M stomps Tar Heels to earn Sweet Sixteen berth, 86-65
---
CHARLOTTE, N.C. — This time North Carolina couldn't tie Texas A&M even once.
Thirty-eight years after defeating North Carolina in double-overtime to reach the Sweet Sixteen of the NCAA basketball tournament, the Aggies duplicated that feat — but with much less suspense.
A&M (22-12) bullied the defending national champion Tar Heels (26-11) inside, harassed them outside and dominated in between en route to a stunning, 86-65 blowout victory before a largely stunned crowd at Spectrum Center on Sunday night.
The victory was the most lopsided win over North Carolina since falling to Indiana, 83-59, on November 27, 2013. It came 38 years after Texas A&M defeated North Carolina in double-overtime in Denton, Texas — prompting legendary Tar Heels coach Dean Smith to quip: "If Texas A&M wins the national championship we can say we tied them twice."
The Aggies, who defeated Providence in the first round, advance to the Sweet Sixteen for the second time in three seasons. They face Michigan (30-7) on Thursday.
"I was praying we'd win a close game," A&M coach Billy Kennedy said. "I was hoping we could get it going and make some shots. The interior defense was so good blocking shots. We took away the three-point line. We took away transition.
"Our defense really gave us a chance because when we make shots we're really tough to beat."
The Tar Heels never got closer than 17 after the Aggies opened the second half with three-pointers from Admon Gilder and D.J. Hogg to open a 48-28 lead.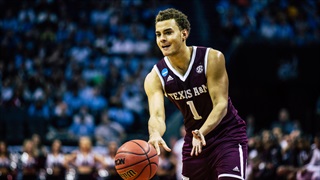 Perry Hawley
In dealing North Carolina its first loss ever in Charlotte, freshman point guard T.J. Starks scored 21 points and dished out five assists and junior center Tyler Davis had 18 points and nine rebounds. Hogg contributed 14 points, Gilder had 12. Robert Williams had eight points — including another thunderous, win-punctuating slam dunk — and 13 rebounds.
Further, the Aggies out-rebounded North Carolina, 50-36, blocked eight shots, altered several others, hit 10 three-pointers and generally excelled in every aspect of the game.
"From the free throw line, I wish we could have been better," A&M coach Billy Kennedy said.
The Aggies hit 14 of 21 from there.
Meanwhile, when venturing into the paint, North Carolina routinely ran into detours called Davis, Williams, Hogg and Tonny Trocha-Morelos.
The Tar Heels were frequently forced to resort to three-pointers. They converted just six of 31 from behind the arc — often because they were rushed or trying to shoot over outstretched hands.
"We could see (frustration) in their eyes," Davis said. "That's why coaches told us, 'You've got to keep pounding on the inside, keep playing to your strengths and keep doing what we do because they didn't want to handle us today."
Guard Joel Berry scored 21 points, and forward Luke Maye had 13 to lead North Carolina. No other Tar Heel managed more than seven points.
The Tar Heels could not pull even after A&M launched a 15-0 run midway through the first half. The Aggies assumed control from there.
The Tar Heels could not pull even after A&M launched a 15-0 run midway through the first half. The Aggies assumed control from there.
North Carolina held a 20-13 lead after Sterling Manley hit a short jumper with 11:31 showing.
The Tar Heels would not manage another field goal for 7 1/2 minutes as they struggled against the A&M zone. They missed their next nine shots. Three from behind the arc. North Carolina hit just 1 of 13 three-pointers in the first half.
"It bothered us a great deal, and I was surprised because we've handled some pretty good zones pretty well," North Carolina coach Roy Williams said. "I thought that the most important thing on the offensive end is being able to score inside and out. When the shots didn't go in early, I really jumped on them because we had never gotten the basketball inside and go 1-of-13 from 3."
While North Carolina floundered, the Aggies flourished.
Trocha-Morelos spun around a defender for a layup to start a pivotal 15-0 run in which Davis had nine points.
That gave the Aggies a 28-20 lead. North Carolina answered with a pair of free throws by Berry, but Williams banked in a short jumper and Hogg turned a steal into a dunk with 4:45 left in the half. Davis added two more layups, and Hogg and Starks drilled three-pointers as the Aggies rolled to a 42-28 halftime lead.
Gilder and Hogg then drilled three-pointers to open up a 48-28 lead early in the second half, and the rout was officially on.
North Carolina figured to make a run, but the A&M defense would not allow it. The Tar Heels shot just 33.3 percent (14 of 22) in the second half and just 27.8 percent (5 of 18) from three-point range.
"They blocked 70,000 shots," Williams said. "It was a more difficult game for us inside. But let's just don't say North Carolina screwed this up or North Carolina didn't do that. Texas A&M is pretty doggone good."
Indeed, North Carolina's woes were not the caused by a poor shooting night. A&M caused the Heels to shoot poorly.
"We were all connected," Gilder said. "They tried to apply pressure, trapping us and stuff. We just kept moving the ball and making shots. We got the ball to Tyler Davis and let him operate in the paint. That's what we always emphasize."
The Aggies put emphasis on the victory in a specular sequence with just under six minutes left.
Desperately trying to claw back into contention, North Carolina trailed 69-51 and looked inside to Theo Pinson. However, Trocha-Morelos rejected his layup attempt. Hogg got the rebound and passed to a wide-open Williams, who threw down a powerful dunk that demoralized the pro-Carolina crowd.
"It shows the kind of team we are and what we're capable of," Davis said. "We're an extremely confident team. We know what we have in this locker room, and we ran with it all year. We're just going to keep our jobs, study up on Michigan and get better."
Never miss the latest news from TexAgs!
Join our free email list