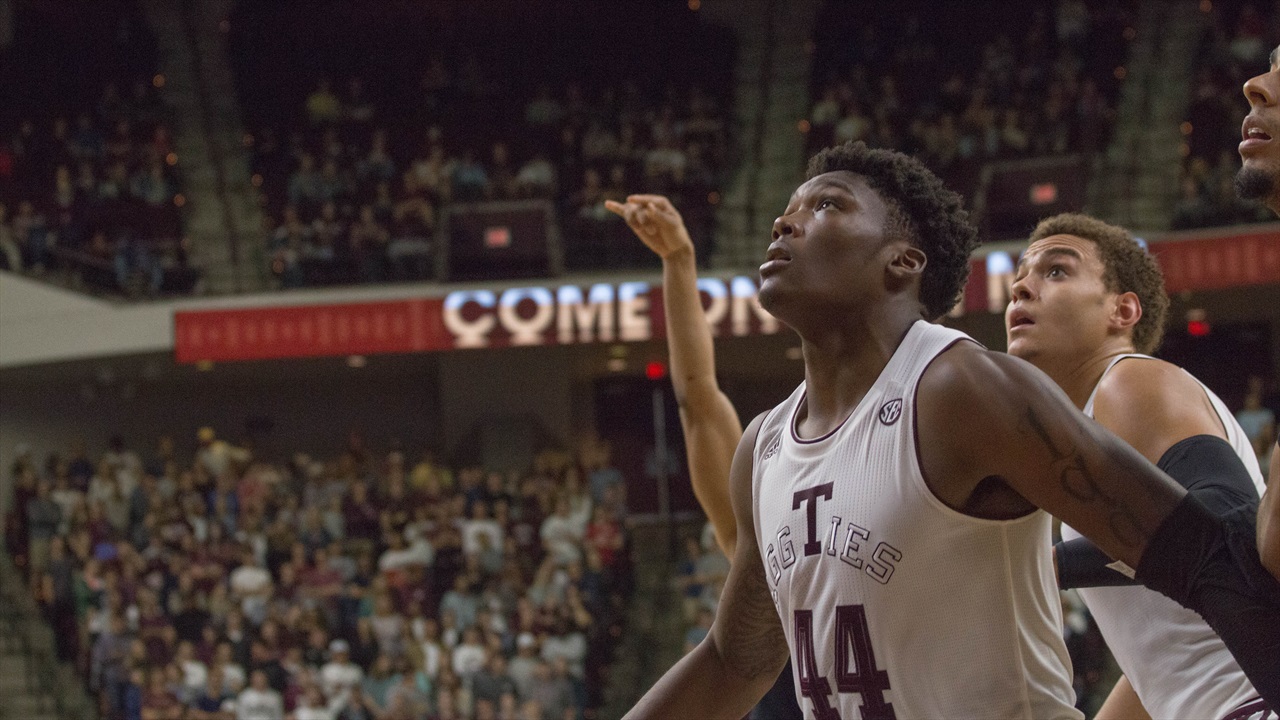 Photo by Rey Romo, TexAgs
Texas A&M Basketball
Scouting Report: Texas A&M vs. Kansas
---
Game Day: January 27, 2018
Location: Phog Allen Field House, Lawrence, Ks
Time: 3:30pm
TV: ESPN

Jayhawks at a glance
Bill Self and his Kansas basketball program usually have a very balanced roster, with a strong inside presence, a couple of scoring guards on the perimeter and a point guard to lead the charge.
This year, although just as dangerous and just as good of a team as in year's past, the Jayhawks are the most guard-oriented I've seen since Self arrived in Lawrence.
Devonte' Graham is the key to everything the Jayhawks do on both offense and defense, and that has shown in his playing time as of late. The senior leader has played in all 40 minutes of action the last three games and recorded 40 minutes in six games this year. Not only is that new territory for Self and his teams, but with Kansas playing four and sometimes five guards at a time, their style of play has transformed as well.
The normal high-low offense with athletically gifted and skilled big men in the paint has been adjusted to a more four out motion with a lot of long-range shots and a quicker pace to the game.
Kansas is going to space the floor and attack the Aggies perimeter players off the dribble. They're also going to try to create defensive mismatches to pull Tyler Davis and Rob Williams away from the basket, forcing them to use their lateral movement outside the paint on defense.
A&M will most likely show zone multiple times throughout the course of the game to keep its bigs on the court when Kansas goes small. The Ags will also try to force the action in the paint on the offensive side of the ball to take advantage of the size and physical presence of Davis and Williams. Kansas only has one true big man who sees a lot of action, which is Udoka Azubuike, who stands 7-feet tall and weighs 280 pounds.
The Jayhawks will use their athleticism and tenacity to try to outplay the Ags in the post on defense, while also trying to overwhelm the perimeter with tough defense and denying passes to the wings. I would also bet Bill Self forces the Aggie guards to the corner baseline on all drives while trying to not let A&M utilize the ball screens and keeping them out of the middle of the floor.
Players to watch
Devonte' Graham - Senior | Guard | 6'2" | 185 lbs
The leader and do it all player for this Kansas Jayhawk team. He will shoot from anywhere, attack the basket with the dribble whenever he gets the ball, set his teammates up with crisp passes and he doesn't turn the ball over very often. He's the key to making this team successful.
Lagerald Vick - Junior | Guard | 6'5" | 175 lbs
Although Vick hasn't had a good run in the last handful of games, he's the team's fourth-leading scorer and has posted six games of 20 or more points this season. His athleticism is going to pose a problem for the Aggies. He's long, lean and primed for a breakout game soon.
If A&M doesn't force him into some tough shots in the first handful of minutes, Billy Kenendy and Texas A&M will be in for a long night of Vick's breakout game.
Sviatoslav Mykhailiuk - Senior | Guard | 6'8" | 205 lbs
The shooting guard has been forced to play the four position this year due to lack of size on the Kansas roster. He isn't the most physical player, but he is a workhorse and does the little things that are asked of him.
Playing out of position isn't the worst thing for Mykhailiuk. He's a very good shooter and makes defensive match ups tough because he can stretch the floor against bigger defenders. Shooting 50% from behind the arc in conference play has given him a lot of confidence and BK will have to decide how to match up on D. At times, they will have to play zone and spy on Mykhailiuk, but when in man, the Ags may have to guard him with Williams, Trocha-Morelos or Hogg. I wouldn't surprised to see Flagg on the assignment for energy and physicality. My only concern with that is having a veteran senior going up against a young freshman.
Keys to the game
There are a number of things that can be pointed out as important factors in this game, but the underlying factor in every scenario is going to be how hard the Aggies play on each possession, no matter what end of the court they're on. If A&M can't match or surpass the energy level of the Kansas Jayhawks, they'll be looking at another losing streak.
Composure in the Phog will be huge. Dominating the paint will be a big factor (rebounding, scoring, defending). And, assist to turnover ratio will be key.
Game planning. Bill Self will have his guys ready to play, especially coming off a loss to Oklahoma. On the other hand, Billy Kennedy and company have to come with an executable game plan that the Ags can lock in and lean on when things get tough in Lawrence.
Never miss the latest news from TexAgs!
Join our free email list
PRESENTED BY