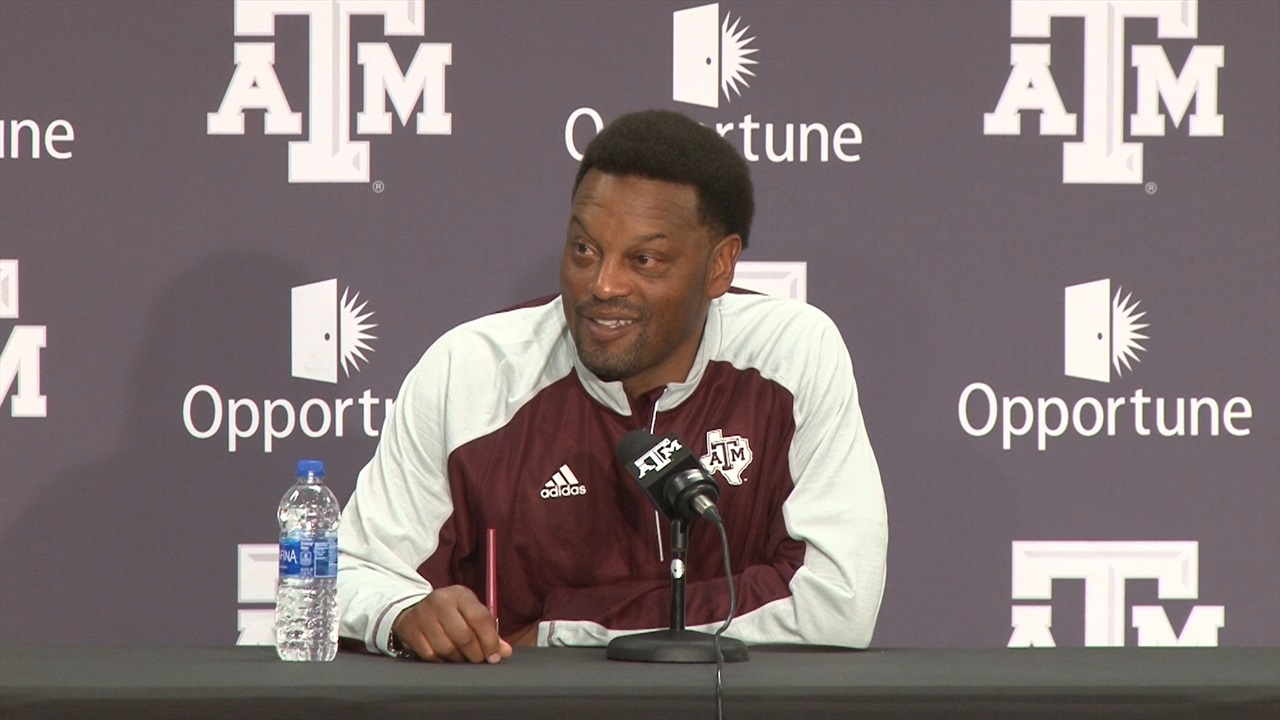 Kevin Sumlin
Armani Watts
Damion Ratley
Cullen Gillaspia
Tripucka
Tanner Schorp
Texas A&M Football
Texas A&M Football weekly press conference: Ole Miss
---
The following are live, paraphrased notes from Texas A&M's weekly press conference. Videos of the interviews will be added to the story after they are rendered.
Kevin Sumlin
• Ole Miss hasn't missed a beat. Shea Patterson was a great player for that program, but their system is one that – you need eye discipline on the back end. They do a great job with play fakes, screens, deep shots. They've operated the system at a high level. They score a lot of points and have three effective talented receivers. Their slot receiver can get down the field on you. It's tough on the second level. He turns into a running back quickly with the ball in his hands. The guy that caught my eye last night is Dawson Knox. He's pretty fast and 240 pounds or so. They have weapons and haven't missed a beat at quarterback.
• The first PAT was a bad snap. That wasn't on the kicker. We've shored up punt blocking. We've won games because of our special teams. They only time they show special teams is when something goes bad. They think it's just supposed to happen. We've been pretty good overall on special teams. We're playing different people in there now to give other guys a break. You'll see the regular guys in there this week as we get back to SEC play. We missed 7 tackles on special teams this week. We haven't had that all year on special teams coverage. Personnel becomes an issue. We rested a couple guys on those units and covered more kicks last week than we've covered in a game this year.
• If Nick Starkel gets hurt and we're up 40 points, how do you answer that question? He's getting in better shape. Some people get confused by "being cleared" and being ready to play. When you get down on the field and things happen in real time, that takes practice. I had to balance that this week. He's about four weeks of practice from his injury. It's different with a young guy than a veteran guy. The recovery time is different because of experience. He had only played two quarters before he came back. We have to get him practice reps. We're encouraged by last week. Hopefully we improve on it this week.
• My approach to transfers is much like free agency at the next level. Where we have holes or deficiences, we've taken an older player and plugged him in. We signed 29 guys last year. Because of the quality of guys that we have, we had to weigh that against age. The players we recruited out of high school were a little different this year. We've been successful with transfer players. Coming into this season, we didn't plan for Donovan Wilson to get hurt. We weren't in the market for someone on the back end. Our guys up front were alright. We felt good about the guys we brought in from high school.
• I don't know why we've struggled with Ole Miss. More and more, it's about matchups. Some people and styles of play can create issues for different people. I don't know why that is. I treat every game as mutually exclusive. There are different guys on the field than there were last year. We have to go there and play well. We have to build off of last week. We accomplished what we wanted to do offensively last week. We had to throw and catch and make plays. They didn't change their defensive front, so we kept doing it. We adjusted to the triple option with a different look on defense. We made them go to a read-option situation in the second half, which is the ultimate compliment for the defense. We were able to do what we wanted in the first half, which leads to confidence. We want to build on that this week.
• I think the basic principles of what Ole Miss does on offense are the same. It runs throught the QB and pressure on the perimeter. They're handing the ball off and receiver run all sorts of routes. They have an athletic line and good backs. You have to play assignment football and be where you need to be. Respect what you see. Do your job. Don't get your eyes out of whack. They haven't changed much philosophically.
• I don't see Nick Starkel's demeanor changing that much. When he was injured, he was as involved as he could be. He's always with Kellen Mond and always talking to the offense. I don't know how much his demeanor has changed. He's a playful, fun-loving guy. I'd be concerned if he got quiet. He's got energy. He's working at it and knows he needs to get better. I think for this team to operate like they did in the first half gave people confidence they need this time of year.
• We have some periods in practice where our starters compete against each other. We try to put our good guys against good guys, but you also have to have reps against the scout team. We try to do that for our players across the board. We want them to see the speed and size, but I think the reps against the looks Nick is going to face that help the most. He got some help on Saturday. Ratley had a one-handed touchdown catch. Christian Kirk wrestled a ball away and ran away. There were plays made for him. To get those kind of numbers, that stuff has to happen. The quarterback is the catalyst, but everyone has to play at that level.
• You look back at the end of the year and think about things like record. I'm trying to win this game. That's post-season. You can't put the cart before the horse. To do anything like that, you have to take care of business this week.
• We want to get Jake Hubenak in the game. You saw him throw that one ball and know why he's not playing. He didn't practice for weeks. That's why we ran the ball every time and let him throw just one pass. It was good to get him in there. It's been a struggle for him from a health standpoint. He couldn't be the guy he wanted to be this year, physically. There's never been a time where he's been down or by himself. He's always trying to help the other guys. That's what maturity and experience do for you. Those guys have been together all the time. They're talking about what they see. They're all on the same page. I'm sure it's been frustrating for him, physically. He's shown a teammate mentality with everyone on the team.
• It would be nice to have Charles Oliver this week. We'll see where he is. He's been playing hard and gives us flexibility and plays well on special teams. He's been out. It would be nice to have him this week against these bigger receivers. He can run and he's physical.
Never miss the latest news from TexAgs!
Join our free email list