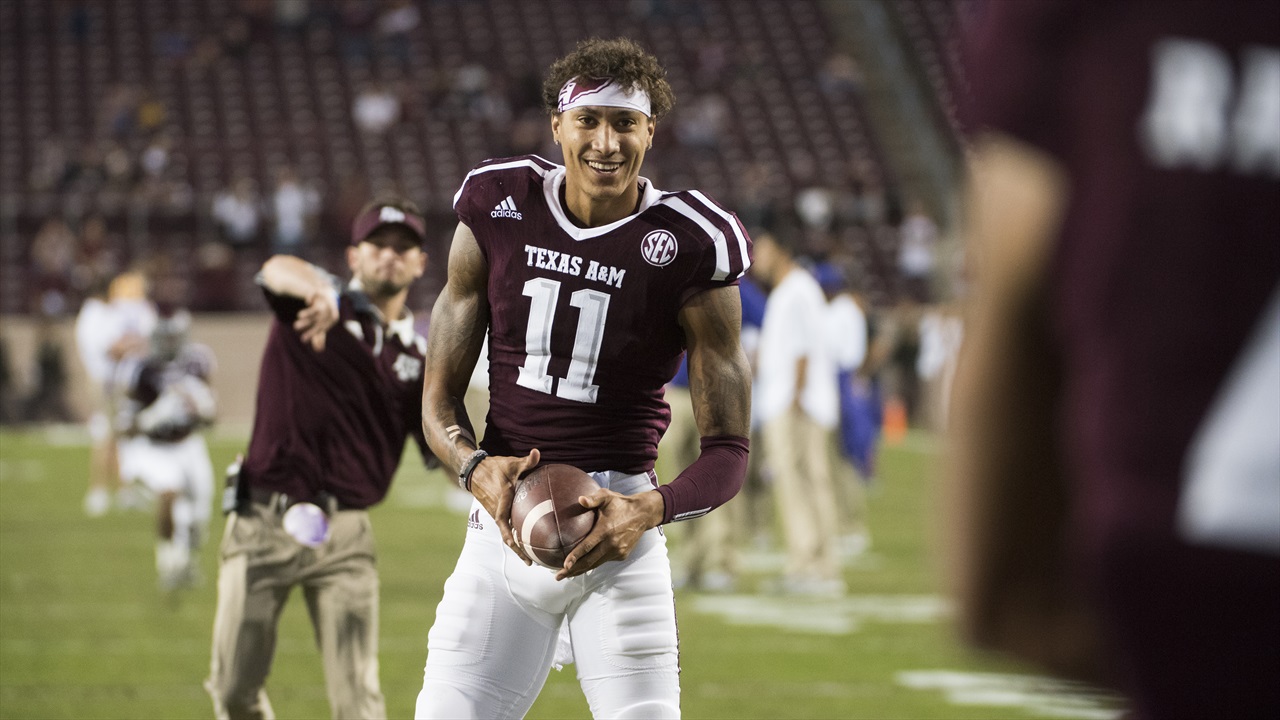 Photo by Lindsay Caudle, TexAgs
Texas A&M Football
Josh Reynolds discusses being back in Aggieland, adjusting to the NFL
---
Key notes from Josh Reynolds interview
It will be my first time back in College Station since Pro Day. I miss the Aggie fans. It's going to be a blast seeing everyone. I'm going to have a good time.

The transition to the NFL has been smooth. It's a lot more professional and business-like in the NFL. That's the main difference. The rookies have to learn the in-and-outs other than football.

It's even better to be on a team that's winning. It's been great around the locker room with all the guys. The atmosphere is great, everyone is happy and upbeat all the time. You couldn't ask for a better situation coming in your rookie year.

Jared Goff's hunger for greatness is amazing. He's always learning and finding new things to get better at everyday. His leadership skills are unbelievable for this being his second year in the league. He's making great decisions and putting us in positions to win ball games.

I can't lie, I'm not a big baseball fan. I definitely am feeling the atmosphere here in LA, though. Even on the way over here on the plane we had a bunch of Dodger and Astros fans. They were cheering for the game, it was the first time I'd seen fans trying to start chants on the plane.

The bonds I created with my Aggie teammates is what I remember most about my time at A&M. It's a brotherhood that will last a life time. That's always what you look for. Football won't last forever and it's nice to have guys I can count on. They left a mark I'll never forget.

Having Damion Ratley back for his senior year is big. They have something special this year and they could make some heads turn if they keep playing like they have been. If Kellen Mond just keeps making the right reads and controlling the game and having the receivers make plays when they're needed - things could happen.

Once Kellen gets comfortable to where he knows the offense and defenses he's facing, he's going to be a force to be reckoned with. It's going to be scary to see him at the top of his ability.

As soon as I got my offer to A&M I knew where I was headed. Once I figured that out and had that in my mind, I had big goals. I expected to accomplish everything I did at A&M. At the same time, it's a blessing to actually be able to do it. To be in the record books and hopefully there for life is amazing.

A key this weekend is definitely stopping Nick Fitzgerald. I'm positive the defense will be able to do that. For the offense, they need to continue to manage the ball and score when they need to. We should be able to come out with a win.
Never miss the latest news from TexAgs!
Join our free email list