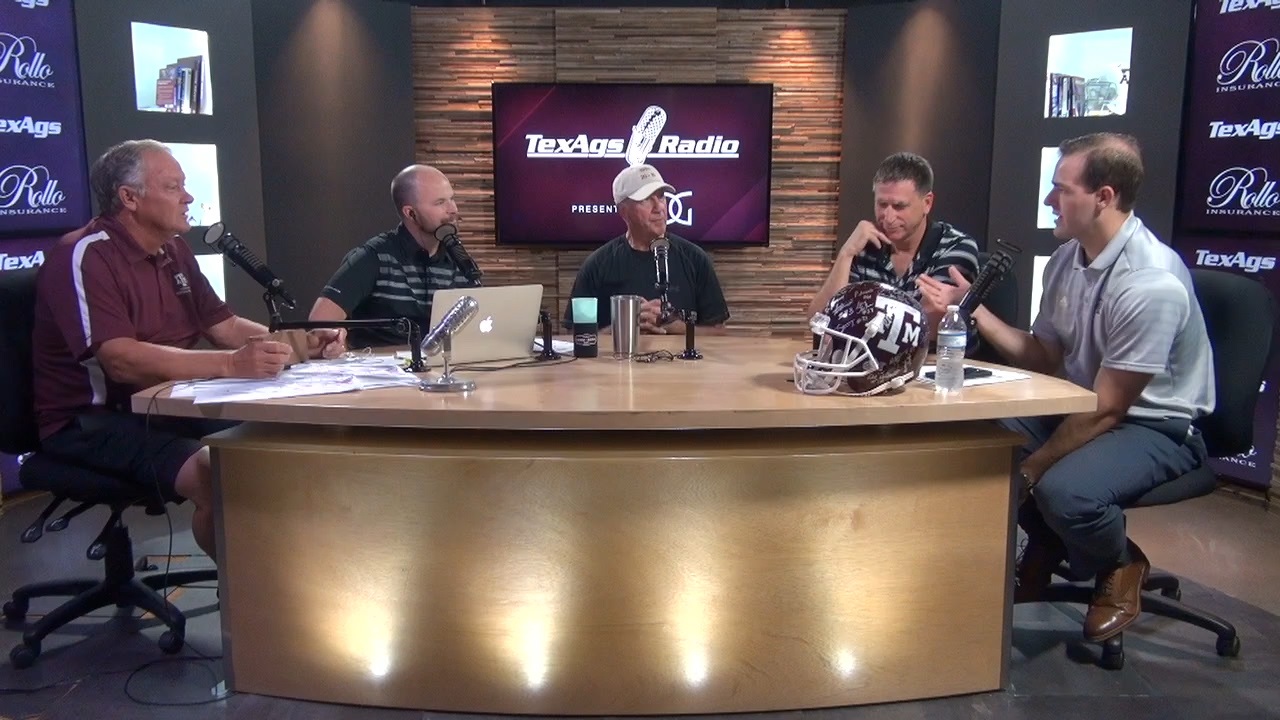 Texas A&M Football
Edd Hargett & Curley Hallman remember '68 Cotton Bowl win over Bama
---
Key notes from Edd Hargett and Curley Hallman interview
Hargett: I brought the heart and soul of the 1967 football team with me today, Curly Hallman. Coach Stallings brought him over from Alabama and said if he payed well he'd let him stay for a year, but he never left.
Hallman: I was totally shocked driving over here today, I left in 1987 and to come back and see this town now, I'm in a strange place. This place is so amazing place and special for me to come back, the friendships and bonds I have with guys from that team are so special. Coach Stallings brought me in on a one semester make good to Texas A&M, and it turns out there was no such thing.
Hargett: Coach Stallings had another heart attack last week, I think he actually has had two or three as it turns out. The last thing I heard though was that he is off all of the machines and medicine and is starting to get up and around. They fully expect him to recover. He's a tough old bird.
Hallman: I try to keep in touch with Coach Stallings, I made him a homemade card that I'm going to get all of the guys that are here this weekend from the team to sign and we will send it to him. Really wish he could be here to celebrate with us.
Hargett: I just wonder what the broadcasters would say if they couldn't say "true freshman" about Kellen Mond. After about the first or second game you're no longer a true freshman and Kellen has made such great strides. It looks like they are really trying to protect his health at times, but they let him loose in the second half against South Carolina and the game completely changed.
Hallman: I think we have a chance. I go back to that '68 Cotton Bowl, Alabama came in with Kenny Stabler at quarterback and in four years those seniors had only lost three games. Is there a chance? Absolutely, with the crowd behind them I think so. These young guys aren't pups anymore, they just need to keep biting and growing up. They have a chance but they need to be picture perfect.
Hargett: Going into Alabama in '68, that was just like any other game. There was no special preparation, just go out there and execute the game plan. Fortunately we held onto the football offensively and Curley kept intercepting Stabler's passes and that was the difference in the game.
Hallman: I had two interceptions in the Cotton Bowl and fun fact, I actually caught the last pass of Kenny Stabler's career at Alabama. I still have that football and me and Kenny remained really good friends throughout his life.
Hallman: Our confidence level going into the Alabama game in the Cotton Bowl was so high. We had lost some games early in the year, but we were in some of those games. Then Edd made that great run and we beat Tech. Then we just kept putting wins together. It shows what confidence can do for a group. I say now, if they had a College Football playoff back in '68 we'd have been going to the playoffs.
Never miss the latest news from TexAgs!
Join our free email list