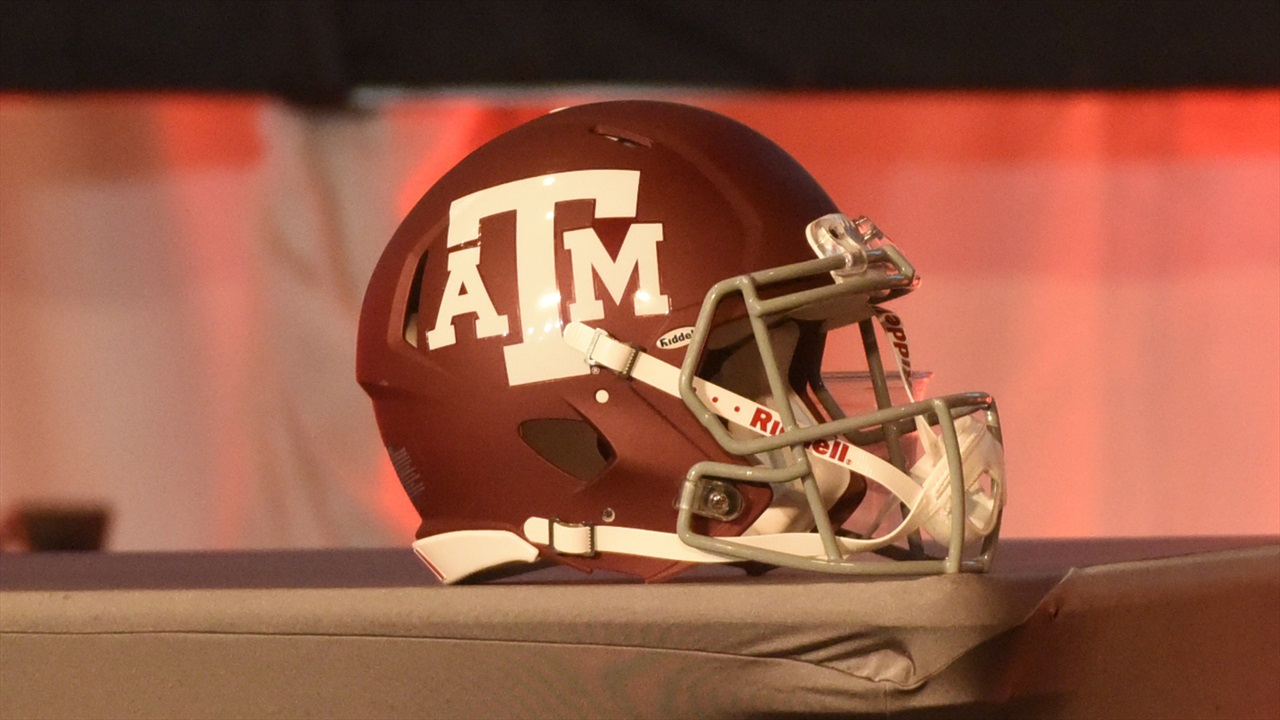 Kevin Sumlin
Tyrel Dodson
Kendall Bussey
Connor Lanfear
Cullen Gillaspia
Tanner Schorp
Shane Tripucka
Texas A&M Football
Texas A&M Football weekly press conference: Louisiana
September 12, 2017
10,243
---
The following are live, paraphrased notes from Texas A&M's weekly press conference. Videos of the interviews will be added to the story as they are rendered.
Kevin Sumlin
• I think our team is in a good place mentally based on the last couple of weeks. We're not the team we want to be yet. We improved on some things, and we need to get better. Things start up front. We weren't good up front offensively. That changed things. Defensively, we improved. Madubuike and Daylon Mack did better against the run. We gave up the big play. We need to improve on that. We made some big plays in the run game. Players that hadn't played, like Kendall Bussey, showed up and did nice things. We closed out a game in a fashion that we hadn't really done. We had the ball a lot in the fourth quarter. Improving game to game is going to be important. Mentally, coming off a short week last week with some guys injured after UCLA, we had a lot of guys improve. We're addressing some things that are obvious and not-so-obvious. Winning helps. There's never been a great loss. Winning is winning. Some guys gained confidence. I think it'll help us down the road.
• We've had different o-line combinations. You'll see a new one this week, too. Until we get the right one, you have to be able to prepare for the known and adjust to the unknown. That combination – we have the pieces. They need to be in the right places. We have to keep that communication open with those guys as they play. You don't go from a team that was able to do the things we did against UCLA to a team that stalls out. There were some personnel changes in the fourth quarter that will help us down the road. Koda Martin came back. The way we finished the game is more what it will look like this week.
• Tyrel Dodson had a great camp. He'll be the first to tell you he was carrying a lot of weight last year. He didn't know how to carry it. An offseason of working out, and he's closer to 243 pounds. He's played a year with it. He's comfortable and explosive. He's confident, and he's vocal. He brings an attitude to the defense. He can play better. He wasn't happy, and Chief wasn't happy. He can be a really, really good player. He's playing better than we've had at that position in a while. He's made steps, but he can be better. Every week, that's what this is about at all positions on the field. He agrees with that. He's explosive, and he's making plays for us at a position that hasn't been as productive in the past. The good news is he understands what he needs to do to get better. I look for him to continue to improve. He and Alaka have taken the perception of the linebackers personally. Alaka has made the WILL position better. Tyrel is stronger in the lower body, and it helps to have him in the middle. He has accepted more of a leadership role. He's developed that in practice and fall camp. I see a noticeable difference in his play.
• If you look at the video, Kellen Mond started the game about as good as he could have. We had 14 points on the board. For both quarterbacks, we had protection issues. We wanted to play both. Jake came in and did a nice job. That plan is still in place. We have to develop both of them. Those are our guys. As I said before, it's not always on the quarterbacks. We had some balls that were dropped. Both guys missed throws. Our young receivers made some plays in the fourth quarter that they didn't make against UCLA or in the first half. Our plan isn't going to change. Both guys need to be developed, and the only way to do that is to play them both.
• There are a number of guys that have families and extended family working through things related to the hurricane. You saw the number of people that were rescued. There's nothing to go back to. We see how they're living and where. Our administration is helping as much as possible. The players aren't alone in this. For a guy like Trayveon Williams, you don't know how that's going to help. There is a support system here. That's given our guys comfort that they wouldn't have had. You can't replace memories and pictures. We haven't had a break for those guys to move back. A lot of the parents attended the game last weekend. I think that helps. The early game this week will give them more time with family. We've been busy, but everyone is ready to get back on the field and play this weekend. I'll have a better idea of this next week as people get to assess what's going on at home.
• We've had some turnover at quarterback. We've had some guys leave on their own. We've had guys come in, like Trevor Knight, who was a one-year guy. You see that more and more this year. It's put us in our current position. The idea of a long-term guy that starts from his freshman year or is a two-year starter is ideal. Not many guys are three-year starters at quarterback. Every situation is different. We had two guys leave in one year, which hurts the program, particularly at the time they left. We have guys now with the staggered classes. We had three capable guys, but Nick got hurt. That hurts our depth. We got to redshirt him last year. Jake was able to play some last year. The injury to Nick exposes that a little bit. If that doesn't happen, you have three quality quarterbacks.
• Kendall Bussey's dad is a great guy. He'll look you right in the eye and want to talk to you man to man about the program. Kendall comes from a father like that that runs his own business. He's a no-nonsense guy. Kendall is talented, but he's a young guy. He had a knee injury. Last year he wasn't as explosive, and this summer and spring he was looking at Trayveon Williams and Keith Ford. He's looking at year three, and he's the No. 3 guy, at best. He thought about leaving, to be honest. We gave him time to talk that through. It's a long year. No. 3 can be No. 1 real quick. That could be for the season, a night, a week. I asked him if he believed us now, and he was so tired, he couldn't laugh at me. He's waited his turn. You can see his value. He's explosive and healthy. He can be utilized. That gives us another opportunity to be able to run the ball. We can spread it out among those guys. Guys get nicked up. That's why Keith Ford is here. He hurt his ankle at Oklahoma, and Samaje Perine took over. They forgot about him. When it comes to transfers, people talk about guys leaving, but we've had highly successful guys come in, as well. They've played in the NFL. I don't know if Kendall will start this week, but based on his performance, he's in the mix. Everyone feels better about him playing in critical situations now. He did a nice job. He's earned trust and respect. That comes from teammates and coaches. You also earn playing time.
• Louisiana has scored a lot of points. They're explosive offensively. You have a lot of guys coming back to play close to home. They have one of the top kick returners in the country. They'll be excited to be close to home. Their scheme gets the ball down the field. They'll makes us defend the whole field. Defensively, they've had some issues, but they like blitzing and negative-yardage plays. We won't see that much this year. They overload sides and bring people you can't block. There are seams and openings to be found there. They've been in some shoot-outs. They have dynamic players and do a nice job on special teams. I've known the head coach for a long time and have a great relationship with him. He's aggressive when it comes to all three phases. Everyone will need to be on their toes. It'll be a good challenge this weekend.
• You've seen more odd-front defense than you think on third downs. We've done it on a few series. Just because there aren't just three defensive linemen and four linebackers doesn't mean it's not a three-down front. Jarrett Johnson has had a nice couple weeks. Landis Durham played his best game last week. Micheal Clemons got nicked up against UCLA. He'll get more snaps this week as he gets healthy. Some of those players weren't available. Landis coming on helps us. Qualen Cunningham helps us. Donovan Wilson being out really hurts us. It's like losing two guys because he played safety, dime and nickel. We have to develop that, but Priest Willis played well last week. He's a cover guy, but he's bigger. He tackled well inside there. We'll see this weekend. He's pretty good. We'll figure out what his blitz ability is. He made some instinctive plays on the QB draw. Priest showed us he can be that nickel for us. Now we have to fill in the other pieces. Derrick Tucker may come back this week. I don't know if he'll be available. Keldrick Carper and Larry Pryor are back there as safeties for this week.
• John Chavis just wanted to move from the box to the sideline. We talked about it, and it's just something he wanted to do.
Never miss the latest news from TexAgs!
Join our free email list