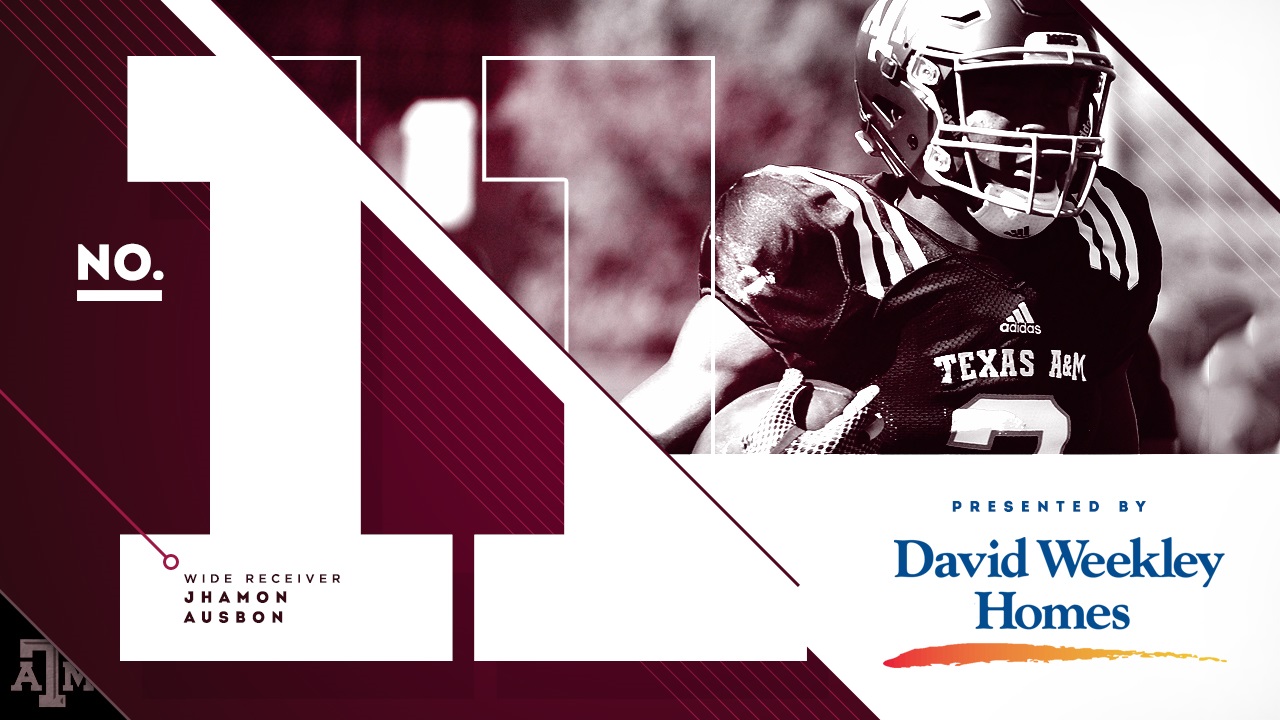 Texas A&M Football
30 Players in 30 Days: #11 — Jhamon Ausbon
---
Position:
Wide Receiver
Classification:
Freshman
Hometown:
Houston, Texas
Listed Height:
6-2
Listed Weight:
220
Notes from Billy's breakdown on Ausbon

I think he will be special, if we redid these ranking at the end of the year I think Jhamon will finish the season higher than number 11 on the list. Everyone saw his catch on Twitter the other day, that's commonplace for him. For a guy his size he has ridiculous quickness and speed at 220 pounds. He is a fast guy at 220 pounds. If he was a freshman linebacker coming in, he would be exactly what you wanted in the SEC. As a true freshman, he might have some bad days, but he's not going to have many of them.


You could compare him to a guy like Sammy Coates at Auburn, but Jhamon is a much better football player than Coates was. Coates was kind of a one trick pony with the deep ball, but Jhamon has the ability to be an all-around receiver, making plays all over the field. I think the comparison to Robert Ferguson is as good of one that I have heard, but he's even bigger than Ferguson.


I think he's good enough, if the offensive line and the quarterbacks can get him the ball, I think he's a guy who can compete to be the SEC freshman of the year. I don't know what the number of catches and yards will be, but he will make an impact for this offense. He was a midterm guy who was turning heads from the minute he got here. This is a pattern that is repeatable, it's the exact same trajectory that Trayveon Williams was on and from two years ago and the same trajectory of Christian Kirk. Jared Hocker has done a similar thing on the offensive line.


No question being around Christian Kirk will be a big help. That will really show next year. You don't want to see the day when Christian Kirk leaves, but when you return Jhamon, Hez Jones and Roshauud Paul and other guys who could step up between now and then, this A&M offense in '18 and '19 at all positions will be loaded.


Follow the entire 30 Players in 30 Days series here.
Never miss the latest news from TexAgs!
Join our free email list