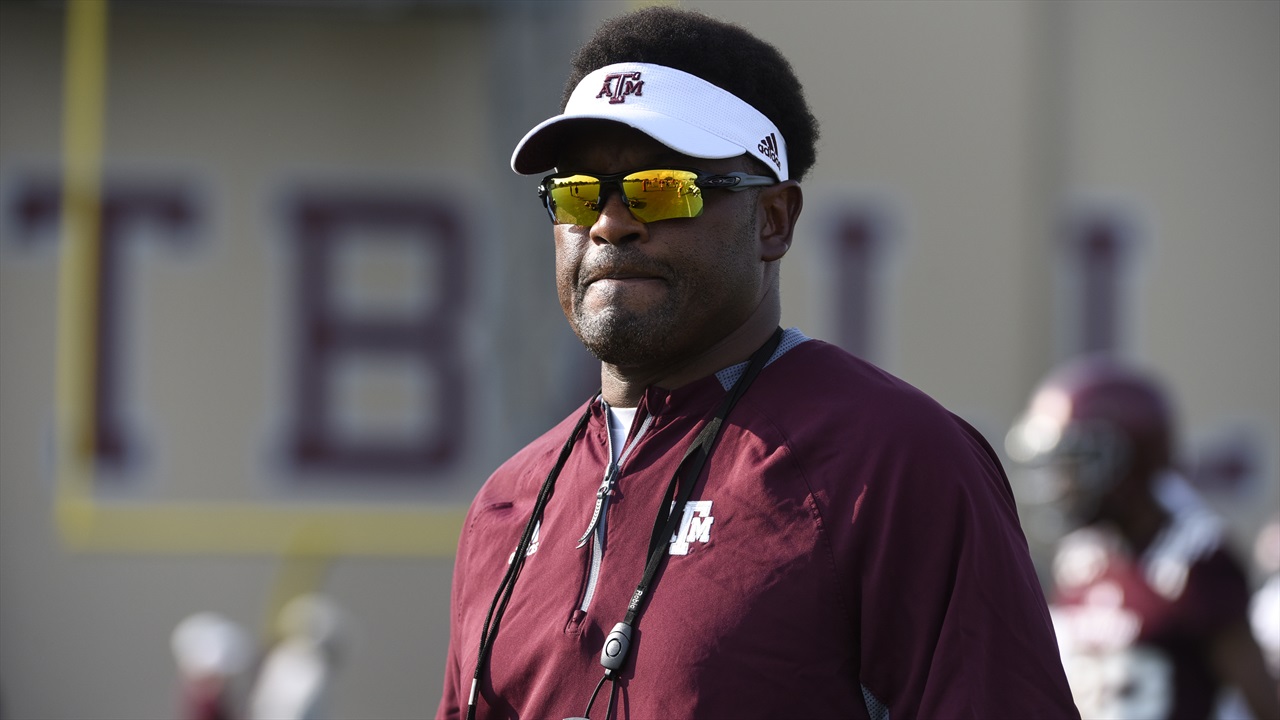 Photo by Lexie Hudson, TexAgs
Texas A&M Football
Texas A&M coaching staff watching, judging scrimmage showings
---
Texas A&M football coach Kevin Sumlin indicated that a starting quarterback would likely be named on
Aug. 20
. That would be two weeks before the Aggies' season-opener against UCLA.
"Two weeks out," Sumlin said when asked about a timetable for naming a starting quarterback. "In the past, that's probably where I've been at the latest. That's probably where that is."
In 2012, Sumlin named Johnny Manziel the starter over Jameill Showers two weeks before the season-opener. He had the same timetable in 2014 when he chose Kenny Hill over Kyle Allen and again in 2015 when he chose Allen over Kyler Murray.
Last year he deviated from that schedule by naming Trevor Knight the starter over Jake Hubenak after spring practice.
Hubenak, redshirt freshman Nick Starkel and true freshman Kellen Mond are competing for the starting job this season. Sumlin got a good look at them in a 71-play scrimmage
on Thursday
night at Kyle Field.
Scrimmages are also scheduled for Sunday, next Thursday and then perhaps the final exam the following Sunday.
Scrimmages are also scheduled for
Sunday
,
next Thursday
and then perhaps the final exam the following
Sunday
. They are scrimmaging on Sundays because the game against UCLA is on a
Sunday
.
"We evaluate them every day," said Sumlin, who did not reveal if any of the three had an edge in the competition.
"After that, such things as playing football, too. There's a field part. There's a statistical part. Then there's a moving the team part. Certain things, statistically, may not show up. It may not be your fault. A guy may have run a wrong route. A guy might get forced out. A lot of things."
Sumlin indicated he and offensive coordinator Noel Mazzone would further evaluate the quarterbacks' performances
on Thursday
night during lunch
on Friday
.
"Noel and I eat lunch every day in his office and have our discussion," Sumlin said. "It's an on-going process."
Sumlin appeared to be pleased with the results of the 71-play scrimmage, in which players were forced to communicate more among themselves with minimal input from coaches.
"Really, more than anything else, it was about operation," Sumlin said. "Getting some of these young guys out there, getting the coaches away, making (players) communicate."
Sumlin pointed out only five penalties were committed.
"(That's) not great, not awful," he said. "We had three different units for a number of snaps. There's some positives because of that for the sixth day (of August camp) not to have a whole bunch of things go wrong. We've got a lot of work to do. We get that. The idea is to be better
on Sunday
."
Sumlin said the practices before
Sunday
would focus on putting younger guys in goal line, short-yardage, third-down situations.
Center Colton Prater and cornerback Priest Willis did not appear to be included in the scrimmage. But when asked if they did not participate , Sumlin offered no comment.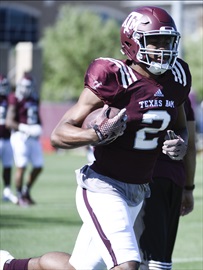 Brittany Broussard
However, Sumlin enthusiastically commented about freshman receiver Jhamon Ausbon, whom he compared to Robert Ferguson, a big receiver who caught 58 passes for 885 yards in 2000 — his only year at A&M. He left for the NFL after that season.
"He (Ausbon) is a big strong guy. He has good seed. He's really talented and has a good demeanor," Sumlin said. "We just keep pushing him to get better. We're watching his weight a little bit. He came to camp at 219 or 218. We need him to stay there, not go over 220."
Sumlin also said that defensive end Micheal Clemons, a transfer from Cisco Junior College, arrived somewhat out of shape, but has made significant progress.
"We had a heart monitor on Clemons. His heart rate up real high. He was not in shape," Sumlin said. "Yesterday, the sports science staff said his heart rate was good. He's starting to get in the flow of things."
Sumlin also offered thoughts on venerable A&M play-by-play announcer Dave South, who
on Thursday
revealed this year — his 32nd at A&M — would be his last to call football and basketball games on A&M radio broadcasts.
"He's a good friend," Sumlin said. "We spend a lot of time on the radio show. He does a great job of getting the really bad questions out of the way for me … taking bullets, killing time after bad games.
"The new guy better be pretty good."
South, who received well-wishes from friends and fans around the world after the announcement, said one football game from 1999 in particular stands out in his memory.
"It was the Bonfire game," he said. "That was a time when A&M needed something good to happen, and we ended (up) winning that game."
The Aggies posted a 20-16 victory over No. 7 Texas just eight days after 12 students were killed when the stack of logs for the traditional Bonfire collapsed. The win was clinched when Brian Gamble recovered a fumble in the final seconds.
"It's a game I'll never forget," South said. "And I'll never forget Brian Gamble out there in the middle of the field holding that ball up. That will be etched in my memory forever."
Never miss the latest news from TexAgs!
Join our free email list