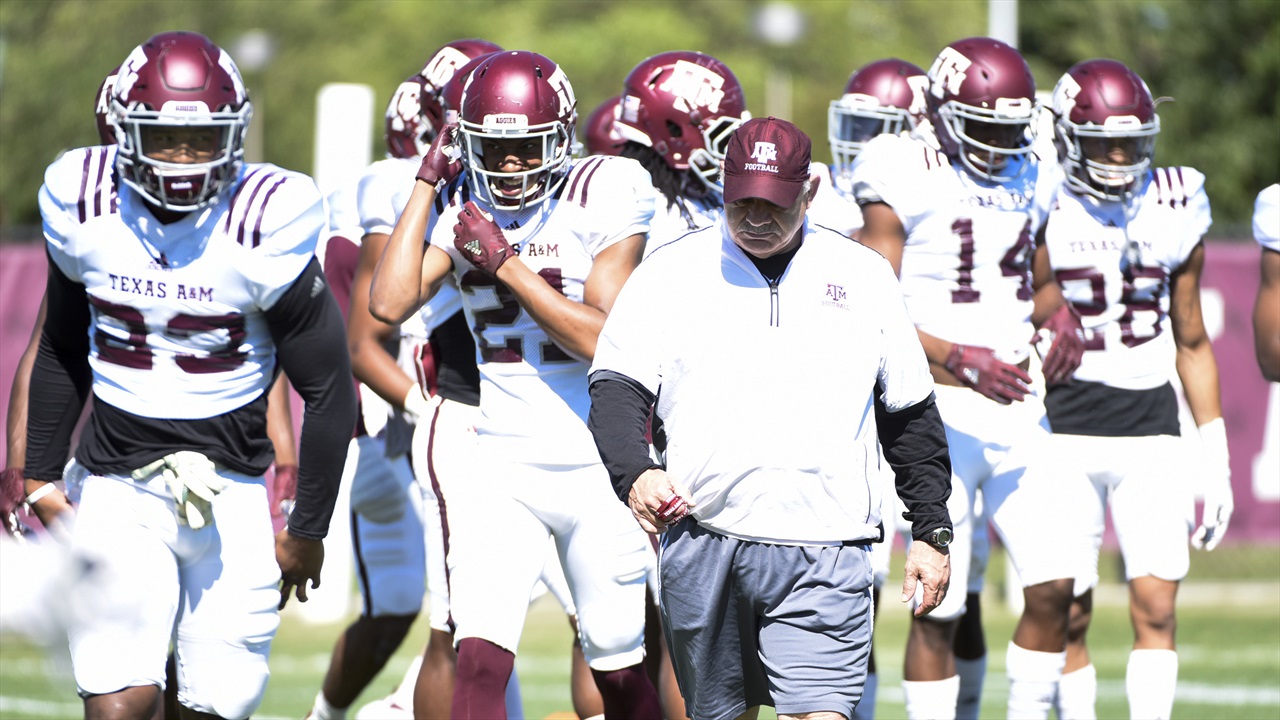 Photo by Christina DeRuyter, TexAgs
Texas A&M Football
Chief concern: Can Chavis overcome key losses to build a better defense?
---
All who follow Texas A&M football are very much aware there are many concerns with the Aggies defense. But is the chief concern the Chief himself?
Two seasons after luring highly-touted Defensive Coordinator John Chavis away from LSU, the A&M defense remains a worrisome unit. Indeed, just last season A&M ranked 90th in the nation in total defense. That was with the first player taken in the NFL draft (defensive end Myles Garrett), a second-round selection (safety Justin Evans) and a third round pick (defensive end Daeshon Hall).
Some have called Chavis overrated. Others have suggested the game has passed him by.
And when asked at Southeastern Conference Media Days to evaluate Chavis' performance, Texas A&M coach Kevin Sumlin dodged the question like Derrius Guice dodged Aggies tacklers last November.
"Do we got to get better? It's not just John Chavis. It's across the board. It's everybody," Sumlin said. "We have the biggest sign in our building that says 'No excuses.' We're not giving any excuses and that starts with me.
"We want to be a championship football team. And so the things that we've done or keep putting in place and the things — as we adapt to this league — to figure out how we can get to the next level, we're doing. And that's not just him. That's across the board."
So … what was the evaluation on Chavis?
Do we got to get better? It's not just John Chavis. It's across the board. It's everybody. We have the biggest sign in our building that says 'No excuses.' We're not giving any excuses and that starts with me.
The thought here is Chavis has done a solid job as A&M's Defensive Coordinator. The game, now rife with uptempo, spread offenses, hasn't passed him by as much A&M has had too many players who just could not keep up with opponents.
There's an old football saying that "Jimmies and Joes beat X's and O's. Chavis has had to play many of the same guys or same caliber guys that were on a 2014 unit (the season before he arrived in College Station) that ranked 104th in total defense, 111th against the run, 83rd against the pass and 77th in scoring.
Last season the Aggies were better — though not significantly — in all those categories except pass defense. True, some would argue that the Aggies should have been much better with a veteran Garrett.
Actually, they were.
A&M was 18th in scoring defense, 70th in total and 42nd in run defense after four games — three against power five opponents UCLA, Auburn and Arkansas.
Then Garrett got hurt and limped through the remainder of the season. That is, when he played at all.
The Aggies further suffered when cornerbacks Priest Willis and Nick Harvey sustained injuries. They weren't great, but they must have been better than the guys they were starting ahead of.
"I think we were a pretty good defense early in the year. We lost some critical pieces," Sumlin said. "Priest Willis was playing pretty well early and Nick Harvey got dinged up. We had a situation where we're putting pressure on some younger guys and gave up some big plays later on in the year."
The point is that Chavis fielded a good defense when key players were healthy.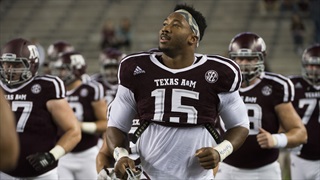 Lindsay Caudle, TexAgs
Of course, many key players are now gone to the NFL, which raises concerns about how sound A&M can be defensively in '17. That will largely depend on how well the Aggies can upgrade a soft run defense. Improvement is especially vital because A&M will be challenged by the likes of Alabama's Bo Scarbrough, LSU's Derrius Guice, Auburn's Kamryn Pettway, Florida's Jordan Scarlett and Mississippi State's Nick Fitzgerald.
To attain that improvement, the Aggies reportedly have tinkered with a 3-4 alignment as a change up to their base 4-3.
"We have got to be a better run defense. I don't think there's any secret to that," Sumlin said. "I think that our ability to be multiple and change things up are things that we worked on a little bit."
The new X's and O's may help. The question remains whether the Aggies have the Jimmies and Joes to be successful on defense.
A few years ago at SEC Media Days, then-Florida coach Urban Meyer said the key to fielding a good defense in football was similar to fielding a good defense in baseball: Be strong in the middle.
A&M figures to be strong and deep at defensive tackle with Kingsley Keke, Zaycoven Henderson, Daylon Mack and Justin Madubuike. The Aggies also have proven safeties in Armani Watts and Donovan Wilson.
Yet, the Aggies are once again suspect at linebacker, particularly inside.
Perhaps sophomore Tyrel Dodson will emerge as a legitimate middle linebacker. Maybe junior Otaro Alaka will play inside much more effectively than a year ago. Maybe freshman Anthony Hines will prove a prodigy if he's put inside.
How ever the Aggies address the situation, the play at linebacker must improve. Everyone who follows them knows that.
Of course, that's not the only question facing the defense. New starters who've been largely unproductive will be taking over for Garrett and Hall at defensive end. Can they soften their loss?
And Willis has to stay healthy. Another effective corner, perhaps Chuck Oliver, has to surface to replace Harvey, who'll likely miss the season with a knee injury suffered in the spring.
The Aggies defense must get better.
For that to happen, linebackers must improve dramatically. Productive ends must be found. Cornerback play must be more reliable.
Those are the A&M defense's chief concerns.
The Chief isn't.
Never miss the latest news from TexAgs!
Join our free email list
PRESENTED BY