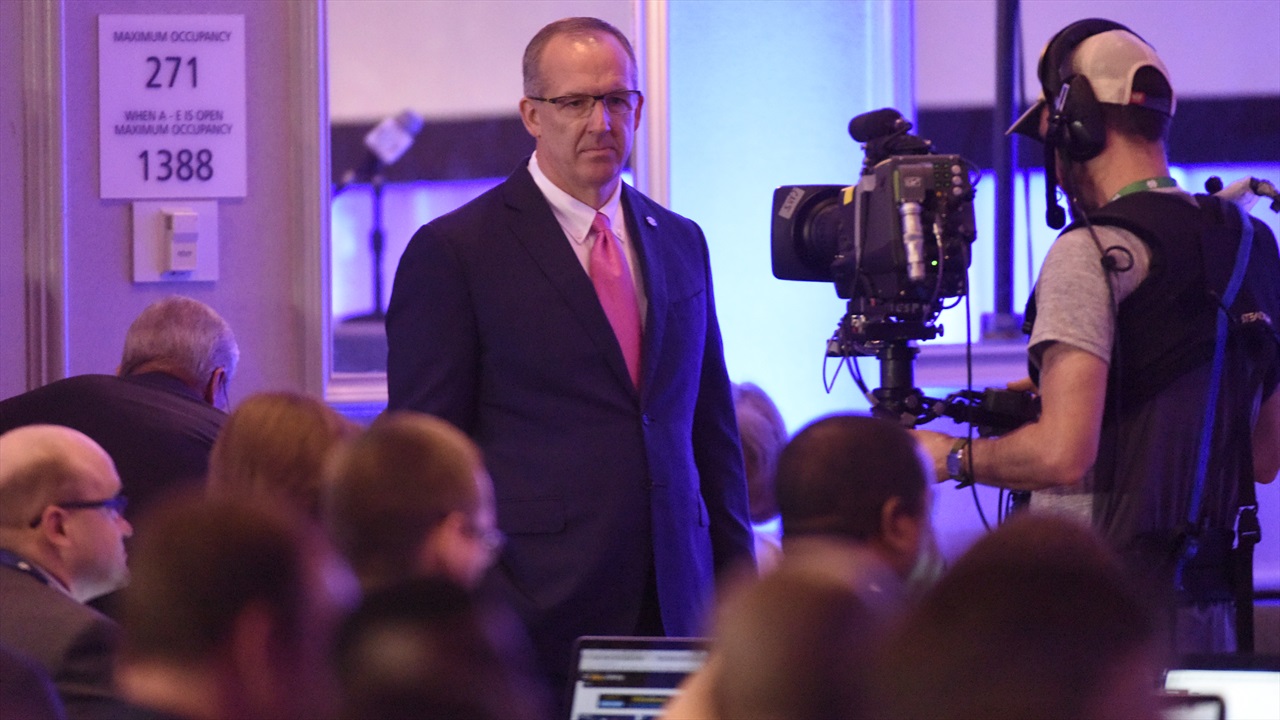 Photo by Ronnie Woodard
Texas A&M Football
From Radio Row: Getting to know SEC Commissioner Greg Sankey
---
Key notes from Greg Sankey interview
I was born and raised in central New York, lived there until my mid-20's, then my wife and I moved in the summer of 1989 to Louisiana where I worked at Northwestern State University. That was the warmest and most humid experience of my life. I had been living in Utica, NY prior so it was a definite culture shock.


I was an engineering student at LeTourneau University for two years in Longview, Texas. I played baseball there but I didn't see myself being an engineer after the labs on Friday afternoons, so I decided to become a teacher and a coach. Then I was running intramurals at Utica College in New York and getting my masters from Syracuse. My wife and I married in 1988 and moving to Louisiana was probably the best thing for our marriage. It was a sink or swim endeavor where we only had enough money to make it to December. If it didn't work out, I would've headed back to New York to substitute teach.


Northwestern State was a member of the Southland conference, that is how I got involved with the conference. Then I was hired as a compliance director after an NCAA infractions case. So after being there I got a job in the conference office in Dallas. Great memories living in the Dallas area. Our two children were born in McKinney, we lived in Allen before they built that giant football stadium. Just a great experience.


I started with the Southland Conference in '92, then was named a commissioner at age 31, and that was when I got to know Mike Slive. It turns out Mike was raised in Utica, New York where I had my first job, so we had some good conversations. He offered me a job with Conference USA while I was at with the Southland, but Chicago wasn't the place for me. I did say though, if it was a job with SEC, I would leave my job as commissioner. I joke with Aggie soccer coach G Guerrieri, that I used to come down to A&M and watch one of my teams lose 8-0 in a soccer tournament. It is nice to be on the other side of that.


I think it's a bigger conversation, we need to look at the scholarship model as a whole, including equivalency soon. That has an impact on more than just baseball.


I don't call us a power five conference, I look at us more in a leadership role. The challenge is for us to work together, we all have our views, we've been pretty good at collaborating. I think we have been leader and will continue to be moving forward.


I wouldn't predict that alcohol at games will happen. It is available at many off our stadiums now in clubs and private settings. It's a discussion point, but we want to do that fully informed with data and care while making sure our atmospheres are still special.


It's good to hear that people like the SEC Storied documentaries. That is a resource commitment and making sure that we find the right stories. We want to do those really well. You look at "The Book of Manning," great. The Chucky Mullins store was awesome, brought tears to my eyes. We're looking at some things that will be special in the future that I have been told that I can't announce.
Never miss the latest news from TexAgs!
Join our free email list