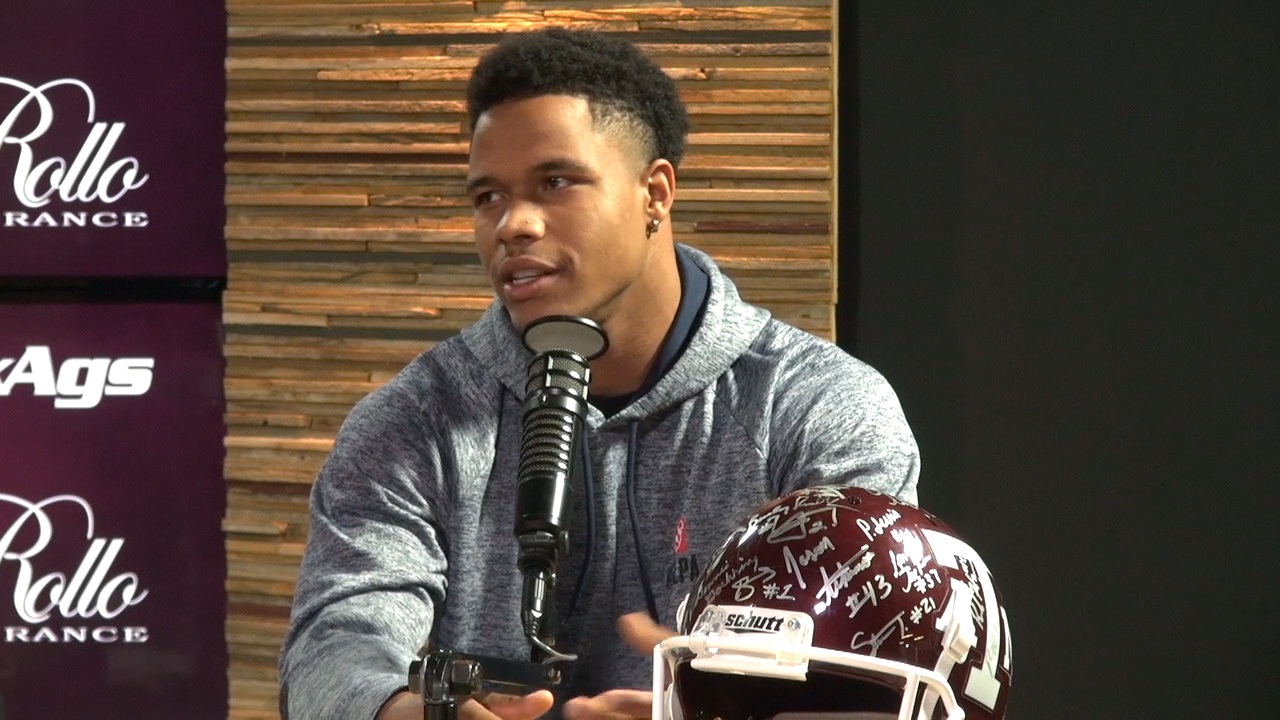 Texas A&M Football
Justin Evans talks NFL Draft prep, his time at A&M, Aggies in 2017
---
Key notes from Justin Evans interview
Leading up to pro day, I had a quad injury so I wasn't doing a lot of conditioning. I recently just got back to conditioning and working out every day. I am going to Tampa Bay tomorrow and it goes from there. I hurt the quad slightly, then hurt it a little bit more at the combine and I wasn't sure if I could go the pro day as well. I got two 40s and all my jumps in which was really good.


My friends told me they wouldn't be happy with me if I didn't get a 43" vertical, but I only got 41.5". The drills were good and they really helped me out since I had my quad. They sent a lot of the drills to my right side instead of the left side which I hurt.


During the UCLA game, I just had a cramp but my leg kind of got locked in place. I was really just stretching my leg but it looked like I popped my leg back in place. I kind of just let people go with it on twitter. They would go crazy thinking I popped it back in place, but I wouldn't correct them.


The pick against Josh Rosen and the hits against Derrick Henry were some great moments, but the Tennessee game was probably my favorite game. We went to double overtime and Armani had the pick to win it. That was a fun game. Henry came to me and we talked after the Alabama game in 2015. He was just showing respect because we were jawing at each other the whole game. He is a great running back and he told me I was a great safety. It was just mutual respect.


Coming to Texas A&M, Coach Sumlin, Coach Chavis, and Coach Joseph told me I had all the skills to be a great player. If you were to have asked me when I was 15 years old, I would have told you I was going to play baseball in college. I played both sports in junior college, but I got a bunch of offers for football and I put all my focus there. I am happy with the outcome because I really wanted to play football.


I grew up wanting to play in the MLB, but it completely switched. I have been blessed in my career for sure. I missed one game in 2015, but I had a few injuries throughout my career. When the lights come on you just have to get focused and give it your all. I didn't test at the combine because I didn't want the results to hurt me, and risk hurting my quad even more.


When I enrolled early, I could tell Myles was a great athlete and football player. The clips of him getting past the tackle without the guy being out of his stance are incredible.


I visited a lot of schools, but Coach Joseph and Coach Chavis had a really good bond with me. The coaching staff really brought me here over all the other schools. The atmosphere at Kyle Field was also a big selling point. When you get to the NFL, every player is a professional athlete. You really have to learn the defense and when you get on the field, you have to give it your all. My two favorite safeties are Earl Thomas and Tyrann Mathieu. They tackle well, they hit hard, and they are ball hawks. They are great players.


The biggest advice I have for younger athletes is never let anyone tell you that you can't do anything. If you set your mind to something, you can accomplish it. If you give it your all and it doesn't work out, it just wasn't meant to be.


I grew up playing a lot of sports. I eventually was only playing baseball and football, then only football. Playing a lot of sports helps you because you meet more people and also learn how to be a good teammate. Once I got here, one of us three (Armani Watts, Donovan Wilson) wasn't going to be playing safety. Donovan ended up being the best nickel. I take some things from their game and mold it into mine as well. I don't know where Donovan is going to play next season, it depends on what Larry Pryor does. If he can hold that safety spot down, they can move Donovan to the nickel. Jhamon Ausbon caught my eye at Friday Night Lights and that was my first time seeing Kellen Mond.


Jake (Hubenak) is not going to overpower you. He can do a little running, but he is going to nickel and dime you more. Nick (Starkel) has a great arm. They run about the same, but Nick is slightly taller. I am interested to see who is going to win the battle there. Trayveon (Williams) enrolled early and from day one you could tell how good he was going to be. He just kept bringing it every single day. In two years he is going to be a great player and a great athlete.


Jamal Adams and I are great friends. We kept in touch throughout the season and after the season he signed with the same agency I did. I don't feel like he has a step on my game, but he is a great athlete that will get drafted high. He is a top five safety, but when I watch him I feel like I can do some of the same things. I am happy for him because he has grinded for three years to get here.


Ever since I was a little kid, I don't think my mom has ever missed a game of mine. My step dad is basically my biological father. He is always going to be there and they have been really supportive. They really keep my focused and remind me what I need to do. They have helped me out a lot.
Never miss the latest news from TexAgs!
Join our free email list