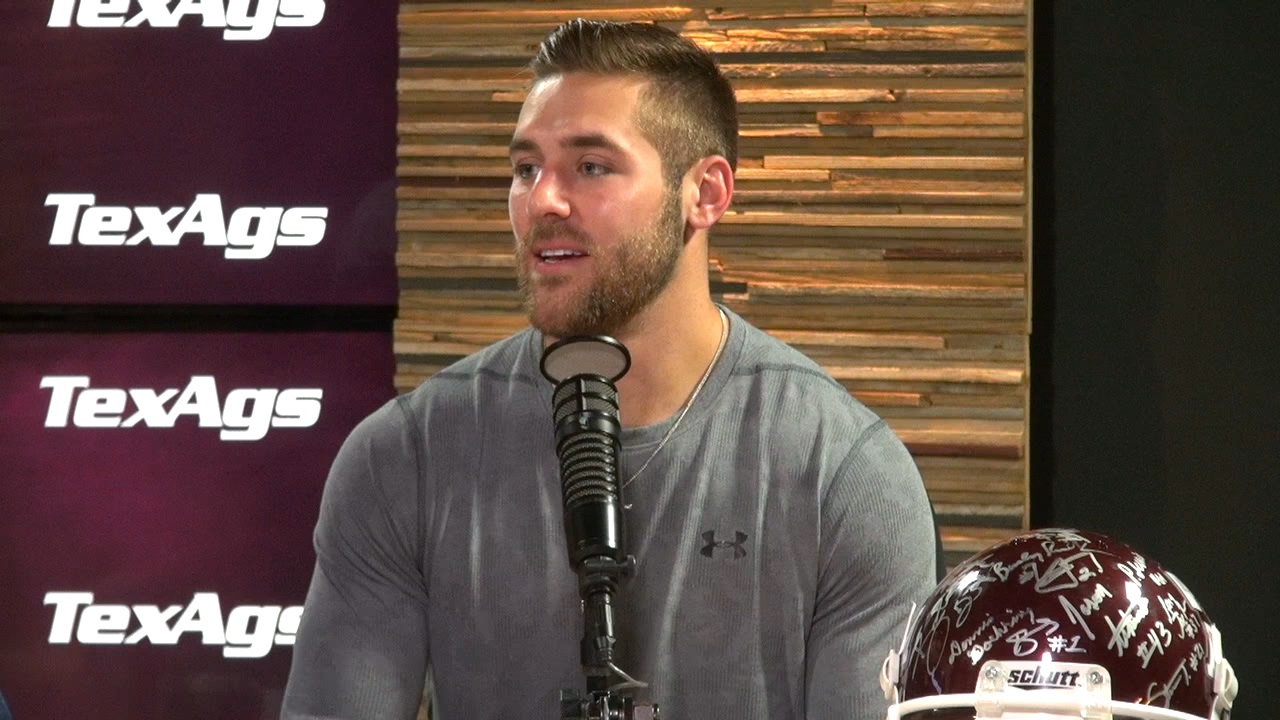 Texas A&M Football
Trevor Knight details his time at A&M, pursuing NFL dreams & more
---
Key notes from Trevor Knight interview
I was out in Orlando training for the combine and felt like I had awesome preparation. I was with a guy named Tom Shaw with Tom Shaw Performance and he got us ready to go with little things that would help us shave a second or two off here and there. I went to Indianapolis with the mindset of just enjoying the process, but it was a grind getting up early in the morning for drug tests and medical exams and staying up late talking to teams and having formal and informal interviews. Your last day is your workout day and I felt like I ran well and threw well and jumped well. It was a great experience overall but definitely not something that a lot of people say is fun because it's definitely a grind, but it was a fantastic experience.


I got to stay at the combine for the entirety of the time, so I was able to watch some of my former teammates. I was throwing to the other positions so I basically got to watch everybody work out. I was proud of the way the Aggies showed up. Ricky Seals-Jones did really well, Josh Reynolds did a great job and Speedy Noil jumped out of the gym. Avery Gennesy and Jermaine Elumenor did a great job going out there and competing with the best, too.


I don't think I surprised myself at the combine. I knew I would go out there and run well and whatnot, but it was cool to go out there and actually do it in front of a lot of people. There was definitely some nerves involved because it's your first foot forward in a new career but I was excited about the way my day turned out. I was really impressed with the tight end group as a whole. Guys like Evan Engram and O.J. Howard, they were freaks. That whole group ran well and all could catch the ball and were all massive guys.


I think I only helped myself in Indianapolis. Not only in the physical aspect, but also with all the interviews I had. I got to get face-to-face with every single team and show them who I am as a person and as a leader and talk football as well, and I think I put a really good foot forward there. They were also really impressed with the way I threw the ball. I threw accurate balls down the field and they said I was up there with the best of them. It helped me in this process and will hopefully give me a shot to get drafted.


I think that sitting down with various NFL personnel was huge for me, just because I was able to retain the protections and the concepts and terminology from each one of the systems I was it. I was able to bounce that off of them and I think they enjoyed seeing that I could regurgitate that information. I was talking about protections we ran in my first couple years at OU and how that changed with Coach Mazzone here at A&M this last year. I think they enjoyed talking about that but as far as Xs and Os, they really don't want to see if you know the game of football from an NFL standpoint, they want to know if you know what you did at college and show the ability to learn and pick things up.


Pro-day is going to be huge. I got to throw to all the positions at the combine so I got a few extra throws for them to look at me, but I was throwing interceptions to defensive backs all day. Pro-day is big because you get 80 throws instead of 15 at the combine. You're with your receivers and you've got good timing and good chemistry with them. You can fine tune things from the combine and go out there and put a really good day together. It's the next step in the process and sooner or later the draft is going to come around.


I have never seen a guy like Myles Garrett, and I've played against some extremely good players and with really good players. C.J. Mosley stands out as a guy that's probably the best guy I've ever played against, but Myles takes it to a different level. The way he can move his body, his explosiveness and his knack for playing that position… I've never seen anything like it. I'm excited to see the way he progresses at the next level, playing against the best of the best. I think he's definitely going to succeed.


I think it'll all pan out the way it should. I'm confident that I can play quarterback at the next level and after having conversations with coaches up there, they feel like I can do it as well, so that's what I'm chasing. I'm not really thinking about other positions right now but if that path comes up and I have to cross it then, I'm open to it. It's kind of a cool journey I'm on. I'm getting to play football, I'm not going to class anymore, I'm not trying to find a 9-5 job, I'm working out for a living so if that time comes and I have to make that decision, then I'll definitely be open to it.


I'm definitely the best I've ever been. After being out training for two months and doing nothing but throwing the football around, I think I improved in a lot of ways. It's always fun to get better and better. Someone that I've always looked up to is Peyton Manning. A guy that was 18 years into the league and you could see that he was still fighting and calling to learn more and wanted to get better. You never stop progressing as player, but I feel like I'm playing really well right now.


When I got hurt in the Mississippi State game, I wasn't sure if I would get to play football again. Initially, I thought I would be back the next week, even the next half. I tried to come back because I just wanted to be out there but I got a week down the road and still couldn't really move my shoulder all that much, and it was tough. My whole college career I went through ups and downs and keeping a positive attitude is really important, especially for a quarterback because it permeates to the rest of the team. If I get down on myself, I'm not going to play well and if I get down on myself other guys are also going to get down because they look to you as a leader.


There were a lot of times throughout my career that were an emotional roller coaster, like when I got hurt and couldn't play and all those types of things where you have to make the chose to stay positive or else you go really far into the dumps. I think it proved well for me, bouncing back several times from injuries and getting the chance to come back down here and play football again after I could have thrown in the towel. I could've stayed in Oklahoma, finished my college career, and got on with my life. I didn't feel like I was done yet so I came down here and I wouldn't change that for the world. I had an amazing experience and here I am now, I just got back from the combine and I'm chasing my NFL dream.


2016 was great for so many different reasons. Obviously on the field we got to play some really good football. Being number four in the first playoff rankings was awesome and being 6-0 and starting that journey with the guys was as well. We didn't end the way we wanted and you always want some of those back but it was a fantastic year for me, off the field as well. I got to meet so many people and form a lot of close relationships with these guys. Aggieland in general is special and it will always have a special place in my heart. I was so excited when I was flying back from Indianapolis and knowing that I was going to come up here in just a few days. It's good to be back.


The biggest difference between the Big 12 and the SEC is that week to week in the SEC you get just a little bit better talent. The top of the top in the Big 12 can compete with anyone in the SEC, but week to week you see better competition and the venues are a little bit better as well. I think the smallest stadium we played in this year was Mississippi State and they still have 60,000+ fans. That was cool for me, going to new venues. Auburn was my favorite away place, but you can't beat Kyle Field.


Coming out of the tunnel on senior night gave me chills. You always think about that moment and it seems so far away, and then it happens in the blink of an eye. I was so overwhelmed with the eruption of the crowd when I was running out. I wish I could replicate that feeling over and over because it was fantastic. Getting to go out there and play on senior night was huge for me.


When I went to the Sugar Bowl to watch OU play Auburn, I definitely thought about how that could have been us. We had the same record as Auburn, just one more conference loss. That was the difference between that and the Texas Bowl, which was a great bowl, but obviously the Sugar Bowl has a lot more hype around it. It was fun to go and watch Connor play his last game and see his career wrap up. He's already in the real world, working corporate finance down in San Antonio. I'm trying to push that off for as long as possible.


I look back at my first interview when I got here when I first announced that I was transferring and people asked me why I wanted to go to A&M and what I wanted to accomplish once I got here. My first thing was that I wanted to play again and second was that I wanted to make an impact on my teammates. I truly think that I have some relationships now with these guys in this locker room that will last a lifetime. All the other stuff off the field like winning the Wuerffel Award, I didn't do it alone. There were so many people that helped me to be a better person off the field and put me in a position to go on trips like Haiti and invite me on the first one. I was just a catalyst in helping that process go. On the field everything was fantastic, but off the field is what truly made my entire college experience worthwhile.


I want to leave a legacy and I want to be remembered for things like taking one in from 65 yards out in the fourth quarter against Tennessee. Those are the fun memories on the field, but also just doing it right off the field. Making an impact on people will last a lot longer than the stats and the records, those are just memories. Impacting people lasts a lifetime.


I think you've got to look at a guy like Jake Hubenak to lead the team now that I'm gone. He was right there with me in everything I did last year. He stepped up when he needed to and played really well against UTSA. This was his job before I came in and he handled that with such class. That's a guy I'll be friends with forever because ww got super close. He's done a great job of taking over the team and being that senior-type leader. That whole quarterback group really impressed me with their arm talent.


Armani Watts and Donovan Wilson are guys that are going to have to take over the defense and Christian Kirk will have do to the same on offense. He is the best of the best with the way he prepares, he prepares like a pro and it's impressive. Trayveon Williams and Keith Ford are both more experienced and are going to be great to watch next year. Erik McCoy has another year under his belt and Koda Martin got to play in the bowl game and has experience now. One question mark is losing five of the top receivers and a lot of great talent, but Christian will bring those guys together. There might be some growing pains from time to time but they'll end up being just fine.


On April 1st, we're doing a camp for kids in College Station. I'll be out there coaching them up and we're hoping to get some other players to come help coach as well. It's ages 6-16, about four hours long, we'll sling the ball around and have some fun. You can find more information about it on my different social media channels.


I did go to class while I was here, a lot of people thought I was just here to play football. I got a year of my master's degree under my belt and have one semester left. I'll chase the NFL dream and then that will be a nice little bridge into the real world where I can figure out what I'm going to do with my life.


Spencer Nealy is a guy that I looked up to when I was a young guy in high school. He's always been a fan favorite. Cullen Gillaspia is the closest thing on the current team to Spencer, they are very similar type of people. They love playing football and always have energy.


To instill leadership into the next wave, you have to be intentional with the guys. You can lead by example all you want, but you also have to get in their face and tell them when they're doing the right things and the wrong things. You've got to get to know them as people, that's how you earn respect.


In the future when I'm being introduced on Sunday Night Football, I'll claim both A&M and OU. That's the political answer and I'll stick by that. Boomer Sooner, Gig 'em Ags. I love both for so many different reasons and I'm sure over the years I'll be back at both quite a bit.


I'm excited for Johnny. He's a guy that faced a little adversity himself, but he's decided to make another run at it. I still say that he is the most fantastic football player I've ever watched live. I got to watch him in high school and what he did here. I had the chance to communicate with him a few months ago and I'm just excited for him. I wish him nothing but the best.


I'd like to do broadcasting after my playing career is over, that would be a fun gig. I also have some areas of interest in the business world that I don't know if I'm passionate about yet because I haven't explored that. That's kind of what I'll do with that semester when I'm back here for my master's, just figuring out what I want to do. There will be doors there and I just have to walk through the right ones.
Never miss the latest news from TexAgs!
Join our free email list