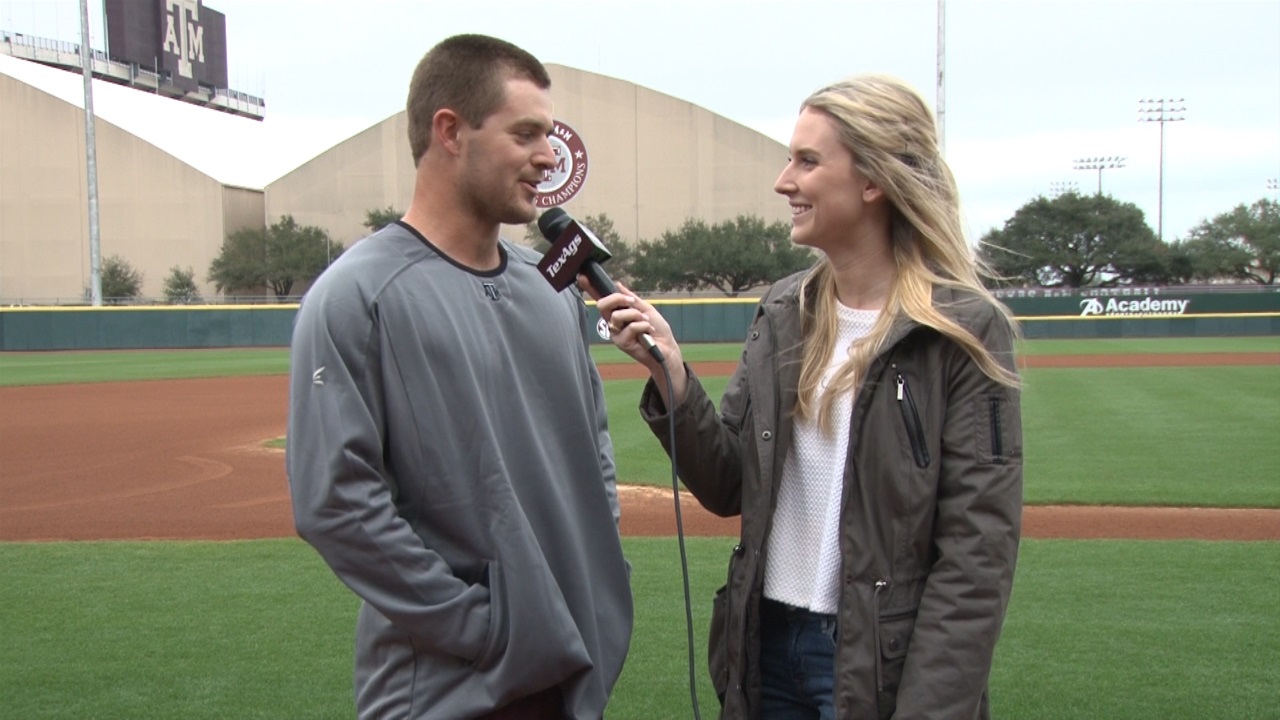 Texas A&M Baseball
Aggie OF Walker Pennington on Opening Day, newcomers and more
---
On what he is most excited about to kick off the season...
"I'm excited to see all the fans come out. We have had a bunch of scrimmages so far this spring, but there hasn't been many fans so far so I'm excited to see this place sold out. Just like the super (regional) was last year, crazy atmosphere to play in front of. I'm also just excited to see some of these new guys and how they respond to that atmosphere."
On being the power hitter this year...
"Exactly, so Coach Bolt told me and Joel (Davis) that we will probably be hitting in the middle of the lineup this year, so we've been working on not only driving the ball but with two outs and runners on base just finding ways to get RBI and to hit balls in the middle of the field. You don't have to hit extra-base hits every time but just when you have those opportunities to have competitive at-bats and to square up and hit it to the big part of the field."
On how he has been a leader to the new guys...
"We have five or six seniors, so the coaches have addressed each of us and we each have a different role leadership-wise. For me, mine is kind of the personality, so I try to keep it loose with the guys in the dugout and stuff like that because most of them haven't played in an atmosphere like this. So I know when opening day comes, they will be a little antsy, but for me it's just to keep the dugout the same as it's been all throughout the spring so far. Hopefully we can do that and start rolling in the right direction."
On the first time he played on Olsen Field...
"So nervous. I played opening day last year, and I remember being in the outfield. I played right field, so I got the first introduction, and J.B. Moss and Boomer White were joking with me like don't fall and all this stuff so I got really nervous. But once you get that first ball to you, you're just playing baseball."
On what fans can expect to see out of Texas A&M this season...
"You can definitely expect some newcomers that will have huge impacts. There's a guy, Braden Shewmake (at) second base, who honestly is one of the best guys on our team already, and he is fun to watch. Hunter Coleman behind the dish – he's a really hard worker – and there are a bunch of other guys.
"I think what the fans will be accustomed to seeing is that we aren't the most flashy group and we don't have the biggest names, but we are all going to come out here and compete, which is what we all kind of hang our hat on. We are going to have quality at-bats and make the pitcher throw a lot of pitches, so I think that competitive mind set is something that these fans will become accustomed to."
Never miss the latest news from TexAgs!
Join our free email list