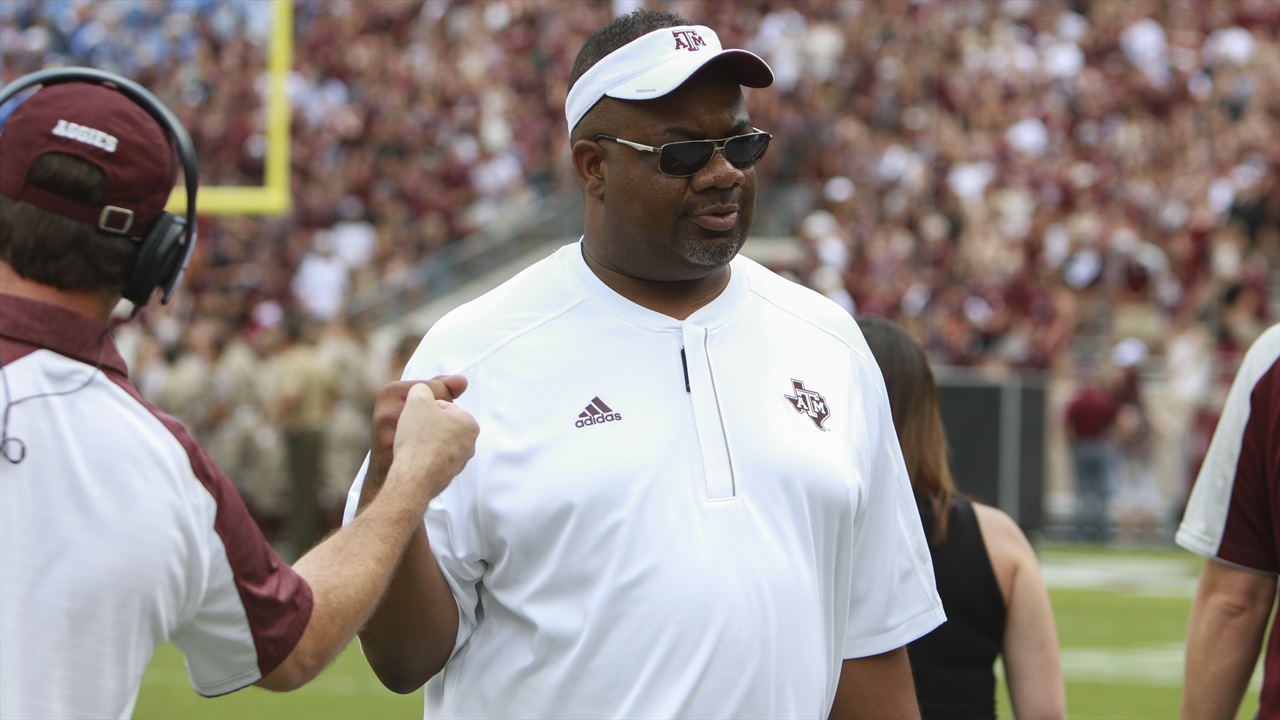 Photo by Lindsay Caudle, TexAgs
Texas A&M Football Recruiting
A&M DE Coach Terry Price discusses 2017 class on the Beliucci Hour
---
• Feeling great! Anytime you get a top ten class and fill every need as a football team, it's a great day. We're very excited about that as a staff. We did a great job, and that all starts with the head coach. He's the best recruiting coach in the country. It was a really great day for the Aggies yesterday.
• It starts with the head coach, and like I said he is one of the best in the country. Our staff works hard and evaluates the players they want and the players they need in their positions for offensive, defensive, and special teams schemes. All of it was done very early.
• Things are sped up. The speed and the tempo in which recruiting happens in the state of Texas is a lot faster than other places in the country. As assistant coaches and all coaches on the staff have to not only identify talented players but the right talented players. There are great players in the state of Texas, and we have to differentiate if they will translate to the current class. Our staff does a good job of jumping on those guys early.
• We had some really good young guys who did a great job of holding this class together by communicating and pushing the Aggies all the way through signing day. It was a wonderful thing to see.
• We pushed those needs of losing Myles and Daeshon at the high school and junior college level. We have a guy from junior college that fits the mold and length we're looking for in that position. A lot of people don't realize he's just a sophomore and still has three years to play at Texas A&M. He has unbelievable size and athleticism.
• Ondario Robinson is the definition of commitment. He committed early and was one of the main leaders of the Gig'em gang and stayed strong until signing day. He had all the power teams recruiting him hard. He is a strong young man and a young man I'm excited about. He brings length and size to the position.
• Length and athleticism were the two main things we were looking for from this class in our defensive lineman. Jayden Peevy is the definition of that. He's long, athletic, and can rush the quarterback. He's athletic enough to be on the edge and we're going to leave him out there. He's strong enough and good enough to play all positions on the defensive line.
Never miss the latest news from TexAgs!
Join our free email list