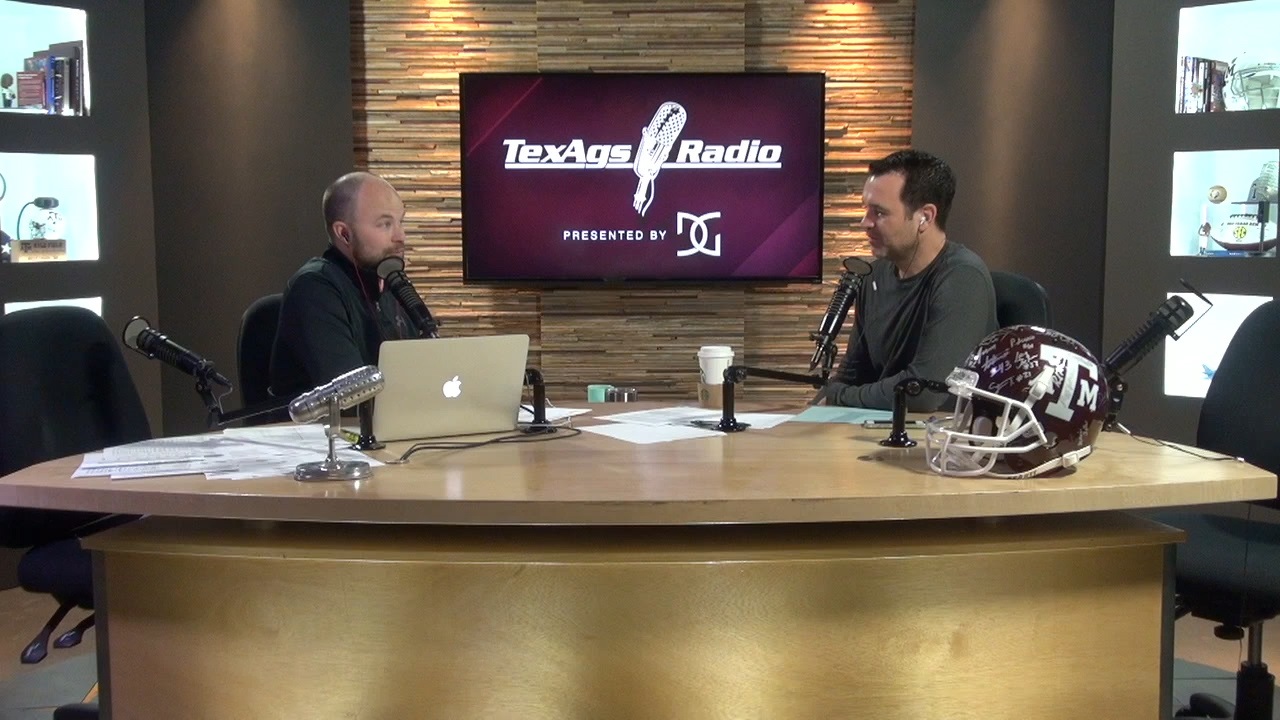 Texas A&M Football
ESPN's Tom Hart talks tonight's A&M/LSU matchup, CFB landscape
---
Key notes from Tom Hart interview
Taking care of the basketball is priority number one for A&M tonight. 66 turnovers in the last three games ... the good news is LSU doesn't play a lick of defense. They're just not interested in it. Half court, full court, doesn't matter, so they're not going to face the same kind of challenge that Kentucky or South Carolina would give you. They should have opportunities to get to the rim and in the half court and that opens up the perimeter shooting.


The biggest difference is there is a thin margin between being a top half team and a bottom half team in this league. 50/50 balls make a difference. Rebounding makes a difference. Turnovers make a difference. In those other leagues, you have talent concentrated in other places and teams can go on the road and win.


You mention Rick Barnes who went to 17 straight tournaments when he was at Texas and Clemson. This time of the year we are asking what's the better football league: SEC or ACC? That question isn't being asked in basketball. We know. The question to me is why? You start with the coaching. They have four Hall of Famers in the ACC. They are there for a reason and they are Hall of Famers for a reason. The support they get in both the arena and the community, the facilities they have, the resources they have, all of that is bigger and better in the ACC. It starts with coaching.


I don't think Nick Saban will at Alabama forever. We are a lot closer to his retirement today than it was a few years ago. Maybe its another year or maybe another two years, it can come at any time. Look at the coaches in the division and where they were before. Brett Bielema did a wonderful job at Wisconsin. I was shocked he left there to begin with, he was a Big 10 guy, he played at Iowa and he really had it rolling there. He might not be there sooner, rather than later, so I think that is another way to look at it. Who is considered to be a great coach going into the SEC West and then what happens to them. Butch Jones came in red hot and has been tremendous as a recruiter, but you lose to Alabama every year. Tennessee has its own issues. Look at Kevin Sumlin, its all perception and then it becomes reality when you play Alabama every year.


A&M has weapons inside and they have good shooters. The back court is just an issue. Now, the saving grace is that Kentucky and South Carolina are in the rear-view mirror. There aren't a whole lot of teams in the SEC that are going to turn you over. Arkansas will be an issue without a doubt, but other that, this league is really top loaded. I would love for the SEC to have three ranked teams and that would put you in a good position to get four teams in the NCAA Tournament.


It's too hard to nail down one favorite person I've worked with, but I certainly have favorites. Most recently, I worked with Dick Vitale this past weekend and it was awesome. He has such an infectious enthusiasm and I don't know if anyone loves their job as much as Dick Vitale. He's 78 and once that light turns on, he's a spring chicken. You might have a sore throat, whatever, this guy shows up every day. He literally climbed up the railing to get in with the Reptile Rowdies at Florida. I mean, no one else has done more for the game over the last 30 years and it coincides with the biggest growth of the game.


All Dabo Swinney needed was that one win. What is fun for me about Dabo is that he is such a likeable person and that's really hard to say about football coaches. He's just a fun guy and down to earth and not a lot of people that pull 5.8 million and have a National Championship can you say that about.
Never miss the latest news from TexAgs!
Join our free email list