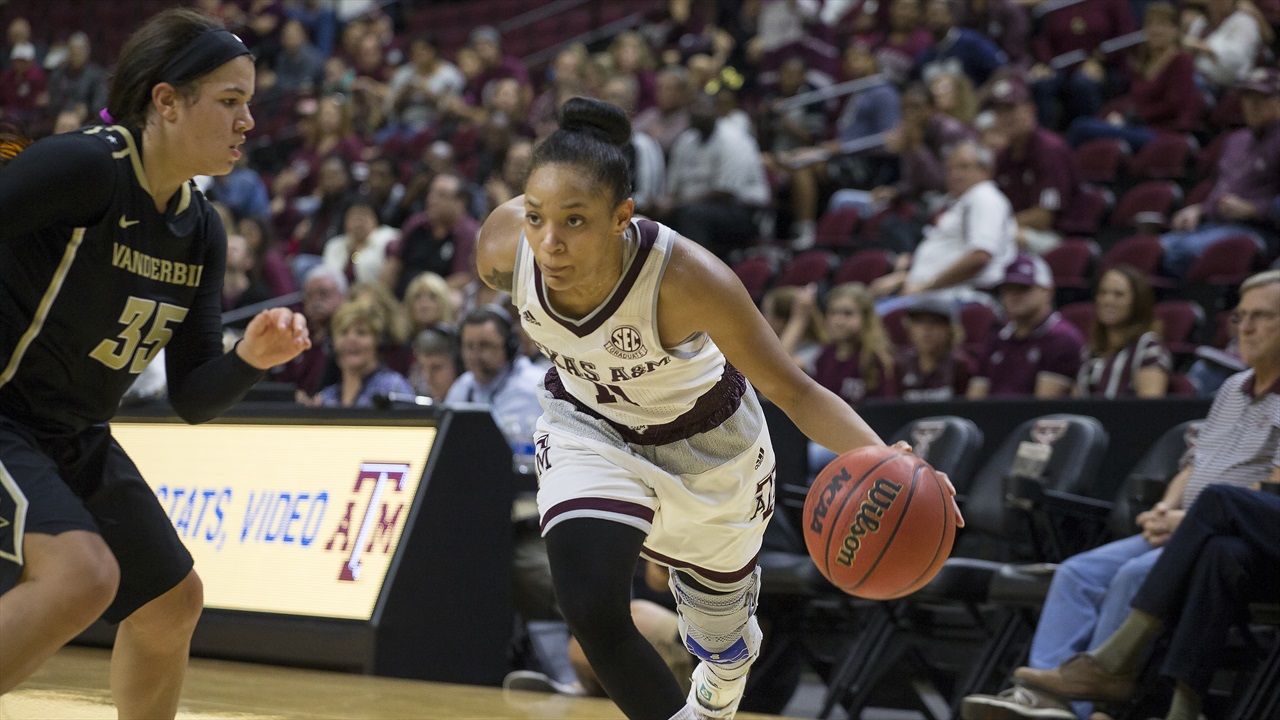 Photo by Brian Okosun
Texas A&M Women's Basketball
Hoops Thoughts: Strong chemistry helping Aggie women grow
---
Here are some thoughts on the Aggie women's basketball 2-1 start in SEC play.
Team Chemistry:
Coming into this season, the Aggies faced many questions about what kind of team they were going to be after losing so many key players. They have proven repeatedly that they can get the job done when it matters against good teams. Coach Blair has even shown some surprise about the strong start to the season. The key to this appears to be this team's ability to gel on and off the court. Coach Blair has established he's playing a short bench, but every player knows her role and what she needs to do in order for this team to be successful. Everyone contributes. There is high-fiving and smiling from the A&M players, and while that may not seem like that big of a deal, for a young team, it's everything.
Curtyce Knox:
Knox was the driving force that propelled the rest of her team to both of its victories. She has really stepped into her leadership role, and the rest of the team seems to have no problem falling in line behind her. Curtyce is coming off a career high 26 points against Kentucky and continues to show her maturity. She's exactly what this team needs if they hope to continue their run of post-season appearances. Knox needs to continue to be aggressive attacking the basket, which opens up so many other things for the Aggie offense. I really like her shooting the three ball when she's open. She's capable of making them.
Playing Down:
The Aggies have some spectacular wins and comebacks against Vanderbilt and #24 Kentucky. However, they also let a game get away from them against Georgia. Looking at A&M's resume, they were the better team and should have beaten Georgia, but they just weren't as focused as they should have been and didn't play to their ability as a team. We've seen the potential of the Aggie team, but they need to play consistent and focused every game if they want to make a post-season run. They can't play down to their competition and need to stick to the game plan that is put in place by their coaching staff. It's a long season and it can be hard to always be at the top of your game, but that's when players need to pick up their teammates and use their chemistry to overcome those types of games.
Overall:
There are definitely things that need to be cleaned up on both ends of the court. Defensively they get lost on ball screens and are slow to rotate over when the opposing team rolls to the basket, making for an easy cut down the middle of the floor and a layup. In addition, they need to make contact with players cutting through the lane forcing them to change their angle and making it harder to receive a pass inside. Against Kentucky they gave up a few easy transition layups. This is an easy fix, as they just need to communicate about who stops the ball early. Offensively they've been able to put points on the board but still go through some shooting slumps. This is when they need to stick with the plan and stay aggressive attacking the basket. The best way to get back into a shooting rhythm is by getting to the free throw line and knocking down some easy ones. These are totally fixable minor things. The good news is we've seen a team that doesn't give up and plays hard to the very end. This A&M team has shown some promising stuff, and they just need to stay consistent and learn from each game.
Never miss the latest news from TexAgs!
Join our free email list